'Bajirao Mastani is one of those films people won't forget for a very long time.'
'When people come out of the theatres, there will be a stunned silence.'
'The scale, the performances, the music, the drama, the emotions... One viewing won't be enough,' Deepika tells Jahnavi Patel/Rediff.com
Deepika Padukone was down with fever when she met the media to promote Bajirao Mastani.
Of course, you wouldn't know that unless she told you. She looked GORGEOUS in a white top and skirt.
What are you expecting from the film?
I expect people to come out (of the theatres) speechless.
It's going to be one of those films that people will not forget for a very long time. That's the feeling I'm getting as an audience -- the scale, the performances, the music, the drama, the emotions... One viewing will not be enough.
When people come out of the theatres, there will be a stunned silence. There will be so much to take back.
I hope people will be inspired by the film because when I was doing this role, I was very inspired by Bajirao and Mastani for the kind of people they were. I was inspired by their journey, strength and conviction.
What qualities do you take back from your character?
There's a lot of Mastani that's very relatable. She was so brave, strong, determined and yet fragile and vulnerable.
What was more difficult while playing this character -- the action scenes or the emotions?
The physically demanding scenes were very tough. The songs were difficult. The horse riding and sword fighting was tough.
The minute a song (shooting the song) was coming up, I would get stressed. Deewani Mastani was the last song I shot, and after that, the climax. But as I finished the song, I was so happy.
Even in Ram Leela, I found the songs very difficult.
This time, I was mentally better prepared but it was still not enough.
I wanted to give up during the Kathak song. I didn't want to shoot the film anymore. I was exhausted.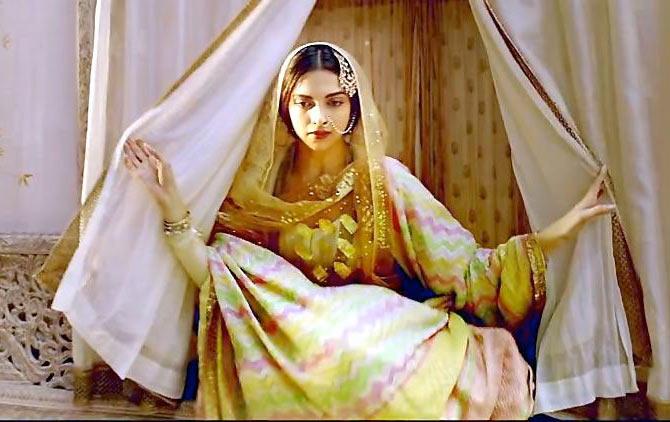 IMAGE: Deepika as Mastani.
What's the difference playing a real character and a fictional one?
As an actor, it becomes restrictive in terms of what all you can do with a character that is not fictional. You have reference points, certain parameters within which you have to perform.
So it's restrictive compared to a fictional character.
Both are challenging and exciting in their own way.
You had three releases this year: Piku, Tamasha and now Bajirao Mastani. How tough is it to juggle three film shoots?
Very tough. It was mentally exhausting.
I was juggling between three very different films, filmmakers and characters. To keep jumping from one to the other wasn't an ideal situation obviously. I wish I could do just one film at a time and focus on that.
At the same time, that would have meant not doing the other films, which I wouldn't have allowed.
When I look back now, I'm very proud of the work I've done.

How tough was it to get the emotions right for< Bajirao Mastani?
Playing Mastani was very challenging because it's very easy to dislike such a character. So how do you find that balance and make the world believe that Bajirao and Mastani were meant for each other?
In the trailer, there's a fight sequence where I'm holding a child in one hand and a sword in the other. There are so many things that kick in at that point, because on one hand, you have maternal instincts and at the same time, you have to attack five, six people who have surrounded you.
One minute she goes on the battlefield, the next minute she's romancing him. There are so many layers to the character.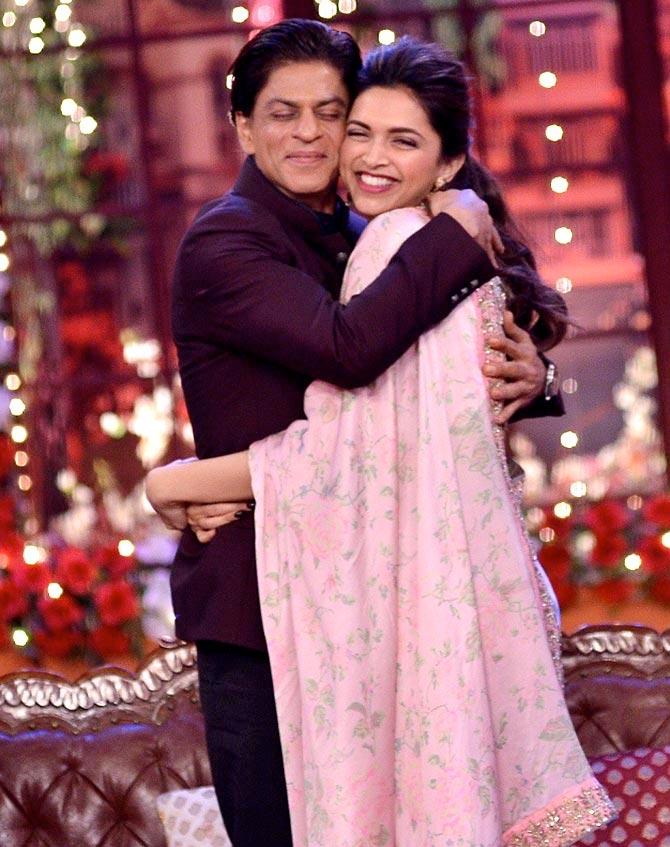 IMAGE: Shah Rukh Khan hugs his Chennai Express co-star on a television show.
At the Dilwale press conference, Shah Rukh Khan said audiences will watch both films. But he also said that Bajirao Mastani is niche in its genre. Do you agree?
I will agree with the first part of the comment. Audiences will watch both films because I know I will.
But I wouldn't call Bajirao Mastani niche at all. In fact, one of Sanjay Leela Bhansali's strengths is that in a film like Hum Dil De Chuke Sanam, Devdas Ram Leela or Black, he has a way of storytelling that is globally appealing.
I have worked with both directors (Bhansali and Rohit Shetty) and I know what they offer are very different.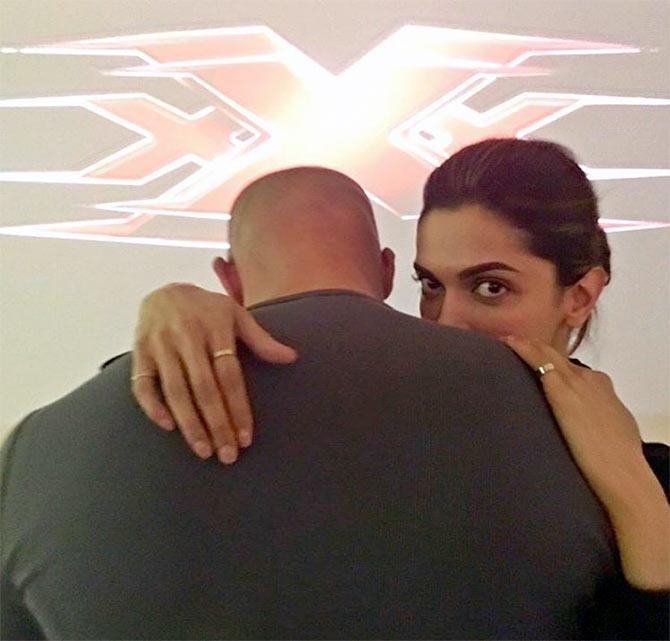 IMAGE: Deepika posts a teaser on Twitter.
Will you become a Hollywood phenomenon soon?

I don't know what you are talking about! (laughs)

You did hint at it recently.
Let me set the record straight. I have not signed any film in 2016. This is my last release so far. I have not signed any other film.

But, of course, I am open to the idea. Like in Finding Fanny, I tried to do something different. So, of course, I would like to explore working in a different set up.

Did you meet Vin Diesel or not?

No, it's all photoshopped! It's the same bald head that Akshay (Kumar) used. (laughs)

Ranveer is known to be a prankster. Did he play any pranks on the sets?

He's not a prankster, at least not on this film. He is someone who becomes the character. I don't know if he'll appreciate that I'm sharing this, but when he walked onto the sets, he wanted to be called Bajirao, and not by his name. That's how much he gets into character.
So if an AD (assistant director) said, 'Ranveer, your shot is ready,' he would not respond.
In this film or in Ram Leela, there wasn't much fooling around. You can't afford to because the films don't allow that.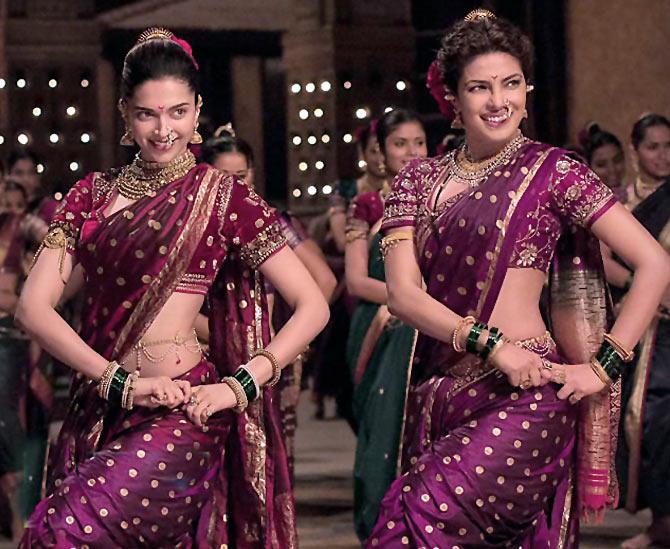 IMAGE: Deepika and Priyanka Chopra in Bajirao Mastani.
Did Priyanka and you bully Ranveer on the sets?

Yes!
There's a scene where Bajirao brings Mastani to Shaniwarwada for the first time, and Kashi is there to receive them. We were shooting that scene and I remember that the two of us (Priyanka and Deepika) kept chatting and he was feeling really out of place.
But he's worked with her, I've worked with him, I've known her from before... It was a very comfortable working equation.

Sanjay Leela Bhansali apparently did not want you and Priyanka to be comfortable with each other since your characters weren't comfortable with each other. Is that true?
He actually wanted us to fight, and would create situations. He would tell one of us, 'Why can't you take four hours to get ready?' or 'She comes out of the van and sees the other one's costume and asks for her own costume to be changed and goes away.'
Priyanka and I would laugh. We really found that hilarious.
How do you like to unwind?
Take a long holiday! I think I deserve that. I have been working nonstop. I have had three demanding films this year and the promotions are equally exhausting.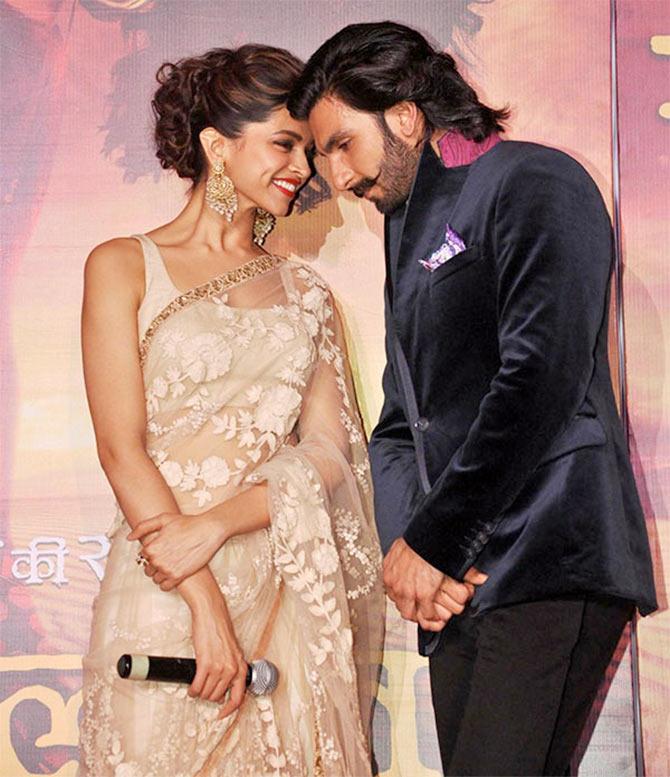 IMAGE: Deepika and Ranveer at a promotional event. Photograph: Pradeep Bandekar
If you had to pick a genre, what would it be?

Anything but a horror film. I don't like horror.

Will we see you working with Salman Khan anytime soon?
I want to. In fact, Salman can create chemistry with anyone. What happened after that Bigg Boss episode is that a lot of directors messaged me saying I have to do a film with Salman.

Salman Khan turns 50 on December 27. What would you gift him?

I would gift him a bride.