'I'm very opinionated. I do not stay quiet. If somebody said there are snake charmers in India, I will educate them saying that they are there but we use it for entertainment.'
'People tell me India is known for its rapes. I get asked that in every interview. It's so difficult to defend it.'
Priyanka Chopra gets candid.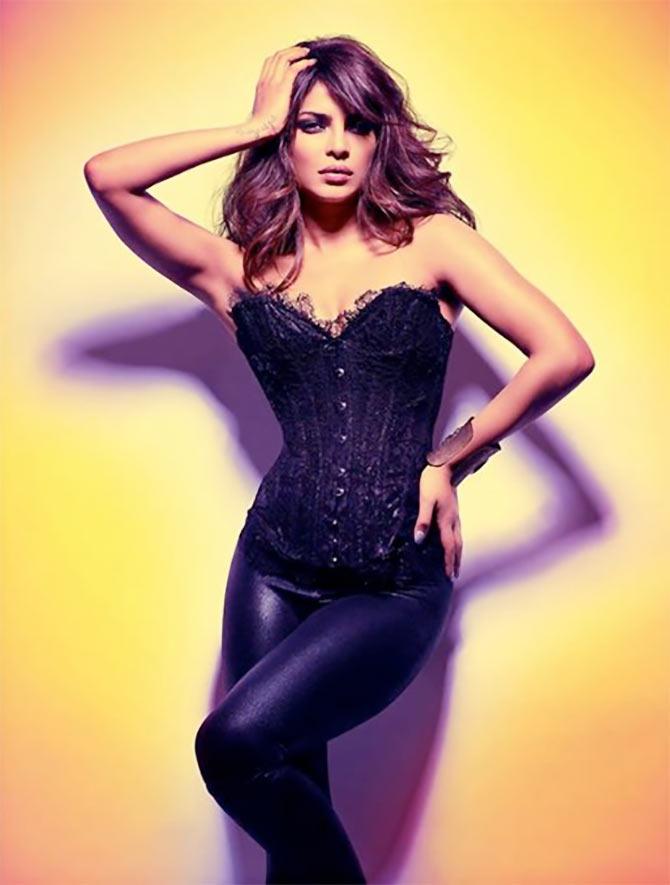 Image: Priyanka Chopra/Facebook
"I will never do a sports film again!" Priyanka Chopra exclaims animatedly, at a promotional event for her latest film Bajirao Mastani. "I salute sports people. They sacrifice a lot. I am an actress and don't have that much courage. After doing Mary Kom, I have newfound respect for sports people."
Mary Kom may have been a tough film for Priyanka Chopra but the actress seems quite used to hard work, balancing her super-successful career in Bollywood with her rising success in Hollywood, with Quantico.
PeeCee recently posted a picture on Instagram with the caption: '48 hours in the air for 23 hours in Mumbai. But some things are so worth it. Back to Quantico.'
Even with such a tight schedule, Priyanka looks stunning in her black sari, and smiles cheerfully, as she fields questions from the media at the event. Jahnavi Patel/ Rediff.com comes away impressed.
You just did one song in Goliyon Ki Raasleela: Ram Leela and wanted to work with Sanjay Leela Bhansali again. How was it working with him?
Then I did Mary Kom with him (Bhansali produced the film). He might not have directed the film but he was very involved with it. I was in his office literally every single day.
This is when he came to me with Bajirao Mastani. We were shooting in Manali, and he and Prakashbhai (Prakash Kapadi, writer) narrated the film to me. The rest of the film hadn't been cast yet. My picture would be there and the pictures for Bajirao and Mastani would keep changing.
I'm a huge Sanjay Leela Bhansali fan. I did the song in Ram Leela because of that. I did Mary Kom because I'm selfish.
But even Bajirao Mastani, I took it up blindly.
You're playing a Marathi mulgi for the third time.
This is different because it's a 500 year old dialect and 500 year old character. Nobody has seen her picture; you don't know how she was.
People talk about Bajirao-Mastani's love story.
For me, the biggest reason for playing Kashi was to play a character history has never spoken about. I've never played such a soft and vulnerable character. In Gangajaal 2 and Quantico, I play tough characters.
When I do a Jhilmil (in Barfi!) or a Kashi, it's very hard for me to play a girl who can't protect herself because I'm a modern girl of today. I can beat up people!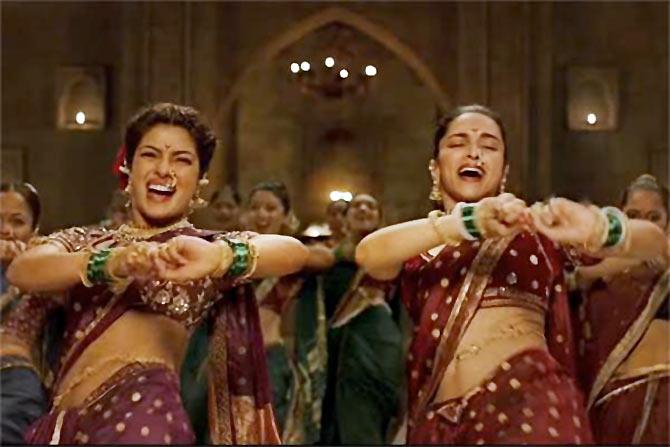 Image: Priyanka Chopra and Deepika Padukone in the Pinga song from Bajirao Mastani
Deepika Padukone and you are friends in real life are but have a conflict in the film. Was it difficult?
It was more difficult for Sanjay sir because he would get very irritated when we walked in together.
Deepika and I have always got along somehow. Actors are so busy, you don't end up becoming best friends. I get along with most of my female co-actors because I'm supremely content in my career. My career is never dependent on other people. I've always try to outdo my own work. Maybe if my career wasn't doing well, I would have been insecure.
Deepika and I have only one song and two scenes together because they (Kashi and Mastani) never really come together.
How was the Pinga shooting?
It's a difficult song but doing it together made it easier. I couldn't have asked for a better person to do this song with. We rehearsed together; we took care of each other. Our legs were bruised because sir (Sanjay) likes long shots -- like an entire verse or mukhda.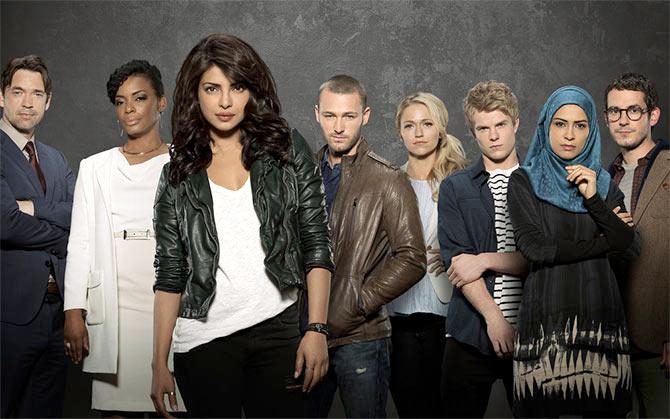 Image: Priyanka Chopra with the Quantico cast
There were reports that the way Marathi folk culture is portrayed in Pinga is incorrect.
Pinga is a folk dance; not a lavani. Actually, Sanjay sir's maushi (aunt) came and taught the Pinga step to us. I feel it's very authentic.
People say women belonging to the royal family did not dance like this.
Movies are dramatised. See Mary Kom and Bhaag Milkha Bhaag, these things don't really happen. You make biopics with some dramatisation.
Bajirao Mastani is based on a book called Rau. Ask that author why he didn't do his homework.
Eventually, it's a Hindi film, a Sanjay Leela Bhansali movie, go watch it for that. Nobody is out there to insult anyone. This is a forbidden love story being told, and it's amazing.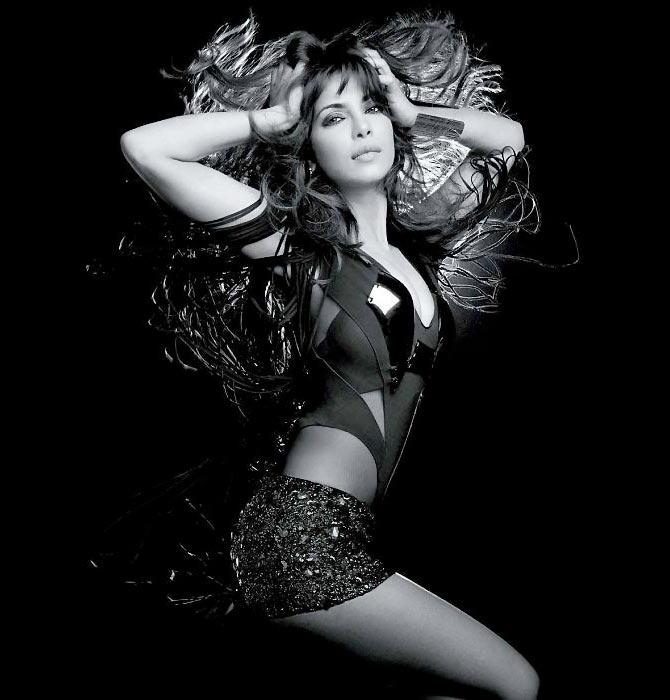 Image: Priyanka Chopra/Facebook
As an artist, you've always stood by the fact that creativity has its own space. How do you see the intolerance issue?
First of all, I don't think intolerance is about me, as an artist, or you, as a journalist.
Look at what is happening all around the world. Look at the wars. I am going to name Paris, Syria, Lebanon, Mumbai, everything... Just for one second, sit down and look at the world we are living in.
Isn't everything intolerant?
Are we not saying this person is wrong because his religion is wrong? Or this person is wrong because he is going to a concert?
We, as a people, as human beings, must sit down and think. Don't go out on social media and use your anonymity and blast people because you can. Sit down in your homes and think about your opinion.
Our forefathers fought for democracy, they fought years and years of British Raj so that we could have a democracy, freedom of speech, language and opinion. So did many other countries.
During an interview in America, somebody said that women of colour are doing really well. I said I don't want to be called a woman of colour; I am a woman. If you want to divide me, say man and woman. What is brown, black, blue, yellow...? I'm not a woman of colour and don't want to be seen as that.
How different was it working in a foreign setup in Quantico?
The difference for me was television and feature film.
Like in films, we do one scene for two days. It's a relaxed pace. My friends didn't tell me that in television, we have to do 10 scenes in a day. Who does that?
I have so many television producer friends and I fired them saying, 'Couldn't you all tell me television is like this?'
Otherwise, it's only the language. They speak only English, actually French now, because we're shooting in Montreal (Canada), and we speak in Hindi. I think Indian cinema has caught up with the world in the way we make films, run our sets; I don't see much difference. I'm a professional and can deal with anything that is thrown at me because I've got the best training ground in the most prolific film industry in the world.
What opinions have they formed about India looking at you?
I hope I'm a good representation.
I'm very opinionated. I do not stay quiet. Most people get shocked that I'm Indian, even shocked with the way I speak English.
It's about educating people. If somebody said there are snake charmers in your country, I will educate them saying that they are there but we use it for entertainment.
People tell me India is known for its rapes. I get asked that in every interview. It's so difficult to defend it.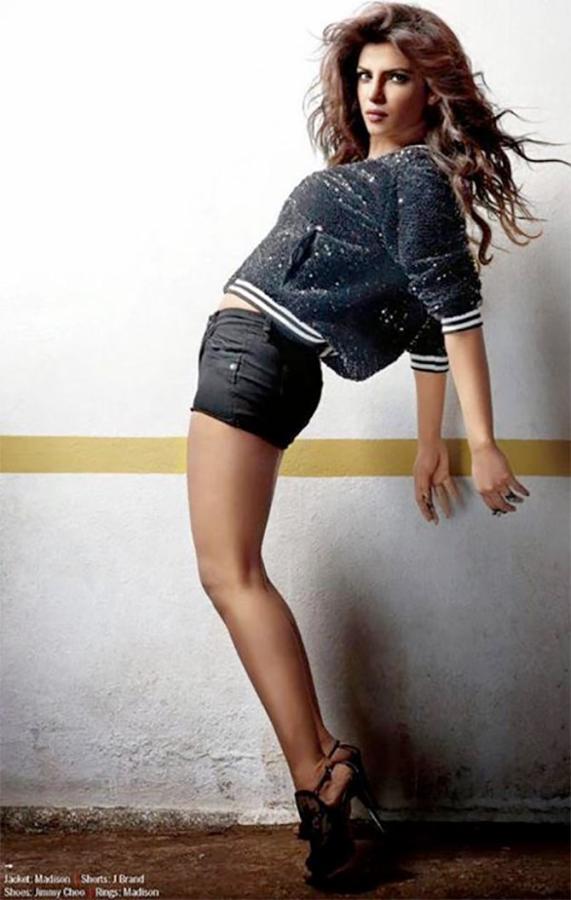 Image: Priyanka Chopra/Facebook
What is the most bizarre question you've been asked?
'India is known for its rape.' Can you imagine, standing there and defending that?
But it is about educating the world. It is an awful thing, but it is happening to women around the world. Why are we not talking about that? Just because three people have come and talked about my country, come and attack it. I will name five other countries but it is not about that.
Why are we making the fight about where the rapes are more and where it's less? We should fight the fact that there are rapes. Let's get our perspectives right.
There were rumours about you dating someone in the US.
I think it's very entertaining and I've been waiting for someone to ask me this.
You all have become too boring, at least link me with someone.
So he's from LA? I haven't left Montreal for the last four months. It was also reported that he was some media-shy guy. I will never be with a person, who is media-shy.
Please know that if I'm ever with someone, it'll be a showman. Like my dad.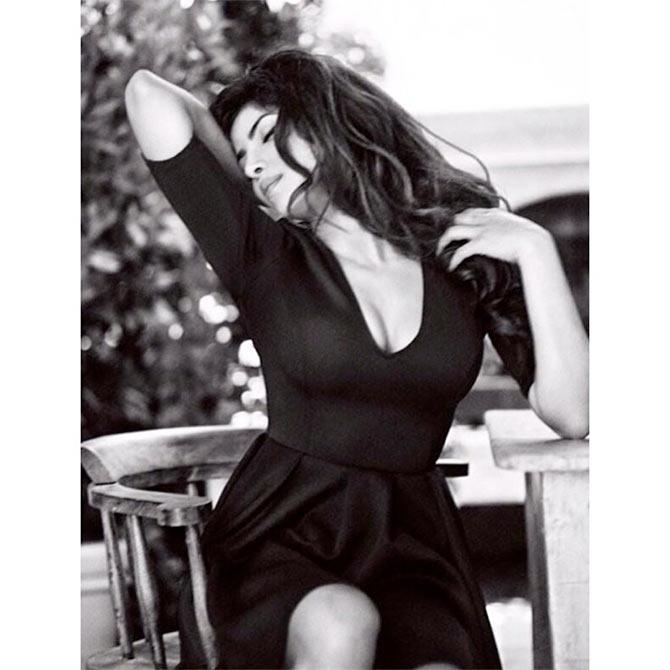 Image: Priyanka Chopra/Instagram
Has your Quantico team seen the promos of Bajirao Mastani?
Of course, they've seen the promos and the songs. They think this is how Hindi films are. Then I have to explain that this is a period film. It's like our (version of) Game Of Thrones. That's how I explain it.
What's the best compliment you've got for Quantico till now?
'She's Indian?'
That was the best compliment.
Not from an Indian, obviously. The fact that people questioned if I was Indian was the greatest compliment. People don't expect Indians to look and do such roles. We're always the computer geeks or the doctors. But I've still made Alex Parrish come first in class, and be the teacher's pet -- it is in our blood to come first!
Will we get to see you in Quantico Season 2?
I hope so. For now, we are one of the most successful shows. If we get a season two, it will be great.
Have you been approached for Don 3?
Don 3 is not being made, guys, not yet. The consideration for Don 3 happens every year by the media and fans. But it's not happening right now and I'm sure when it does, they'll make an announcement.