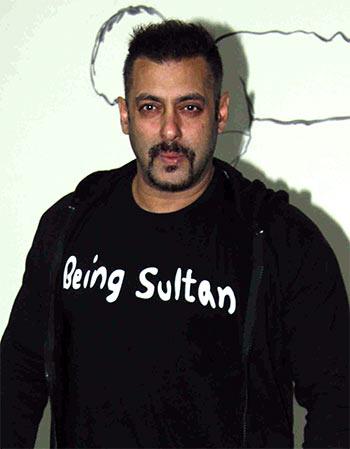 'People will write what they want to,' Salman Khan justifies his rape remark.
Salman Khan had earlier said that he preferred to stay mum after his rape remark became a raging controversy.
But at a press conference celebrating the success of his latest film Sultan, the superstar couldn't help but comment on it.
He blamed the media, as "people will write what they want to," and added: "Should I give you something to survive for the next two weeks? If I don't say anything, I'm boring. See I understand your responsibility towards your job. But if I say something, my people won't like it.
"I may say something but it will be taken as something else. Phir ek statement ko ghum firake kya hota hai, you also know. It's sad," he added.
The controversy started when Salman compared himself to a 'raped woman' after having to undergo rigorous training for Sultan.
"While shooting, during those six hours, there'd be so much of lifting and thrusting on the ground involved. That was tough for me because if I was lifting, I'd have to lift the same 120-kilo guy 10 times for 10 different angles. And likewise, get thrown that many times on the ground. This act is not repeated that many times in the real fights in the ring," Salman had said. "When I used to walk out of the ring, after the shoot, I used to feel like a raped woman. I couldn't walk straight. I would eat and then, head right back to training. That couldn't stop."
Salman's fans have supported him despite the controversy, and made Sultan a blockbuster.
Photograph: Pradeep Bandekar