'My Maths teacher, Mrs Barucha, hated me. She would come to class and because my name was Azmi, I would be the first on the roll call. She would say 'Azmi Shabana', I would say 'Present' and then she would say, 'Out of the class'.'
'Now, I'm playing a Mathematics teacher in Chalk n Duster. The irony doesn't cease to amaze me. I had the toughest time trying to learn theorems, understanding what a hypotenuse is...'
Shabana Azmi takes us back in time.
Shabana Azmi had to go back to what she hated during the shooting of her new film Chalk n Duster -- she had to study theorems!
The veteran actress plays a Mathematics teacher in the film, a subject that ironically, she disliked during her school days.
Shabana Azmi takes Jahnavi Patel/ Rediff.com back in time to her school days.
Image: Shabana Azmi
What is Chalk N Duster all about?
Chalk n Duster is a story about two school teachers, who get sacked by an ambitious principal, who wants to revamp the school. The principal claims they are outdated.
The teachers then struggle to reclaim their dignity and status.
It's a women-centric film because it stars Juhi Chawla, Richa Chadda, Divya Dutta, Zarina Wahab, Upasana Singh and me. It also has Girish Karnad, Sameer Soni and Rishi Kapoor in a guest appearance.
How different are women-oriented movies today from they were earlier?
If you see the work of Meena Kumari and Waheeda Rehman, their women-oriented films were within the traditional stereotypes of the forgiving mother, the understanding wife, the sacrificing sister etc. There would be movie titles like Mein Chup Rahungi; remaining silent was considered to be a virtue for women.
Nowadays, female protagonists are today's women who are either standing up against the system or reclaiming their space within family relationships or society.
You have been in the industry for a long time. What are your views on wage equality?
I have different views on pay.
Films are becoming nonviable because actors are charging so much. Even if they're not directly taking the money, they take so much of the profit that ultimately, the producer spends Rs 200 crore (on the film) and makes Rs 8 crore at the end of the day.
They must rework the prices because you can't kill the goose that lays the golden egg.
The reason why there is so much disparity between male and female-centric films is because it's the male star who brings the distributor in and determines the price of a film. Today's younger actors are aware that this disparity needs to be bridged. Shah Rukh Khan made a gesture and put Deepika's (Padukone) name before his own. I would urge them to do a little more than that.
Our male superstars should agree to be, at least once in a while, in a film where the female has a bigger role than them.
There are a lot of movies where actors have important actresses in secondary roles. Why can't it be reversed?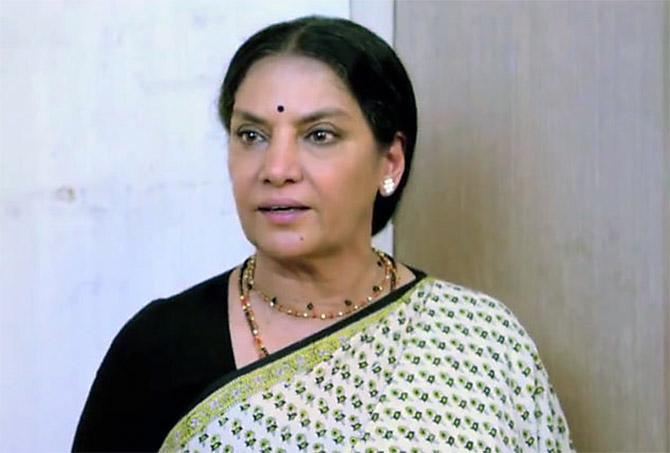 Image: Shabana Azmi in Chalk N Duster
What message do you want to convey to the audience through this film?
I don't want to see it as a huge message film because ultimately, it's a story about a school teacher.
What the film does is kindle a warmth for teachers, who have been responsible for shaping you and making you what you are today.
Even though you may have lost touch with them, you realise the importance of that teacher. I get goosebumps when I talk about it.
Did the film take you back to your school days?

No. But it did strike me -- it's extremely ironical -- that I was a very good student but completely hopeless at Maths and my Maths teacher, Mrs Barucha, hated me.
She would come to class and because my name was Azmi, I would be the first on the roll call. She would say 'Azmi Shabana', I would say 'Present' and then she would say, 'Out of the class'.
Now, I'm playing a Mathematics teacher. The irony doesn't cease to amaze me. I had the toughest time trying to learn theorems, understanding what a hypotenuse is... that took up all my time.
I remember once there was a Maths test that I wasn't prepared for. I pretended to have a bad stomachache. My teacher did not believe me but she took me to the health centre of the school, and there I did more natak.
My aunt, who lived near school, was called and I was admitted to J J Hospital, and I was still acting! Can you imagine that I called it all the way there? It proves two things -- that I had an acting ability even then and that Maths is something that would give me stomach cramps even if I didn't have them!
Did you take any inspiration from Mrs Barucha for Chalk n Duster?
No, I haven't played a grumpy teacher (laughs)!
I based my character on my sister-in-law, Sulbha Arya, who is a well-known theatre, television and film actress because she has been a teacher. I have seen her marking papers, carrying books and things like that. Even the way I look in the film and the way I behave is closely based on Sulbha. So if you like me in the film, that means you like Sulbha. If you don't like me, blame her. She is my role model.

What was that one thing which drew you towards Chalk N Duster?

When I was offered this film, I really liked it.
It is written by Ranjeev and Neetu (Verma). Neetu is a teacher, so they have observed teachers closely.
I was not so enthusiastic because I didn't know the director or producer or anybody in the team.
Then Juhi came to my house and I could see that she was really taken up by the project. That encouraged me to say yes.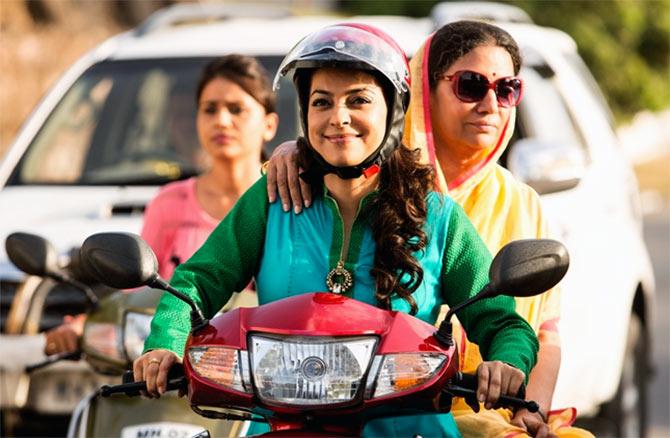 Image: Juhi Chawla and Shabana Azmi in Chalk N Duster
Would you like to be a teacher in real life if you got the chance?

I am a student by temperament.
I am a visiting professor of several universities in America like the Michigan University. I have taken classes at Princeton, Harvard, Columbia, University of Pennsylvania etc.
But then that's taking a class. What I really enjoy is being a student.

Have you watched Farhan Akhtar's Wazir?

No, I haven't.