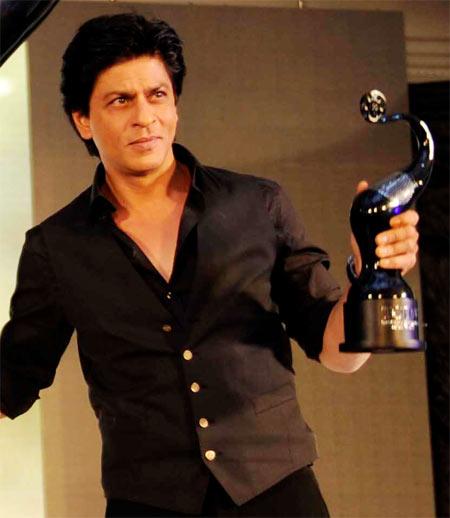 As India and Pakistan spar over the issue of security for Shah Rukh Khan, the Bollywood superstar said it was sad that an article written by him took an 'unwarranted twist' and he was forced to reiterate his patriotism. Rajul Hegde reports.

At the launch of The Times of India Film Awards in Mumbai, Khan, while addressing the media said that he and his family were completely safe and secure in India, and denied saying that he had faced any security problems in India.

The commotion started after Pakistan's Interior Minister Rahman Malik said on Monday that India should take care of Khan's security, drawing sharp reactions from the government as well as the political class, saying that Pakistan should be more worried over the security of its citizens.

As India and Pakistan fight over the issue of security for Khan, the actor said it was sad that an article written by him took an unwarranted twist and he was forced to reiterate his patriotism. "My own family and friends are like a mini India... where all religions, professions and a few wrongs included, are treated with tolerance and understanding and regard for each other. I stand indebted to my audience in my country and around the world. It is sad that I have to say it to prove it, in my country, which my father fought for, during the Independence struggle."

The actor read out a lengthy statement and chunks from his article, which he wrote for a weekly magazine to address the controversy, saying, "I do not even understand the basis of this controversy."
Pakistan's demand for Shah Rukh Khan's security sparked a public outcry in India. Shah Rukh said, "Being a public figure makes me prone to any kind of questioning, good and bad and sometimes, makes me an object of controversy as people use my name and statements to attach any positive or negative sentiment to it. This is the life I chose and stand by it. I am, because of the love and admiration that comes with being that I am in my profession. I thank everyone for making me the star I am."
The actor had written in his article: 'I sometimes become the inadvertent object of political leaders who choose to make me a symbol of all that they think is wrong and unpatriotic about Muslims in India.
'There have been occasions when I have been accused of bearing allegiance to our neighbouring nation rather than my own country -- this even though I am an Indian, whose father fought for the freedom of India. Rallies have been held where leaders have exhorted me to leave and return what they refer to my original homeland.'
He later said that it was ironical that people were reacting to his article without even reading it. "I think some people have not even read and are reacting to comments of people who in turn have also not read it. So I implore you all to first read it," he said.
"What I wrote was actually meant to reiterate that on some occasions my being an Indian Muslim star, is misused by bigots and narrow-minded people who have misplaced religious ideologies for small gains. And ironically, the same has happened through this article, once again," said a dejected Khan.
Khan said that the feelings expressed in the article were heartfelt and were extremely important aspect of his life. "The article is an appreciation of love that all of you have bestowed upon me and also a point of view from my being a father of two young children," he said.
"And please, if you can put all I have said on your channels, or mediums of communication, in the exact same light as I have said it and meant it in. Twenty-four hours of unrequired controversy is more than enough for all of us I assume. So do not sensationalise, and hence trivialise matters of national interest and religion any further and drag a movie actor in the middle of it all -- and let me get back to doing what I do best -- making movies."
Photograph: Pradeep Bandekar