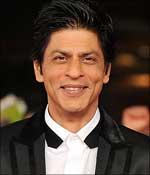 Actor Shah Rukh Khan is in the eye of a storm, again.
In a controversial article that he recently wrote for a news magazine, Khan has talked about the sensitive issue of being part of the minority community in a largely Hindu India, the dichotomy of being a much-loved actor in the same nation and how he interprets his religious identity.
Many of his supporters have defended his comments, saying Khan is only stating the obvious and has the right to express his views.
Others, especially social commentators, have criticised Khan for painting an inaccurate picture of India's secular society for the sake of some personal publicity.
It is time for you, our dear readers, to weigh in on the controversy.
Was the impeccably articulate actor speaking from his heart or was he trying to manipulate a touchy issue for some newsprint?
Share your comments, suggestions and opinions on the message board below: