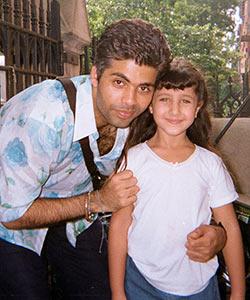 The little girl from Kal Ho Naa Ho has grown up!
The Hindi film industry has seen its fair share of child actors, some as famous as Master Raju and Junior Mehmood.
Jhanak Shukla has also made her presence felt quite deeply, in her short acting career. She's best known for featuring in Karan Johar's 2003 blockbuster production Kal Ho Naa Ho. She was seven years old then.
She has also done some television shows, and ads.
We traced Jhanak, now 18, to her Malad home, in suburban Mumbai, where she lives with her actress mother Supriya (Varun Dhawan's onscreen mother in Main Tera Hero), documentary filmmaker father Haril and younger sister.
Jhanak, whose nickname is Princey, talks to Patcy N about her superstar co-stars Shah Rukh Khan and Preity Zinta, her films, and why she decided against it as a career.
How it all started
I was born in Delhi and lived there for six years before we shifted to Mumbai.
My mother did stage shows and theatre when she was young. She was acting in a television serial for Doordarshan called Tanhai (1992) when she met my father and got married.
After four years of marriage, my mother started doing ads occasionally. It was during the shooting of one such ad that (director) Pradeep Sarkar saw me and called me for an audition.
The ad was for ICICI and was shot in Mumbai. I was five years old. That was my first ad.
I walked the ramp for Aquafina before that, when I was just four.
I got lots of ad offers after that ICICI ad.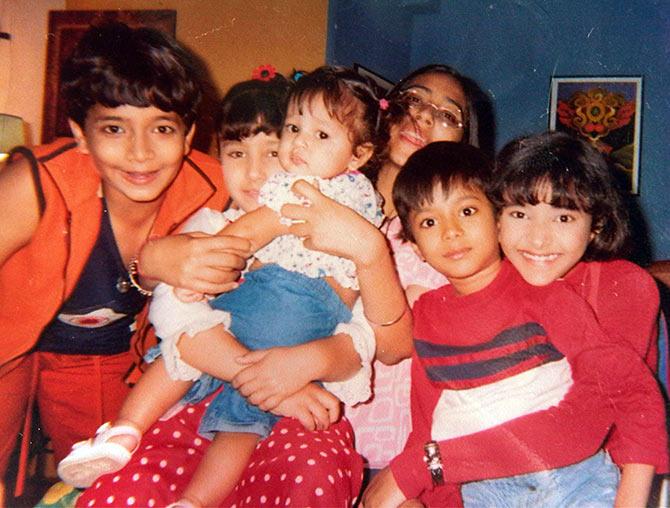 Jhanak Shukla (second from left) and Shweta Prasad (extreme right) on Karishma Kaa Karishma
My father took up a job with a Mumbai-based production company in 2001, and shifted here. The following year, we all shifted to Mumbai.
I acted in a serial called Karishma Kaa Karishma for about one-and-a-half years, when I was in the second standard.
I wasn't treated differently by my friends or in school, but outside, I was treated very well. I loved the attention. People would click pictures with me and ask for autographs.
I played a robot in Karishma Kaa Karishma. I remember we were at a hill station and a small child wanted to check my back to see if I had a circuit -- he thought I was a robot in real life too! He wouldn't budge till my mother allowed him to touch my back.
I played the main character of a dumb girl in a Malayalam serial and would have to go to Trivandrum for the shoot.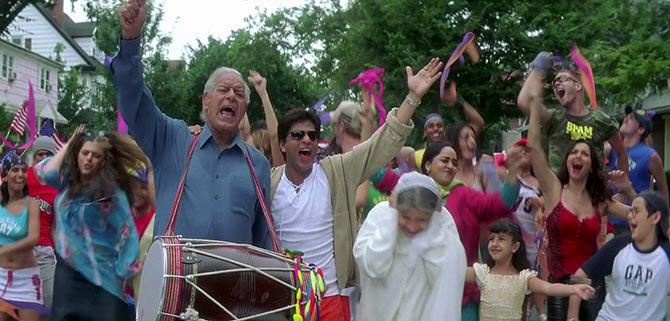 Dara Singh, Shah Rukh Khan, Sushma Seth, Jhanak Shukla in Kal Ho Na Ho
First movie Kal Ho Naa Ho
After the Malayalam serial, I was offered Kal Ho Naa Ho. I was seven years old then.
I auditioned and was selected but had to do many more auditions as the person who played my brother had not been finalised.
I had to recite a dialogue from the movie, which was Shah Rukh Khan's entry scene dialogue.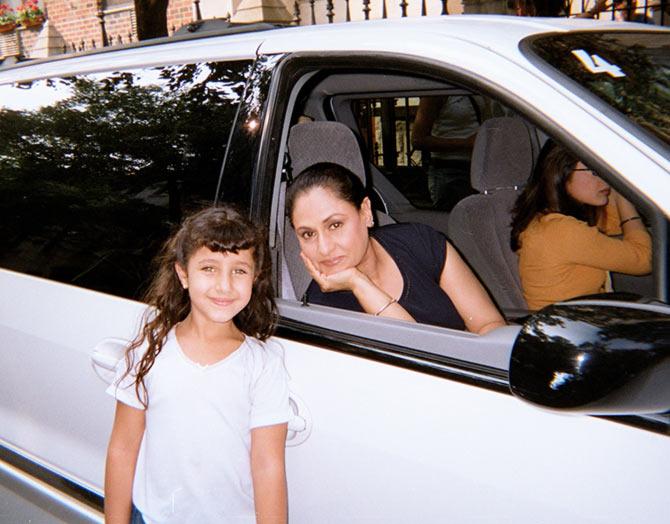 Jhanak Shukla with Jaya Bachchan
The film was shot in New York. I had never been abroad, plus I loved Shah Rukh Khan, so it was a dream-come-true for me. I can marry Shah Rukh Khan, I love him that much!
My dad came with me for the month-long schedule.
I remember after we shot for the song Pretty Woman in the film, all of us were sitting on the bonnet of the car and Shah Rukh Khan told everyone dancing with us that I was 'a big star in India, she is a robot.'
Everyone was very nice to me. Jaya Bachchan would take care of me; she would make me sit on her lap.
One day I got sick. My dad had some work and had to go out. So Jaya Bachchan told my dad not to worry, that she would take care of me.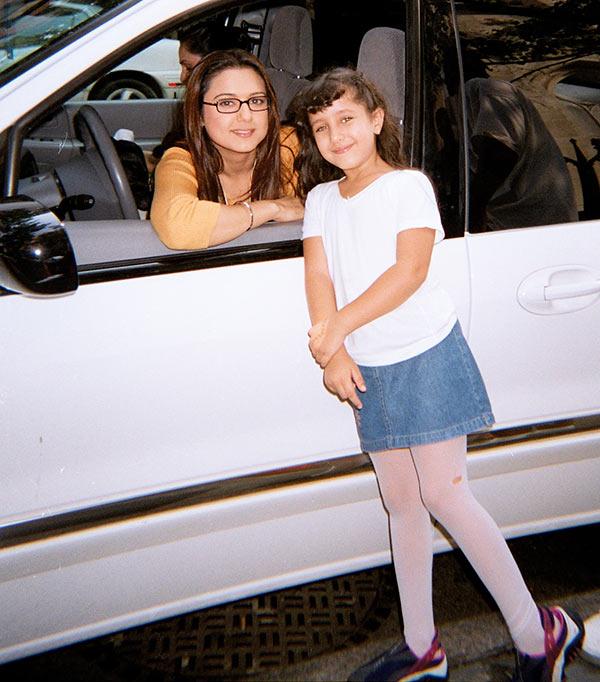 Preity Zinta and Jhanak Shukla
Before I returned to India, Preity didi (Preity Zinta) gave me a toy hammer as a gift. Reema Lagoo gifted me a pretty pink night suit.
Shah Rukh's was the biggest gift -- he kissed me!
Mickey Contractor, the make-up artist, gifted me a Barbie doll.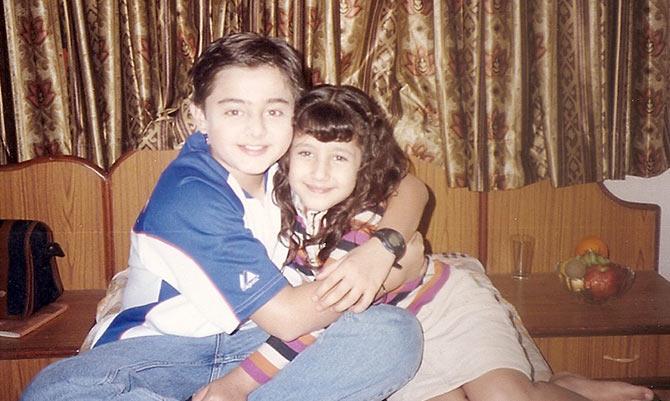 Athit Naik and Jhanak Shukla
Director Nikhil Advani was very sweet to me. All my scenes were given to my father and he would explain the scene to me and tell me what to do.
In one of the scenes in the movie, I had to cry and I can't cry with glycerine. Tarun Mansukhani, who was the assistant director, yelled at me so much that I started crying and we shot the scene.
I was a quiet and obedient child. I would sit in one corner on the sets and not play or jump around.
After pack up, we would go for walks. I met Dev Anand having breakfast at the Hotel Radisson, where we were staying.
Around that time, Preity didi's movie Koi... Mil Gaya had released, so all the cast and crew members went to watch the movie together.
After New York, we shot in Mumbai for 20 days for the songs Mahi Ve and It's The Time To Disco and a few scenes.
Karan Johar was very nice; he was the producer of the film, so he would come rarely. I didn't talk much with him.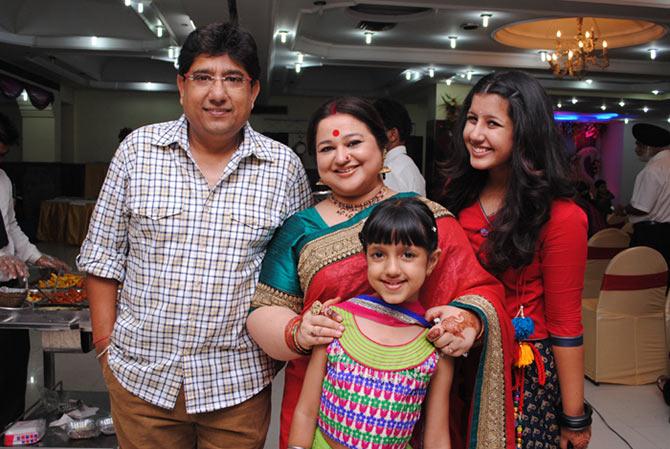 Jhanak with her parents Haril Shukla and actress mother Supriya Shukla and sister.
Giving up acting
I did one more movie, Deadline: Sirf 24 Ghante with Irrfan Khan and Konkona Sen Sharma.
Most of my scenes were with Zakir Hussain.
My last serial was Sonpari. I shot for this for six months only. I was growing up and they needed a small girl.
I did a few ads after Sonpari and then I gave up acting.
I was in the sixth standard and I wanted to study so I just stopped taking any more assignments.
I did not want to pursue acting as a career. I got fed up actually.
After my tenth standard, I did an episode of Gumrah in season one because my mother's friend was the producer.
Now I am doing my Bachelors degree in Arts. I want to do a Masters degree as well. I want to become a social activist and start an NGO to help oppressed women.