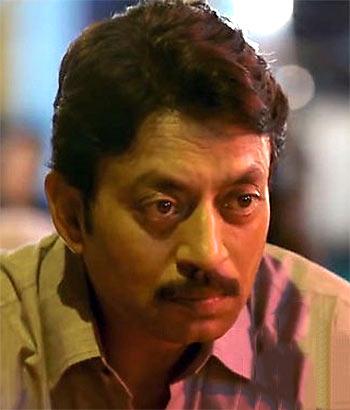 'The director has tried to be neutral. But Talvar won't leave the audience confused, for sure.'
Irrfan Khan discusses Talvar with Vaihayasi Pande Daniel/Rediff.com
You get precisely 900 seconds to meet and chat with actor Irrfan Khan.
At least 9,000 seconds too little.
It is yet a memorable 900 seconds.
Khan is an intriguing, engaging, person to interview.
The moment you set eyes on him in the antiseptic banquet room at the Sun-N-Sand hotel, on Mumbai's Juhu beach -- wearing some freaky, cool, jacket and red tennis shoes, a gold earring winking in one ear, talking very politely to reporters, graciously posing for selfies, but his piercing headlight eyes roving the room, his antennas whirring double-time -- you sense it is going to be a fun interview.
Khan, 48, has a certain earthiness that appeals -- a feeling that you are talking to a real person. A masala personality on screen or off-screen, conversation is as stimulating as stepping into a film scene with him.
Friendly, relaxed, he creates no distance between himself and the person he is talking to; none of that oft-encountered prissy Mumbai superficiality of the privileged, although his manners are elegant. He does not sidestep questions or throw them back at you indignant, but rather spars good-humouredly, playfully.
His mobile face, patterned with a week of fuzz, is a map of emotions and serious introspection, as he carefully frames his answers, his voice often shaded with different inflections.
Mid-interview he takes out a paper packet and opens it up. And begins to massage the tobacco it contains. Hunting for an aide he calls across the room: 'Nakki, mera kagaz de do (bring me my paper).' And proceeds to roll a cigarette and puff it.
It is an interview to discuss his latest film Talvar. 2015 has seen him do comedy drama Piku, sci-fi Jurassic World, the action drama Jazbaa, along with the sombre, dark, Talvar.
In Talvar, a film produced by Vishal Bhardwaj and directed by Meghna Gulzar, that has been a couple of painstaking years in the making, Khan essays the role of a duty-minded, fair, CBI investigator, Ashwin Kumar, who takes over, from the Noida police, the investigation of the double murder of Shruti Tandon and the Tandons' house help, in a film based on the heart-breaking 2008 Aarushi Talwar-Hemraj Banjade murders, for which Aarushi's dentist parents have been found guilty and are serving life sentences in an Uttar Pradesh jail.
Personally, what do you feel you have learned doing this film?
This is a unique film in the way that it is dealing with a true case. It is not fictionalising at all. Then because it is a film, you have to make it engaging enough for the audience. So on that level it is a very, very, new kind of film.
A tough film to do?
(Nods). Without sensationalising. Without fictionalising. Just keeping to the facts, with so much information -- and keeping it engaging enough. The audience is going to have a very unique experience.
I know Talvar is not a biopic. But isn't that the same premise in a biopic -- sticking to the facts?
In a biopic, you can still take the liberty of fictionalising portions. But because this is such a sensitive case you cannot really take liberties in this. You have to stick to facts and then make it engaging.
In what way has being part of this film impacted your life?
(There were) some revelations, which I did not know about the case. When I read the script, it really intrigued me. I did my own research. There are some shocking facts that I wasn't aware of.
What did it teach you about India? Or about how police and CBI investigations happen?
Yes, there are things that need to be corrected, which needs more attention rather.
It is not the fault of an individual. Somewhere the fault lies in not updating, upgrading the system.
I believe you do a lot of homework for your films and work very hard to get into the role of the person that you are portraying. So what homework did you do for this film?
I went through the (Talwar) case files. Whatever was possible.
Then I met the person whose role I was playing.
Former CBI officer Arun Kumar?
I had a long session with him.
I kept referring to him whenever I had any doubts or any concerns on understanding how a department works. Or how does one feel in a certain kind of limitations and set up. Every department has their own limitations. How do they interact with the other departments?
(The CBI) is not there on the crime scene, because they are not the first ones to go there. The crime (could have been committed) six months back.
The crime scene was not the same as when it was when the police entered. They had the first information. Now they (CBI) don't have (it). How to go about it? What do you look for?
On all these things you consult (with people who know). And you learn.
Primarily by speaking to Arun Kumar? What about some of the other investigators? I believe Arun Kumar had the most upright role in the Aarushi-Hemraj CBI investigation. The other ones were said to be more 'filmi' in their outlook.
My perspective was not getting affected by them (the other investigators). They came later... (Talvar) did a kind of take on my investigation -- Arun Kumar's investigation. So I didn't feel the need to meet them (the other investigators).
I was not trying to understand the case from them. I had my own way of investigating (in the film) and reaching the truth. So I stuck to that.
It was up to the director how they have balanced all the versions (of the investigations), by trying to gauge audiences and the audience's intelligence... they (the audience) can draw their own conclusions.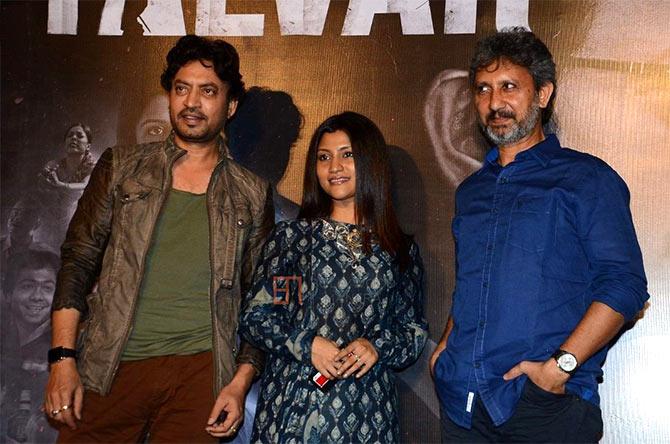 IMAGE: Irrfan, Konkona Sensharma and Neeraj Kabi at a Talvar promotional event. Photograph: Pradeep Bandekar
Why did you decide to do this role?
I liked the whole package -- Gulzarsaab's daughter (Meghana Gulzar directs the film). I have a (special) kind of respect for Gulzarsaab. Meghna's obsession with the story. Her hard work on the story. Vishalsaab's writing. Vishal approached me for the film.
It is a compelling story. It is a kind of new way of telling a story, which deals with a social issue. I felt it was an important story to share with the audience. It was not the role which attracted me.
Do you like the Rashomon idea, of doing a film that uses this technique?
Yes, I liked it.
Why?
Because you like it (smiles).
A new kind of thing for you to do?
It is a new kind of thing for the audience to experience.
And also for you to act, I suppose?
I have done that earlier. I have done a film earlier, A Mighty Heart, with Angelina Jolie (on slain Wall Street Journal reporter Daniel Pearl). It was a similar kind of role I was playing. An investigator from Pakistan, but that was a different case.
After speaking to Mr Arun Kumar, by reading the script (which was the product of much research) and doing your own research, what do you feel are some of the issues that investigators face?
Like I said, you are not reaching the crime scene as a first party. You are reaching there after a long time. Many months have passed. (You don' know) what all contamination has happened with the crime scene. Things are disturbed.
(A CBI investigator has to know) how to dig deep and bring out the truth. It becomes much more challenging. Much more challenging.
Did you find yourself admiring Mr Arun Kumar?
Oh yes! That job is very difficult. Even the police's job is very difficult. There are different pressures. They are not well trained sometimes.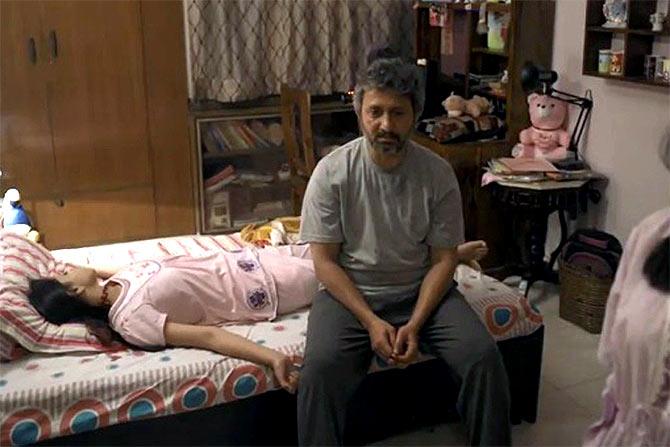 IMAGE: A scene from Talvar.
I know you are very close to this film, being its lead actor. So it is hard for you to answer this question: Do you think Talvar is a very neutral take on this case?
I think the director has tried to be neutral. But Talvar won't leave the audience confused, for sure. The film will guide them to form their opinion.
Guide them to form an opinion, either way about who might have been guilty in the Aarushi-Hemraj double murder case?
Ya. It is up to the audience.
In the Talwar case, many incorrect things emerged at the time. The media had no basis for that kind of 'reportage.'
I think it is a time where one should question journalistic ethics.
There is a tragedy and you are trying to make an entertaining story out of it, putting all these angles. And that forms an opinion about the victim or the suspect. That's not a very good thing.
Would you like to meet the Talwars?
No.
Why not?
I never felt the need to meet them. Because, as it is, it was hard to do this film.
So out of kindness and respect for them you would not want to meet them?
It won't help them.
If they want to meet you?
Sure, 100 per cent. If they want to meet me, I would definitely meet them.
What were some of the things that affected you in the film?
(Smiles charmingly) Watch the film!
One example? Or two.
The way the investigation is done is very... (lowers his voice and says sadly) shabby.
No expertise.
Like you know it is a crime scene and everybody was (showing it no respect)...
Like my character says: (He changes the intonation of his voice and takes on his role from Talvar, as a CBI officer telling off the Noida police about how they handled the crime scene, to demonstrate what he means) 'Tum log saala ne machhi bazaar bana diya. Rishtidar aa rahein hai. Media aa rahein hai. Sab chal rahein, phir rahein wahan. Ghum rahein hai koiee (You turned this crime scene into a fish market. The relatives came. The media came. Everybody is walking through it. Everyone is wandering around, hanging around there).'
Is there something you had to act out in the film which you did not necessarily agree with, but you acted it nevertheless?
Not in this kind of film, no. Other films definitely. Sometimes it happens that you don't agree to a point of view. But you do it for the story because the director wants that story and you have committed.
How is the film looking?
The film is looking great. We got fantastic reviews. It means a lot to get a great review in Hollywood Reporter and Variety.
How does the film compare with others you have done?
It could be watched anywhere in the world and people will be intrigued by this.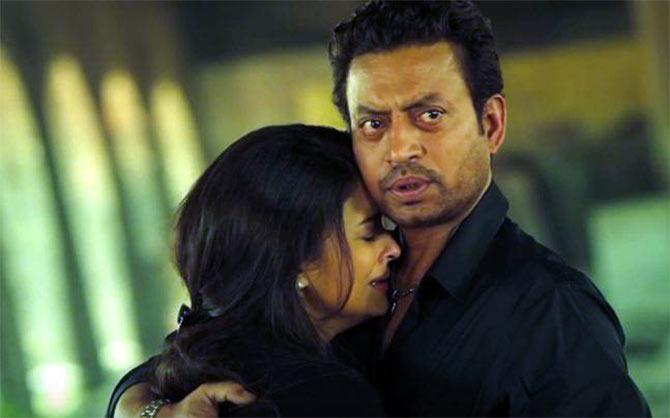 IMAGE: Irrfan and Aishwarya Rai Bachchan in Jazbaa.
Can I please ask you a Jazbaa question? How was it to work with Aishwarya (Rai Bachchan)?
You couldn't ask any other question?! (he says with a smile and a laugh)
It was beautiful.
Please add something more...
'Beautiful' is not enough? (he asks with a mock quizzical expression)
A sentence at least.
I came to know her more. Earlier we never interacted. I didn't know anything about her. She is a very genuine, warm and caring person. I loved each and every moment.