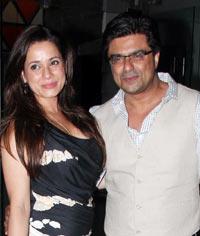 Samir Soni, who was last seen in Color's Parichay, returns to television with the supernatural thriller Ringa Ringa Roses. The show premiered on the Life OK channel earlier this week.

"This is the most intense multi-layered character I have ever played," Samir says. "To me, the challenge is to convince viewers that this character of a ghostbuster actually exists."

The actor admits he has never encountered a ghost in real life but "stories about the supernatural have been around for centuries in all parts of the world. I am sure ghosts exist although I haven't encountered any," he says.

For someone who has been around on television to see myriad changes, Samir remains nonchalant. "Change is inevitable.
As the audience adopts changes of lifestyle and morals, television too must incorporate the changing mores and sensibilities. The influence of Western culture on our cinema and television is undeniable. But we Indians love a good story with plenty of drama. Nothing can change that."
Long shooting hours do not deter Samir from spending time with his baby daughter Ahana. "I admit I am not able to spend as much time with her as I'd like to. She's 11 months old, and has her own schedule. I find it hard to co-ordinate my timings with hers. But it's a delight to wake up to her smiling face."
More than his own joy at parenthood, it is wife Neelam's happiness that makes Samir happy.
"I've never seen Neelam happier since I've known her. And to me, that complete feeling of a happy family means everything. Ahana means the first ray of the sun. She has indeed brought sunshine into our lives."