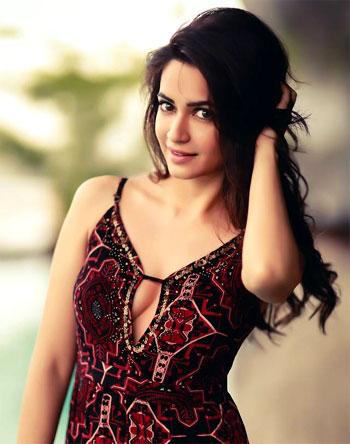 'I have always been dramatic so I think being an actress comes naturally to me.'
'Because I am so dramatic and a little psycho in my head, being possessed comes even more naturally to me.'
Kriti Kharbanda gets candid about her Bollywood debut Raaz Reboot.
Talkative, self obsessed and vibrant -- that's Kriti Kharbanda, the lead actress of Raaz Reboot, in a nutshell.
Born in Delhi and brought up in Bangalore, the pretty lady now loves being in Mumbai as the city has grown on her.
"I miss Mumbai when I'm not here. The city does that to you and it's exciting," says the bubbly actress.
The 28-year-old actress, who has been working down South for a few years now, is eager to get a tattoo which says 'Drama Queen.'
While Kriti hopes her film crosses the Rs 100 crore mark at the box office, in this exclusive interview with Jahnavi Patel/ Rediff.com, the actress also reveals how Raaz Reboot happened, why she took so long to sign her first Hindi movie and much more.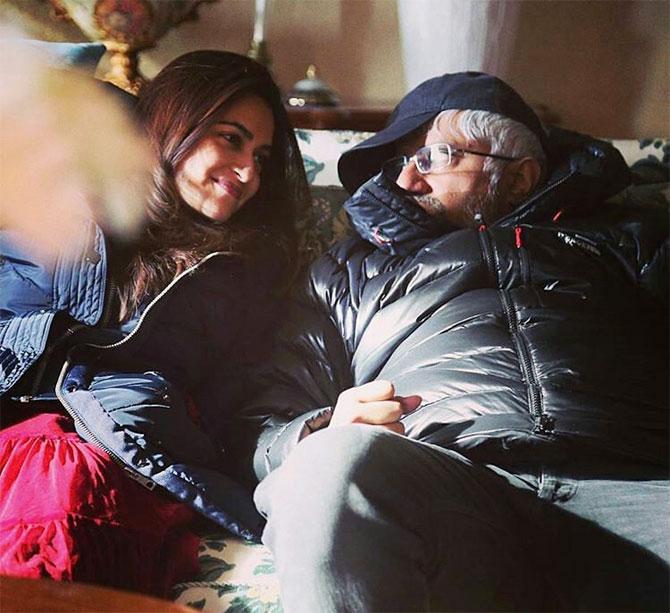 IMAGE: Kriti Kharbanda and Vikram Bhatt on the sets of Raaz Reboot. Photograph: Kriti Kharbanda/Instagram
Did you always want to be an actor?
I have always been dramatic so I think being an actress comes naturally to me. I think I am pretty good at it.
Because I am so dramatic and a little psycho in my head, being possessed comes even more naturally to me.
I keep telling Vikram sir (director Vikram Bhatt) that I am the most amazing bhoot (ghost) ever.
Every time I got possessed in the movie, I would scream and he would always tell me, 'Kya baat hai meri sherni.'
It was fun shooting with him.

Did you always want to make your Bollywood debut with a horror film?
Not initially. Of course I had my apprehensions not because it is a film where I get possessed but because I was very uncomfortable about a few things in the movie.
But then again, as an actor you have got to push yourself and the evil in my head made me sign this film!

You have been acting since 2009 but you're making your debut in Bollywood almost seven years later. What took you so long?
Honestly, even South cinema took long.
I was 18 when I did my first film (Telugu film Boni).
My mom wanted me to complete my studies after that, so I took a break.
Honestly, as far as being an actress is concerned, I have been active only in the last three and a half years.
My parents have been very supportive. To survive in this industry, you need a great support system and I am really blessed to have one.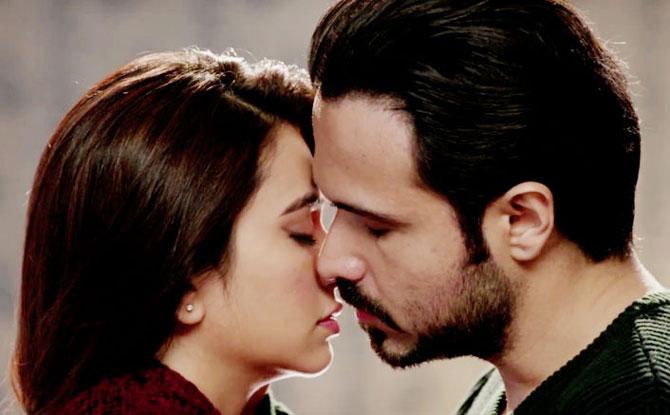 IMAGE: Kriti Kharbanda and Emraan Hashmi in Raaz Reboot
How was it associating with the Bhatts?
Absolutely fabulous! They are mad people, just like me. I love mad people.
That's why I think we get along like a house on fire.
Not just the Bhatts, Emraan (Hashmi) is mad, Gaurav (Arora, co-star) is even madder.
So I have worked with a bunch of mad people in this film.

Emraan Hashmi is known as the serial kisser and you do have a kissing scene with him in the film. Were you nervous?
In my career, I have never kissed onscreen. So for me, this was for the first time.
Whenever you are doing something new, that apprehension is always there.
Emraan being a serial kisser didn't really bother me. He is the best, he has created a legacy, he is the king of romance in his own way.
So I was working with the best.


IMAGE: Kriti Kharbanda in Raaz Reboot
Were you nervous while shooting for the film?
Of course! I wanted to dig a hole and bury myself in it.
I kept telling Vikram sir, 'I know you love me. Is there any way you can remove the kissing scenes? Is there any way you can remove this or that?'
He was like, 'beta, picture hi nahi bana bolde'.
But they have been very supportive about it. They did put up with a lot of my nonsense.
Was it frightening to shoot scenes where you get possessed?
When we were shooting the horror bit, I started having an anxiety attack. I couldn't breathe, I became very nervous and breathless.
In that scene I get possessed and a demonic spirit takes over me and I had to be that person. I remember screaming and doing my thing and then I fell flat on the ground.
I just sat; I couldn't believe I was doing this. I was thinking, 'What's wrong with me?'
It takes over your mind.
We were shooting on the first floor of the mansion; I ran to the make up room and burst out crying. The next thing I know, my entire body was red with rashes, I couldn't stop scratching myself.
I felt like there was something that is bothering me.
I showed my hands to Vikram sir. He told me I was having a panic attack.
I was like, 'I am freaking out. It's too scary and I can't do this anymore.'
I had this major panic attack. I was screaming and crying on sets and everyone was wondering what was wrong with me. They had to give me medicine to calm me down and then I slept on for almost an hour.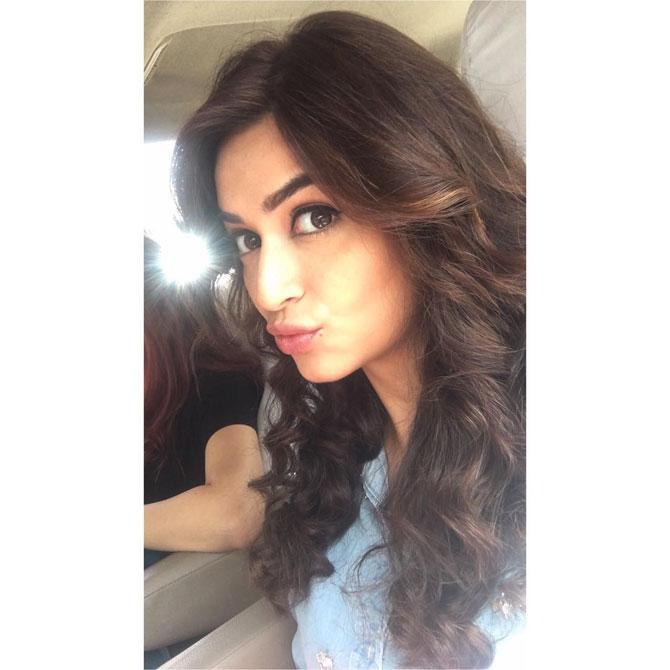 Photograph: Kriti Kharbanda/Instagram
After you finished shooting for the film, was it difficult or easy for you to get out of it?
I don't think I have still gotten out of it.
The bhoot is still in me and I like it, it's so fun. I like evil.
Was this character relatable for you?
No, not at all. She's nothing like I am. I am too goofy to be Shaina Banerjee.
I am so mental that if a spirit came and haunted me, I'd fight it back.
She's a very serious character, mature in her sensibilities and all.
I am far from mature. I am mature in my own way but too childish to be Shaina Banerjee.
I used to hop around and Vikram sir would ask me to stay in my character.
I had this one dance step which I made everyone do on the set. I have a video also and I'll make sure it comes out. After every shot that went great, I'd make the AD stand up with me and do the dance step.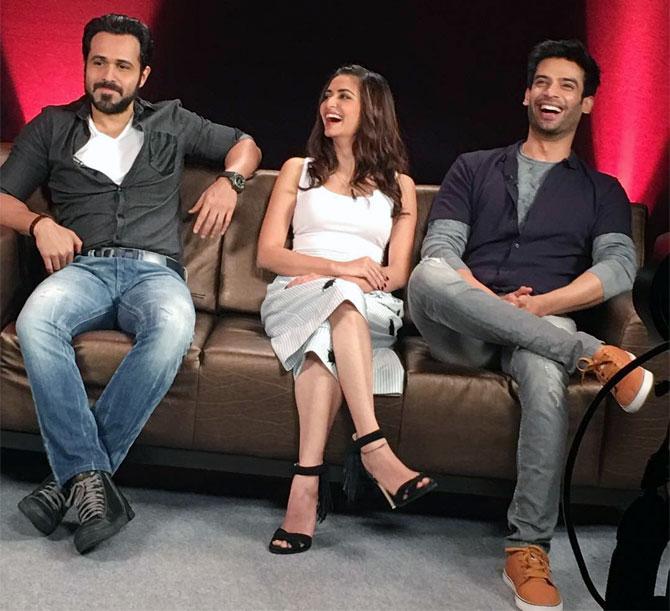 IMAGE: Emraan Hashmi, Kriti Kharbanda and Gaurav Arora. Photograph: Kriti Kharbanda/Instagram
There are reports about you dating your co-star Gaurav Arora.
He is hot, so obviously the linkups would happen (laughs).
We play husband and wife in the film.
Gaurav is a great guy. I have a great liking for him and think he is one of the sweetest people I have met.
He is hot, looks great toh theek hai. At least, I am being linked to a great looking guy.
Emraan Hashmi is known to be shy.
He is not as shy as he looks. Looks can be deceptive.
He is quiet, mischievous but he is very caring and sweet. He is not a saint.
He pulls my leg and how! Actually both of them, Gaurav and him.
They would gang up against you?
Quite literally. They didn't have to work together for more than three-four days and ever since the promotions have begun, they have just started pulling my leg so much.
I love the attention though. Someway they are giving it to me only.
I had two hot men showering me with so much attention, what more can I ask for (laughs).
Will you still continue doing films down South?
Yes, definitely. That's where I belong I feel and that's where I come from.
I am here, recognised today because of that. I can't leave my roots.
Any director or actor that you're looking forward to work with?
Farhan Akhtar is very talented and I'd love to work with him because I feel like he is one person I can learn a lot from.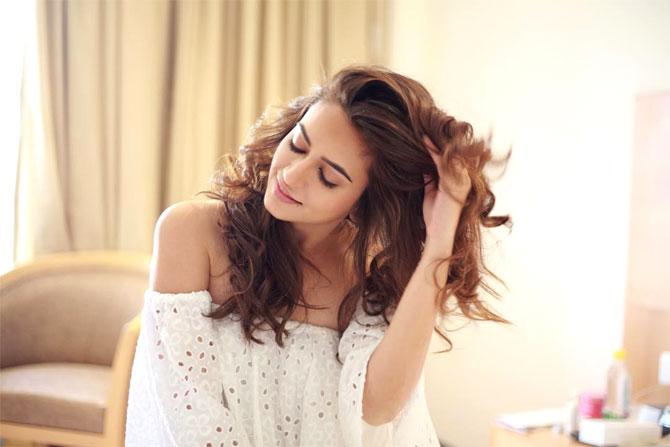 Photograph: Kriti Kharbanda/Instagram
You've been crowned Most Desirable Woman twice by Bangalore Times. So what does the most desirable woman desire in life?
I want people to desire me a lot more than that, that's my desire!
When people saw the trailer, they said I'm simple, sweet and all but there's a side to me that no one has explored. It has been explored in this movie.
I really hope that it touches a chord with the audience.