'I went to Kashmir for the first time during the shoot of The Final Call. It was stunning!'
'The people are amazing.'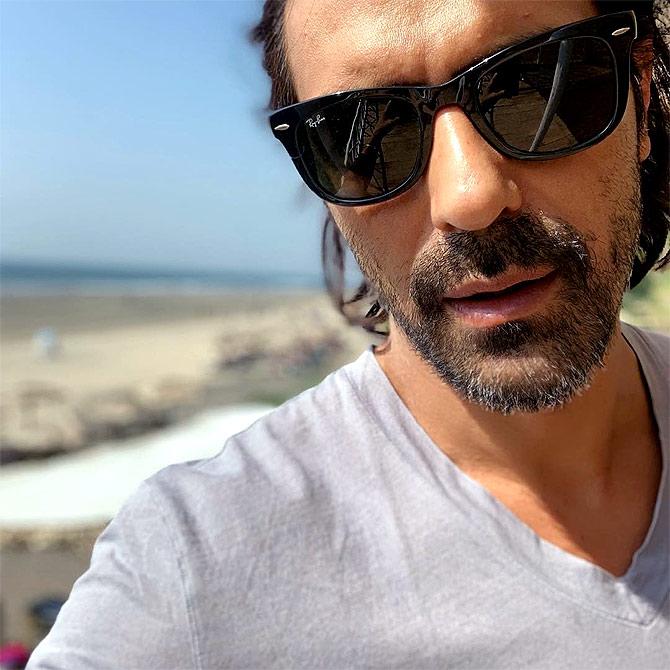 Arjun Rampal plays a suicidal pilot in his first Web series The Final Call, based on Priya Kumar's book, I Will Go With You: The Flight of a Lifetime.
With 300 passengers on board, this thriller can be watched on ZEE5.
"The cockpit in the series is the same used in Sully. I was sitting in Tom Hanks's seat!" Arjun tells Rediff.com Senior Contributor Rajul Hegde.
What made you sign up for a Web sxeries?
The OTT platform is like a breath of fresh air where you can explore your art in a purist manner.
It gives more freedom to an artist to explore the nuances of the character.
Plus, there are no box office or censorship restrictions.
This kind of platform really pushes the envelope in terms of content, and getting eyeballs.
I would be happy do more Web series because it has been a great experience working on The Final Call.
I want to tell more stories on the digital platform as a producer as well.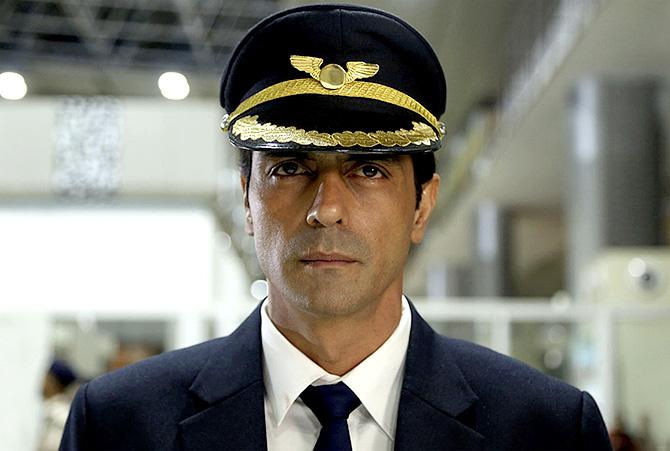 Do you think the OTT platform will slowly wipe out television and decrease footfalls in theatres?
Television will finally translate into digital, and those shows will get added to this platform.
Films is a different ball game.
It is all about having a wholesome experience of watching a film with family and friends on the big screen and eating popcorn.
It is like an outing, so that will always be there.
You play a suicidal pilot in The Final Call, who deals with a psychological disorder. Did this role give you a chance to do something different?
Yes, it was refreshing.
When I read the book, I was stunned.
We blindly get on a plane, thinking that the pilot will take me to my destination safely.
But what if he does not?
What if something is wrong with the pilot?
The screenplay is fictional.
There are two aspects tho this character -- one is his backstory and the other is what he is doing in the present time.
The way the graph of this character has been structured is very interesting because he is volatile, intense, brooding and disturbed.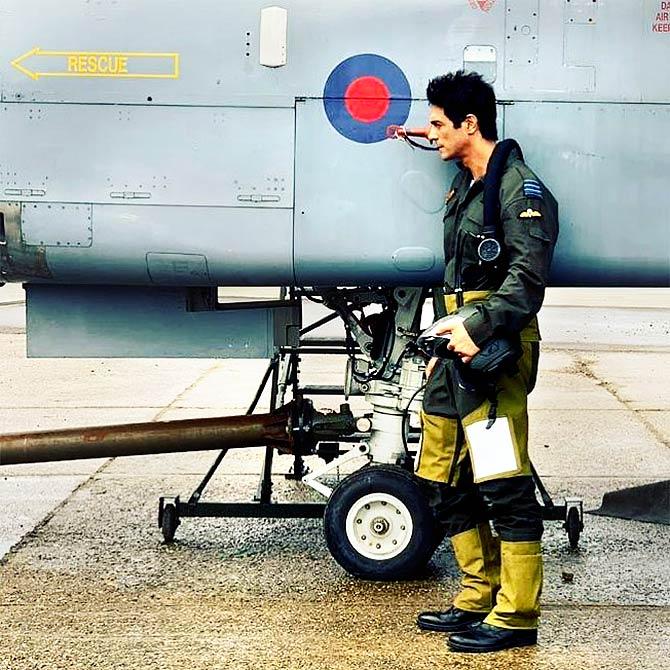 Any memories from the shoot?
The cockpit in the series is the same used in Sully.
I was sitting in Tom Hanks's seat!
It's amazing because I liked Sully and I love him as an actor. To be sitting where he must have sat during his performance was fun.
I went to Kashmir for the first time during the shoot of The Final Call. It was stunning!
The people are amazing.
It's really sad about what happened recently.
When we went, the people were happy that it was peaceful. There were no curfews, no incidents for a while.
The people there want to go back to normal life.
How was your experience working with Sakshi Tanwar, Harshad Arora and Anupriya Goenka?
I do not interact with anyone in the series because I'm in the cockpit.
I am with Anupriya's character (who plays an air hostess) and Harshad (the co-pilot) in the plane.
I have worked with Anu in Daddy and it was great to see her again.
She is the only one who is suspicious about my character in the series.
Harshad is a talented boy. He doesn't have much to do, but has done well with whatever he had to do.
Which is your favourite show? Have you ever binge watched?
I had to binge watch last week.
I started with Mirzapur on a Sunday and couldn't sleep until I watched all the episodes (laughs).
The acting is top notch; the direction and story is excellent.
I felt so proud watching it.
My favourite is Game Of Thrones. I have watched all the seasons twice.
You haven't produced anything after Daddy.
I was not in a mood to take up any project, as my mom was unwell.
I am getting back to business now.
I am planning three films; I'm trying to do a horror and a thriller.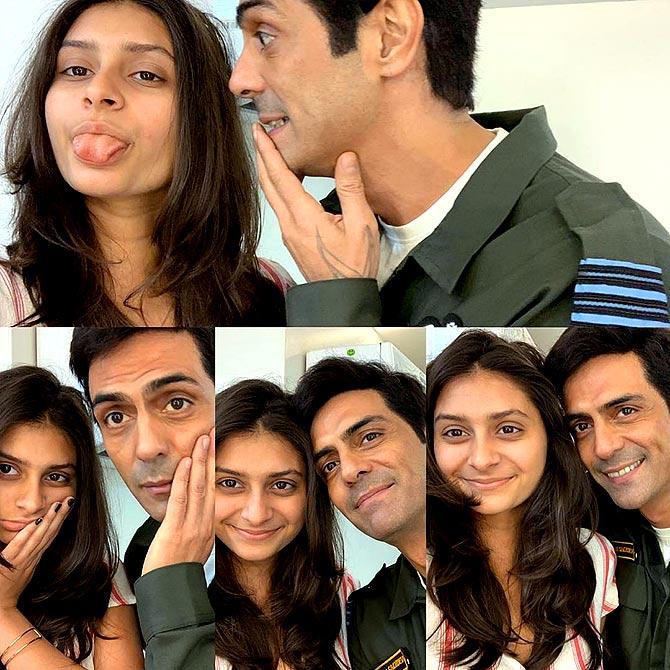 Have your daughters shown any interest of entering the entertainment industry?
My eldest daughter is just 17.
She wants to get into the entertainment industry, but isn't clear if she wants to direct, act or get into fashion.
Recently, somebody asked me the same question and I said, most probably. They wrote that she was getting launched, but that's not true.
She needs to study, get proper training, understand the craft and then if she wants to do it, why not?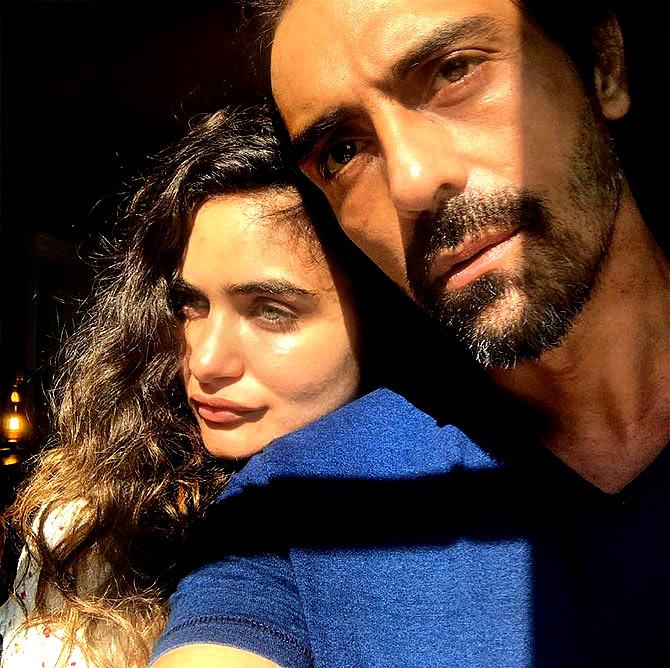 You seem to be in a happy space professionally and personally.
I am in a happy space in life in general!