'In our profession, the most important thing is patience.'
'There were days when I wondered what I was doing.'
'Just because you are a star kid doesn't mean you have a stamp saying you will be successful.'
'There are so many star kids who have not made it.'
'Yes, we get a platform, we might get recognised, but at the end of the day, the audience decides whether they want to see you on the screen or not.'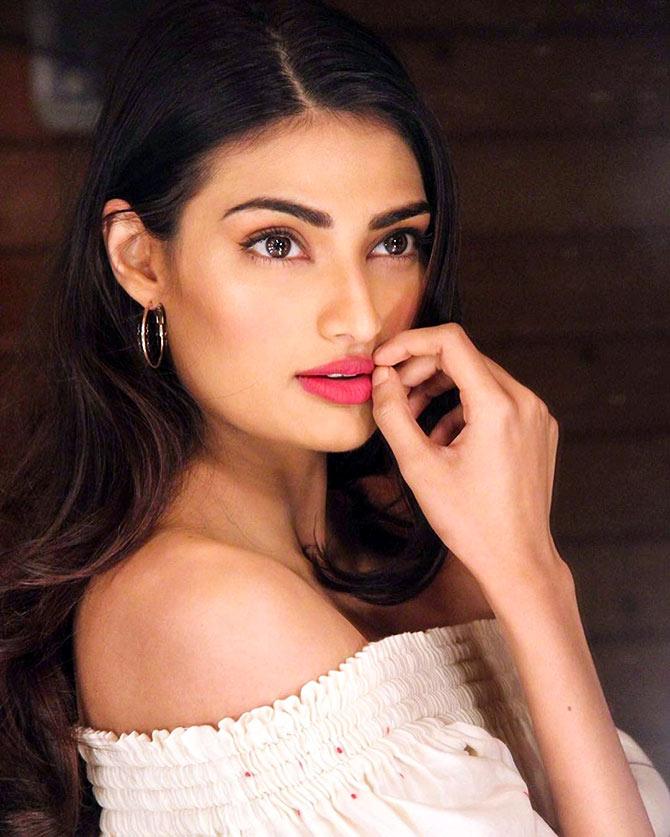 Photograph: Kind courtesy Athiya Shetty/Instagram
"I like being stressed," Athiya Shetty tells Rediff.com's Patcy N as she settles down to discuss her new film Mubarakan.
Athiya says she didn't sign any film for seven months after her debut film Hero released though she was offered many.
Mubarakan -- which sees Athiya opposite Arjun Kapoor -- has been directed by Anees Bazmee who has directed her dad Suniel Shetty in five films -- Thank You, No Problem, Thank You, Karz: The Burden of Truth, Prithvi, Gopi Kishan and Ek Aur Faulad.
Did you get Mubarakan immediately after Hero?
I was listening to a lot of scripts, but wasn't convinced that I wanted to be part of them.
I was getting good roles as well, but was not happy with the set-up and the package.
I would always feel that the script lacked something.
But when I heard Mubarakan, I felt this was something I wanted to be a part of.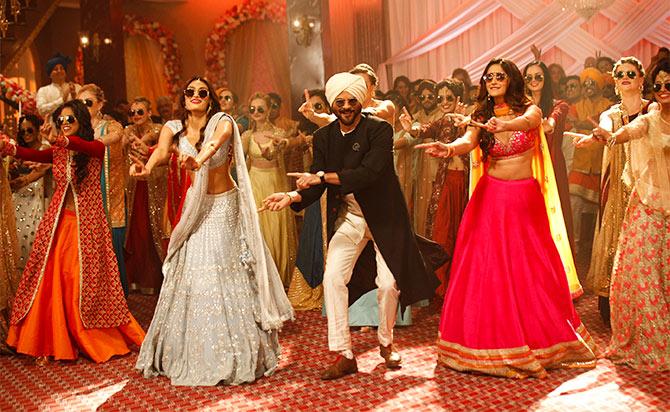 IMAGE: Athiya, Anil Kapoor and Ileana D'Cruz dance to the Goggle song in Mubarakan.
Mubarakan is a multi-starrer. Why would you want to take it up?
I don't think that makes any difference.
Today, some of the biggest films are multi-starrers, where people are recognised for their work, like Dil Dhadakne Do or Bajirao Mastani.
So it did not matter that it is a multi-starrer. I knew what I was getting into.
Did the seven month wait worry you?
Of course! But in our profession, the most important thing is patience.
By that, I don't mean sitting and waiting, but what you do while you wait.
There were days when I wondered what I was doing.
Was I making a mistake by not signing anything?
So many things go in your mind.
But I feel it was worth the wait. I am getting more offers now after Mubarakan.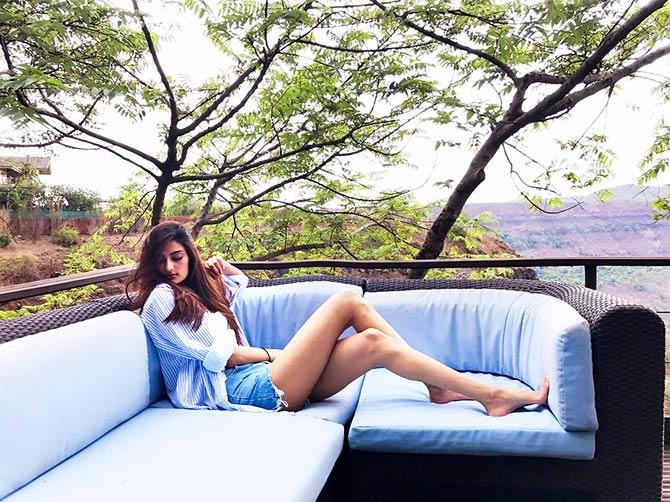 IMAGE: Athiya chills out. Photograph: Kind courtesy Athiya Shetty/Instagram
As a star kid, is there more pressure to prove yourself?
I feel yes. If your parent has achieved so much, there is a sense of pressure.
I am very hard on myself.
I put too much pressure on myself.
I am my biggest critic. I am never satisfied with anything.
I like that about myself because that pushes me to work harder and be motivated.
Since you say you are very hard on yourself, did anything make you cringe about yourself in Hero?
I pinpointed everything that I needed to work on; there were a lot of things.
Like?
You never stop learning as a human being, as an actor.
If you are in a creative field, there is so much to learn.
I am so satisfied about Mubarakan because I got a chance to learn so much from Anees Bazme, Anil Kapoor, Arjun Kapoor, Ileana D'Cruz and Ratnaji (Ratna Pathak Shah).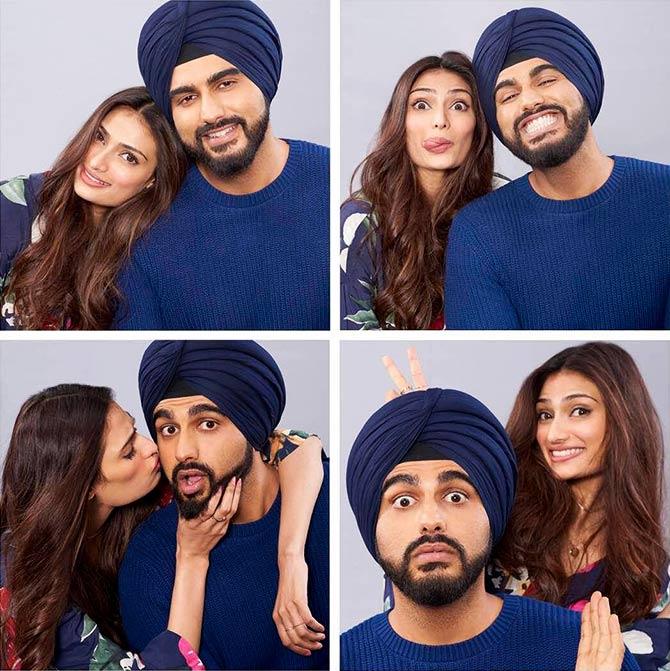 IMAGE: Goofing around with Arjun Kapoor. Photograph: Kind courtesy Athiya Shetty/Instagram
What did they teach you?
You need a director to direct you. Anees sir is exactly that.
He never made me feel that I was wrong. He encouraged me to make mistakes because that's how you learn.
With comedy, you have to be spontaneous and free without inhibitions. He encouraged me to do that.
We would talk about my scenes; I had a very comfortable relationship where I could tell him what I wanted to do and he would let me.
It's very important to have faith and to communicate with your director.
Luckily, in both my films, I had that. That makes you more confident as an actor and gives you the ability to be free in front of the camera.
Sometimes, he would show me how to do a scene. He is very clear what he wants, but he is open to ideas.
Everyone treated me really well. They were extremely supportive.
I was the baby on the sets because I was new and the youngest.
How funny are you in real life?
Very!
I am the complete opposite of my character Binkle.
Everybody on the sets would make fun of me as they would find it funny to see me play Binkle.
I am crazy! I don't think before I speak.
I am always laughing and having fun.
I have had so much fun on this film and at the same time, learnt so much.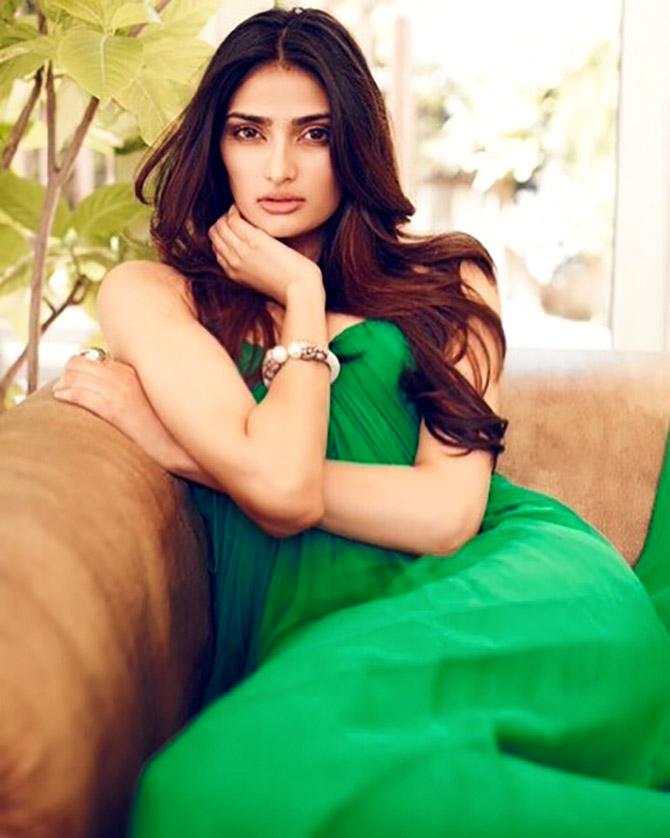 Photograph: Kind courtesy Athiya Shetty/Instagram
What did you learn from the rest of the cast?
Anil Kapoor is the most hard-working person I have ever met in my life.
Even after being in the industry for 38 years, you will never get a sense that he is taking his stardom for granted.
Whether it' 2 am or 2 pm, he comes to the sets with the same amount of energy and enthusiasm, wanting to learn.
He is a force of positivity and brings so much happiness on the sets that you want to work hard and be the best that you can be.
Arjun is very knowledgeable.
When he speaks, he makes a lot of sense, whether it is about acting, directing, production, marketing... He just knows so much.
Ileana is extremely professional. She always comes prepared on the sets.
She has an amazing ability to be detached. She doesn't take her work home. I admire that.
She is very focused and professional, but doesn't let her work affect her.
Ratnaji is outstanding, the way she prepares for her scenes. She is so natural.
She plays a Punjabi in the film. She is not one in real life, but the way she does it looks so easy and effortless.
In front of the camera, she just transforms.
How stressful is it being an actress?
Stress comes with any profession. I am a very stressed person, that's a part of my personality.
It is stressful, yes, but worth it.
It is good to be on your toes.
I like being stressed because it gives me a boost of energy to work harder.
IMAGE: Athiya at the Vogue Beauty awards. Photograph: Pradeep Bandekar
What was your first experience on the red carpet like?
The first time I walked the red carpet was for the Vogue Beauty awards; I won the Fresh Face award.
I was wearing a yellow gown.
I was very nervous. The whole time, I was just hoping that I don't trip because I am really clumsy.
I just wanted the function to get over because I was very nervous. But I got amazing feedback for that outfit.
How difficult is it to sustain oneself in this industry even if one is a star kid?
Just because you are a star kid doesn't mean you have a stamp saying you will be successful.
There are so many star kids who have not made it.
Yes, we get a platform, we might get recognised, but at the end of the day, it is your journey.
You can have as many godfathers, but the audience finally decides whether they want to see you on the big screen or not.
It is your hard work, your dedication, your luck and your destiny.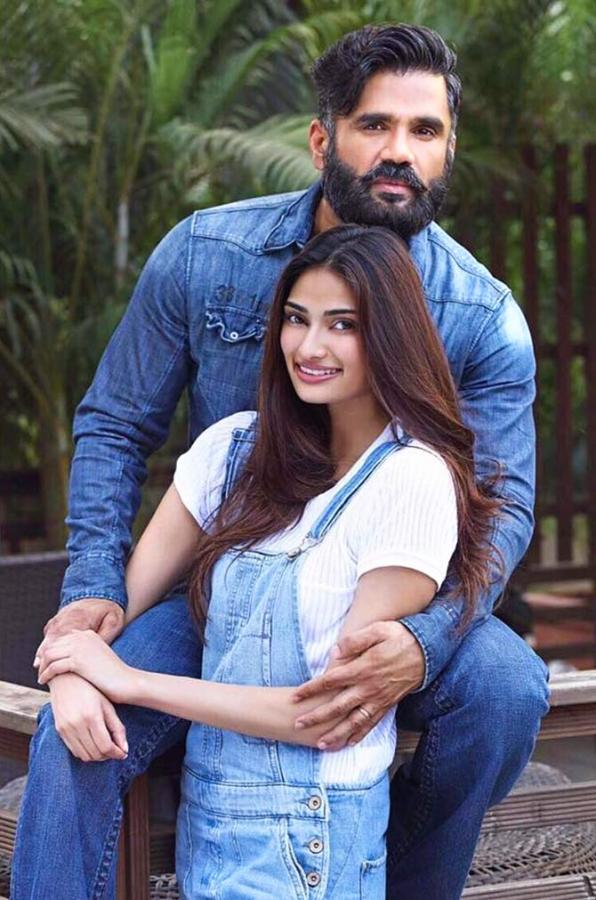 IMAGE: Athiya with her dad Suniel Shetty. Photograph: Kind courtesy Athiya Shetty/Instagram
Do people compare you to your dad?
No, they don't. But maybe as a person (they do).
People always say your dad is such a great person, he has so much goodwill, he is so nice, he has such a good heart...
I hope I live up to that.
How involved is your father in your career?
Very involved.
I speak to him about my offers, but at the end of the day, he makes it clear that it is my decision, my mistake. I should learn from my mistakes.
There are many times when I like a script, but he doesn't and vice versa.
I am not stubborn, but I have a very strong sense of what I want to do and what I don't want to do.
He knows that about me. Nobody can ever convince me to do something that I don't want to do.
Who are your friends from the industry?
I don't have a lot of friends from the industry. Most of my friends are from outside the industry.
I never went on the film sets. I never interacted with the kids from the industry.
Did you know Arjun Kapoor before Mubarakan?
I did not know Arjun as a child, but, of course, I knew about him.
We got to know each other through the process of making this film.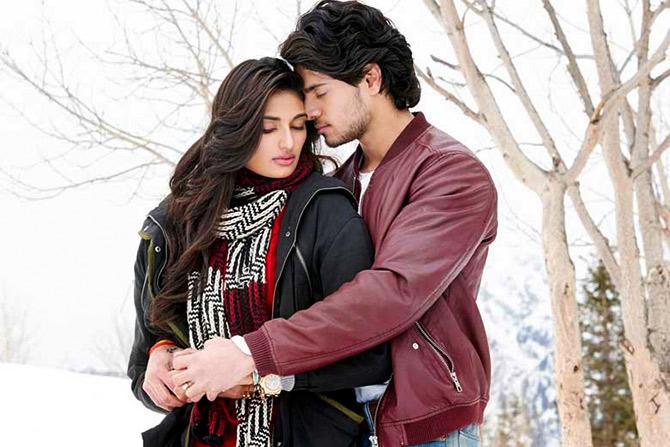 IMAGE: Athiya with Sooraj Pancholi in Hero.
How did you deal with the reviews of Hero, which were not good?
At that point, I was just so numb -- there was so much going on in my head. I don't even remember reading the reviews.
Everything was so new and I was so excited. There were so many emotions inside me.
Your brother Aahan is making his debut in Sajid Nadiadwala's film.
He is preparing the same way I did.
Which is your favourite Suneil Shetty film?
Hera Pheri.
Any film you didn't like?
There is just one film with a lot of actors; one of them becomes a snake. I don't remember the name (Jaani Dushman). I was really confused watching it.