Farhan Akhtar made a brilliant directorial debut with Dil Chahta Hai, way back in 2001.
The film, which has become a cult flick of sorts, turns 15 this month.
We celebrate the big moment with Aseem Chhabra's interview with Farhan, first published on Rediff.com on September 23, 2002.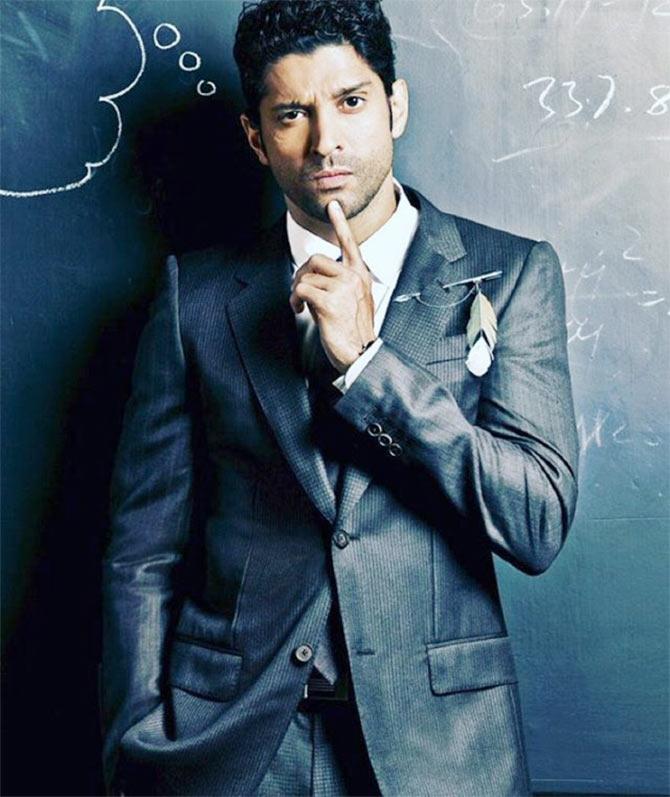 Photograph: Farhan Akhtar/ Instagram
Two things strike me as I sit in a Manhattan hotel room across from Farhan Akhtar, the 28-year-old director of last summer's delightful hit, Dil Chahta Hai.
Farhan bears a very strong resemblance to his father, screenplay writer and lyricist Javed Akhtar. If you place a picture of a younger Javed Akhtar next to his son, they could be brothers, or even twins.
And they have the same voice. It is almost uncanny.
The other thing that surprises me about Akhtar is his unassuming self, considering that he is a Bollywood film industry kid.
His mother Honey Irani was a Hindi film child star (as was his aunt Daisy Irani; his first cousin Farah Khan is the celebrated Bollywood choregrapher), and now is a director and scriptwriter (Kaho Naa... Pyaar Hai, Kya Kehna!, Lamhe, Koi Mil Gaya), and his father co-wrote the screenplays for some of the classic blockbusters of the 1970s (Sholay, Deewar, Zanzeer, Trishul, Haathi Mere Saathi, Seeta Aur Geeta.)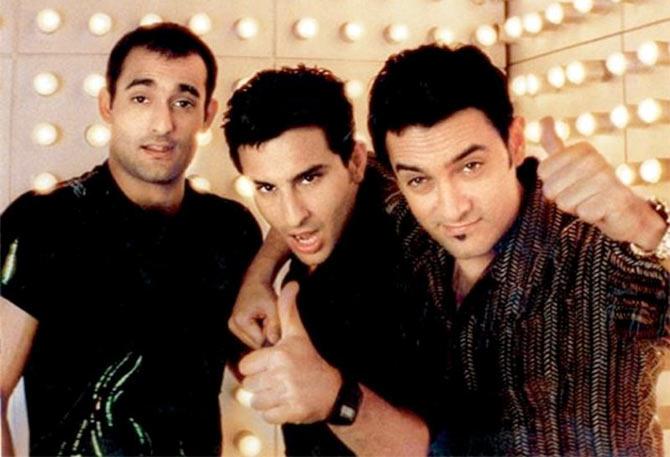 IMAGE: Akshaye Khanna, Saif Ali Khan and Aamir Khan in Dil Chahta Hai.
In fact, Akhtar grew up in the midst of mega Bollywood personalities like Yash Chopra and Amitabh Bachchan.
Mention Bachchan's name and Akhtar becomes animated with excitement. His face lights up and he sits cross-legged on a couch making statements like, "Amitabh Bachchan was the coolest character in every movie."
Or, "Mr Bachchan made cinema very attractive for me."
Other actors -- from Shah Rukh Khan to any number of today's newcomers -- all claim they joined films because of Bachchan's tall overpowering presence on the screen. But it is the earnestness with which Akhtar speaks (in the same voice as his father) that sets him apart from his contemporaries.
It is with the same earnestness that he talks about Dil Chahta Hai.
"Dil Chahta Hai was too raw," he says with a chuckle. "We only thought about the film. We never thought where the film was going to go. We wanted to make a film on our own terms."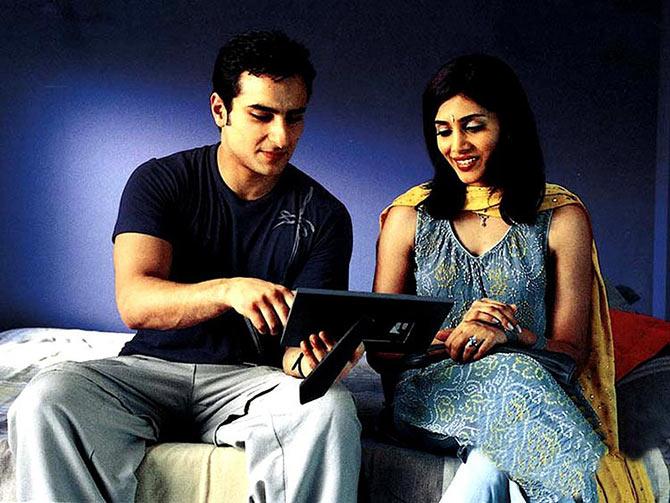 IMAGE: Saif Ali Khan and Sonali Kulkarni in Dil Chahta Hai.
He says a few weeks into the release of DCH, people started coming up to him and saying things like: "I don't think you know what this movie has done for movie watchers. It is a very different experience."
"It's difficult at first to understand it and believe it," he says. "But we definitely did realise that something special did happen with this movie."
The "something special" Akhtar talks about is the writing in DCH and also its honest portrayal of Westernised urban youth in Mumbai.
"Most Hindi movies tend to dramatise events. They are very dialogue heavy. Characters don't speak like people normally do in real life. So it was a conscious decision, which is why I wrote the dialogues of the film."
He could have commissioned someone else to write the dialogues of DCH ("Most probably it would have been my Dad," he says). "It would have been very powerful and completely blown me away," he says. "But I didn't want any of the characters to speak a language I was not familiar with. So I wrote in the Hindi I know, which has a lot of English in it."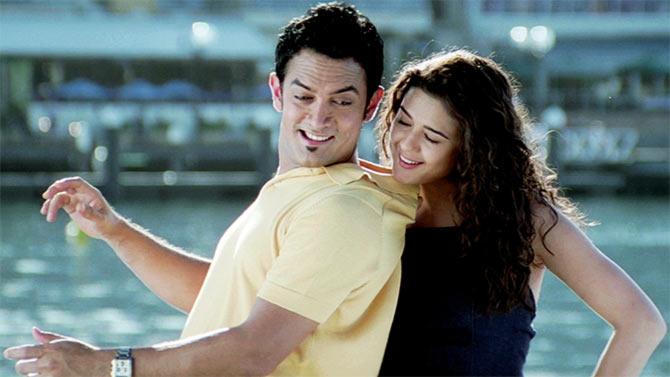 IMAGE: Aamir Khan and Preity Zinta in Dil Chahta Hai.
The story of DCH developed from different angles. A childhood friend of Akhtar narrated a story outline to him which eventually became Akash's (Aamir Khan) track.
Meanwhile, a few years ago, Akhtar began to write a diary about his trips to Goa and his month-and-half-long visit to New York in 1996, with endless parties at the city's hippest bars.
"I had so much fun in New York and I wanted to capture that in a film," he says.
The Australian parts of DCH were originally supposed to be shot in New York, "but it would have been winter in New York at that time," he explains.
In the process, Akhtar created a story about three friends who meet a girl at a party.
"I always wondered what happens to the best friends of the hero after reel number three. Where do they go? When he needs them the most, they are never there. And so, at some time, the weight of the story shifted from Aamir's love story with Preity (Zinta) to becoming a story about the friendships and how individual love stories affect the friendships."
Akhtar shared the script of DCH with his parents. "They both had suggestions, as all writers would have. They loved the script and said it was not inspired by other people's works, but inspired by the kind of life I lead."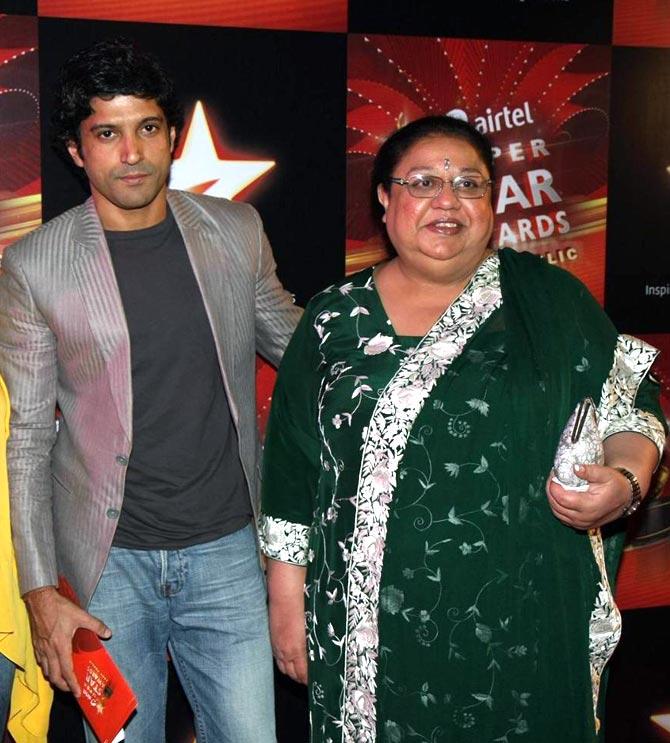 IMAGE: Farhan Akhtar with mother Honey Irani. Photograph: Pradeep Bandekar
Akhtar denies a Bollywood industry inside story that DCH was inspired by actual events.
His mother Honey Irani had written the script for director Aditya Chopra's Dilwale Dulhania Le Jayenge, but was not given credit for her work. The story goes that this affected Akhtar's friendship with Chopra and more so, with the director's younger brother Uday. Akhtar eventually incorporated that break in his friendship with Uday into the plot of DCH.
"I would be lying if I said I wasn't upset," Akhtar says. "Not just at Uday, but at all of them. Because these are people I knew for practically all my life. It really upset my Mom for a long time because they were her close friends. But no, it was not an inspiration for Dil Chahta Hai."
Time has healed things, Akhtar says, and he maintains a cordial relationship with the Chopra brothers.
"Unfortunately, there are certain things you cannot forget," he adds.
Akhtar recalls fondly watching his mother's films when he was around 10 years old. The first film he remembers is Chirag Kahan, Roshni Kahan (1959) with Meena Kumari and Rajendra Kumar.
"They were great," he says with a giggle about his mother and her younger sister. "I still find it quite funny. They would have major ham expressions, when they would get scared. But it would also make me cry, when the sad bit would happen. As when she was left alone at home."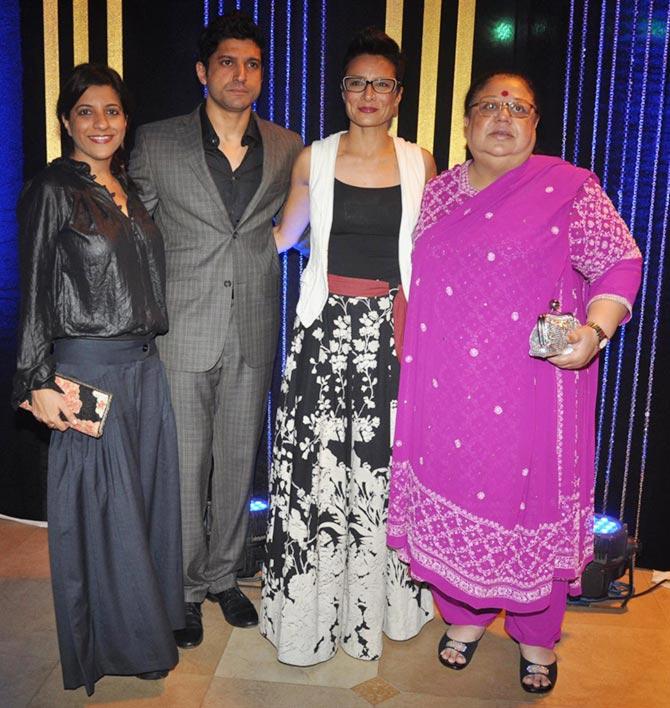 IMAGE: Farhan Akhtar with sister Zoya, estranged wife Adhuna and mother Honey Irani. Photograph: Pradeep Bandekar
For years, Honey Irani worked as an assistant director. Now, she is directing her own film Armaan with Anil Kapoor, Gracy Singh, Zinta and Bachchan.
"The script thing really kicked off for her, but now she has found time and space to direct. (That is) what she always wanted to do."
Javed Akhtar has written the script for his son's next project Lakshya, a story about a young, novice Indian Army captain and his growth, set against the backdrop of the 1999 Kargil War.
Lakshya will star Hrithik Roshan with Bachchan and Zinta. The film is set to be shot primarily in Ladakh starting April 2003, and is scheduled for an early 2004 release.
"It is an Indian perspective on the Kargil War, a young perspective," Akhtar says. "You hear what the older generation has to say about it on television."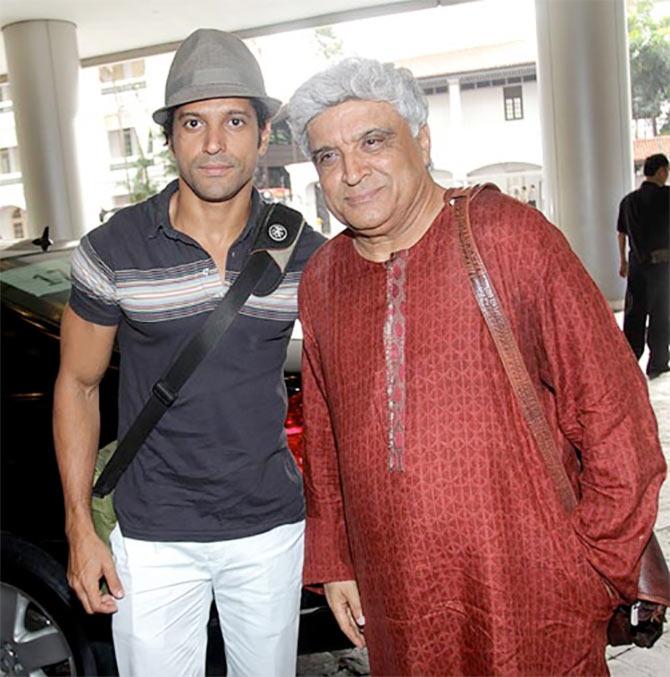 IMAGE: Farhan Akhtar with father Javed Akhtar. Photograph: IIFA via Getty Images
He describes his father's screenplays as "an ocean of work."
As a child when Akhtar watched films based on his father's scripts, he was enamoured by Bachchan's performances.
"But when I grew older, I began to realise what went into making the angry young man (Bachchan's character in several films of the 1970s), the angry young man," Akhtar says.
"The power with which you can create a character is tremendous and probably more satisfying than actually being the person. This is why I am a lot happier now. Otherwise, for a while I was toying with the idea of acting, which seemed like the best outlet for the movie mania that I was surrounded by."
Akhtar's parents are now divorced and his father is married to actress and political activist Shabana Azmi. He describes his relationship with Azmi extremely open and honest. "We talk about everything that is to talk about," he says.
From Shabana, he says, has learnt to stop looking for answers to problems and see what he can do to fix things. "She says it is so easy to blame the system. But have you once gotten up and tried to do anything about? If not, then you should not complain. Hopefully, I will follow up with her ideas," he says as he breaks into laughter.
"She is a fine actor. Some of her work, especially what she did with Mr (Shyam) Benegal, is tremendous."
"I would definitely like to work with her on a project, but I would never approach her with something that would make her say, 'why did he come to me with this?' " he says as he giggles again.
REDIFF RECOMMENDS