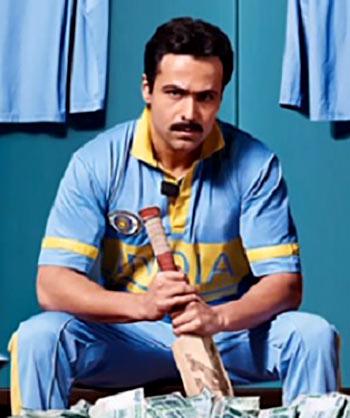 An upcoming film on Mohammad Azharuddin promises to be a potboiler, though not a true biopic, says Shakya Mitra.
In December 1984, Kapil Dev was dropped for the Kolkata Test against England because he had played a poor shot in the previous game at Delhi, which cost India the match. In the retribution that followed, batsman Sandeep Patil too was rested. In his place, it was decided to play a lanky 21 year old from Hyderabad.
"Carpe Diem," the angels whispered in Mohammad Azharuddin's ears as he took guard against the English attack that comprised among others Norman Cowans and Phil Edmonds.
Azhar seized the moment and more: he went on to score three centuries on the trot. After Sunil Gavaskar's textbook perfection and Kapil's sledgehammer swings, Azhar caught the world's attention with his elegant wristwork.
By the time he played his last Test 16 years later, Azhar had collected accolades and controversies in equal measure: He was accused of match-fixing, his extra-marital dalliances kept the tabloid press busy, and his loyalty to the country was questioned, especially while playing Pakistan. All this was perfect Bollywood masala.
That is exactly what is happening: On Friday, Azhar, a movie based on the cricketer's life, will release.
The movie has been co-produced by heavyweights Balaji Motion Pictures and Sony Pictures Network, and directed by Tony D'Souza who has in the past directed action thrillers like Blue and Boss.
Aman Gill, the CEO of Balaji Motion Pictures, says that while most people know what Azhar achieved on the cricket field, few know how he was behind the scenes -- this is what the film will focus on.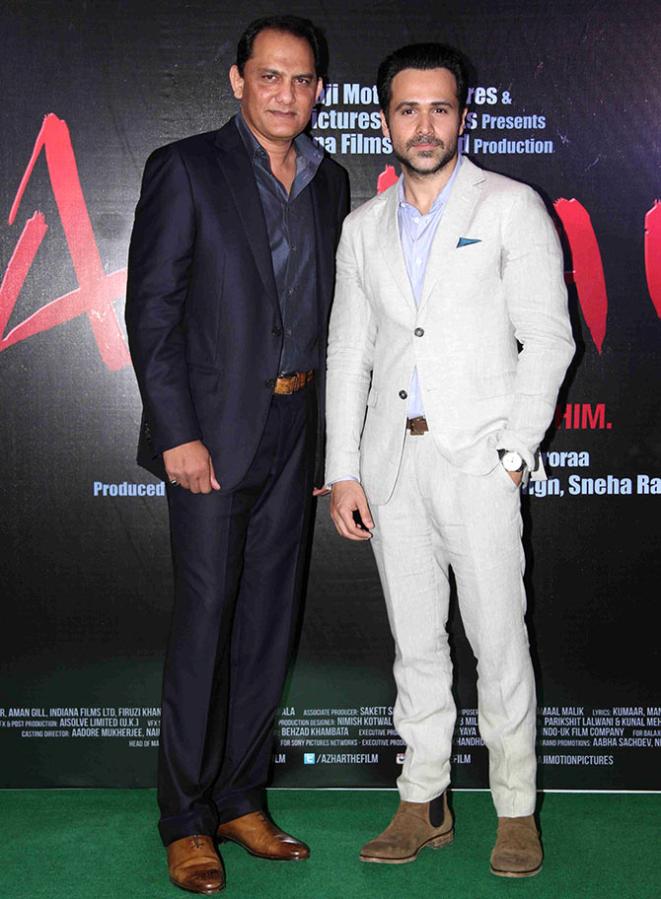 IMAGE: Mohammad Azharuddin and Emraan Hashmi at the Azhar trailer launch. Photographs: Pradeep Bandekar
The cricketer was present at the trailer launch of the film over a month ago, which lends one to believe that the story and screenplay have his endorsement.
Gill says that Azhar shared information that he wanted to share and the producers had complete trust in him.
At the trailer launch, Azhar, dandy as ever in a dark suit and an open collar, said in his trademark halting accent that this movie is an opportunity to clarify certain events that took place in his life.
When asked if some people who see the film might get upset, Azhar responded by saying that not everybody can be happy with everything.
The producers know they have a potboiler ready: All it needs is the right marketing. Hence the tagline 'Love Him, Hate Him, Judge Him.'
Historian Ramachandra Guha finds Azhar a socially tragic character, a tortured soul. "It was not just the match fixing scandal but also the death of his son (in a road accident in Hyderabad in 2011) later on."
Guha counts Azhar's century at Lords in 1990 as the best he ever saw and ranks him the greatest fielder India ever produced, better than even Eknath Solkar.
D'Souza, the movie's director, admits being under immense pressure as the movie comes closer to its release date, given that so much about Azhar (played by Emraan Hashmi) has already been written.
He asserts that Azhar is not a biopic but a dramatisation of his life and the audience should not go in expecting the former.
In other words, the film could have twists and tweaks, apart from five songs.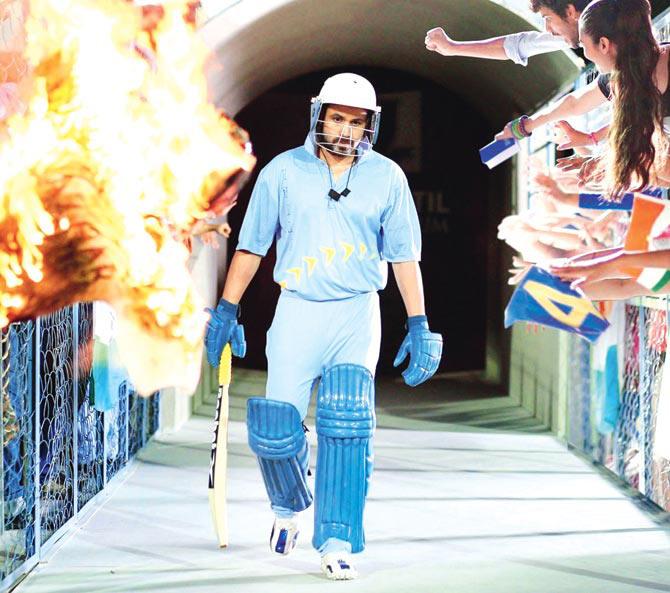 IMAGE: Director Tony D'Souza says not just Emraan Hashmi, it would have been difficult for anyone to come remotely close to the way Azhar batted.
Hashmi, who happens to be a fairly good cricketer, took lessons from Azhar for the film.
The match-fixing controversy ended Azhar's career in 2000 when the Board for Control of Cricket in India banned him for life. It was only in 2012 that the Andhra Pradesh high court overturned the ban.
But his rehabilitation had started before that: In 2006, the BCCI felicitated him along with other Indian captains at a function. In 2009, the Congress gave him the ticket to contest from Moradabad in Uttar Pradesh, and Azhar became a lawmaker.
The stain of that scandal is yet to be fully wiped off the nation's collective conscience. Cricket journalist Pradeep Magazine says the episode, especially Azhar being named the main culprit by the Central Bureau of Investigation, hurt his image because people who saw him as a great batsman and entertainer felt betrayed.
Rajat Arora, the writer of Azhar, says that once the cricketer was on board, it was not difficult to source material for the movie. If Arora is to be believed, the producers and director have not shied away from showing anything which is out in the public domain.
Arora says the book Fallen Heroes was used to write some scenes. This book is the print version of Tehelka's famous sting operation where former all-rounder Manoj Prabhakar was secretly filmed talking to cricketers and officials about match fixing.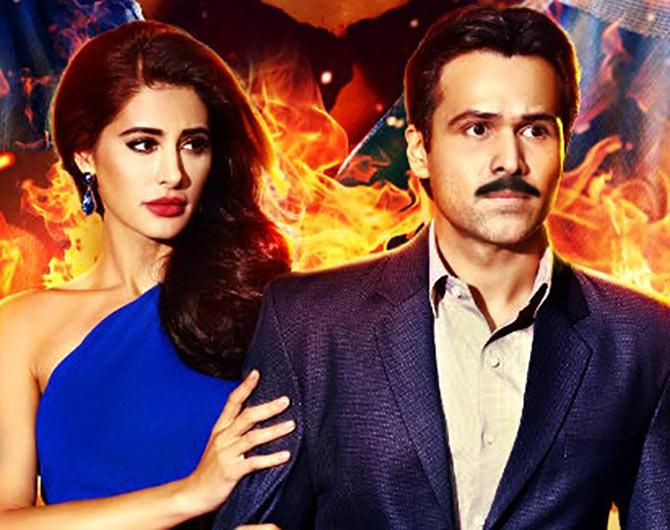 IMAGE: Nargis Fakhri, the Afghan-American actress plays Azhar's second wife Sangeeta Bijlani in Azhar.
This incident of Prabhakar being filmed has been recreated in the movie, says Arora. Glimpses of it can also be seen in the trailer on YouTube.
When I called Prabhakar on his mobile phone, he was cordial but clammed up the moment I mentioned the upcoming film.
Given that the whole story drips with controversy, didn't Arora fear interference? He replies on the contrary saying that "the beginning of the scripting process was a little uncomfortable, but Azhar made it easy for us."
"He was very candid and I had complete independence as a scriptwriter. He was very helpful and if a scene was factually incorrect, he would help me correct it," says Arora. "I had written a scene where Azhar was with a certain player in the dressing room; he corrected me that it was another player."
In spite of all the precautions, the film could ruffle some feathers. In the incestuous world of Indian cricket, nobody knows how it would play out. Naturally, former cricketers want to steer clear of it.
Venkatapathy Raju, the left-arm spinner who was Azhar's teammate at Hyderabad as well as the national team for many years and who now holds a position in the International Cricket Council, declined to comment on the film, citing his role with the ICC.
Anshuman Gaekwad, who was the national coach from 1997 to 1999, a period when Azhar was the captain, says that of the 13 captains he has been associated with as a player or a coach, only Tiger Pataudi was better than the lithe Hyderabadi.
Gaekwad says when he was the Indian coach, he did not find anything suspicious going on. While he is aware of Azhar, he is unlikely to watch it as he does not see movies or serials.
IMAGE: The scriptwriters had no access to Sangeeta Bijlani whose part Nargis Fakhri plays, and her character has been developed based on whatever Azhar told them.
Wicket-keeper Kiran More, Azhar's deputy on the 1990 tour of New Zealand, calls him a great batsman and captain, and says he is looking forward to watching Azhar as it is based on a friend's life.
There is a particular scene in the trailer of the movie where Azhar is asked by a Pakistani cricketer to change allegiances, owing to his religion. D'Souza, though a trifle reluctant to discuss this at length, says this has been done for cinematic reasons. He insists something like this did take place, but not the way it has been shown in the trailer.
Azhar was captain of the Indian team between 1989 and 1999, except for a period of one-and-a-half years when Sachin Tendulkar took the reins.
It was a time when tensions between India and Pakistan were running high and perhaps it was more than just coincidence that the Indian captain happened to be Muslim.
With the additional backdrop of communal tensions in India around the same time, the matter of Azhar's Muslim identity was often brought up, says Ramachandra Guha in his landmark book, A Corner of a Foreign Field.
Magazine says that whenever it came to playing Pakistan, any Indian Muslim cricketer comes under extra pressure. That said, in his time of knowing Azhar, he never saw him play the religion card through his sporting career.
So it did disappoint a lot of people that at the time of being named in the match-fixing scandal in 2000, he said that he was targeted for being Muslim.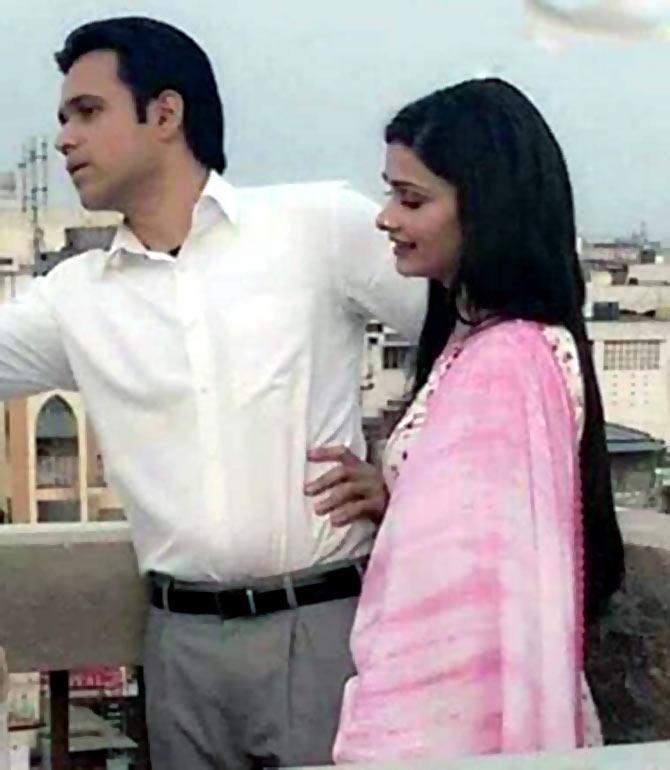 IMAGE: Emraan Hashmi with Prachi Desai, who plays Azhar's first wife Naureen.
Desai and Hashmi played a couple in another Balaji co-production, director Milan Luthria's Once Upon A Time in Mumbai.
Azhar was 24 when he got married to Naureen, eight years his junior. Problems in their marriage started when Azhar started having an affair with Bollywood actress Sangeeta Bijlani.
The two had first met while shooting for a commercial. He was a swashbuckling cricketer, though diffident, and she a former Miss India, a top model and an aspiring actress.
Azhar fell for her right away. As cricket met Bollywood, tabloids began to work overtime. This turned his personal life messy. Finally, in 1996 the two got married; Azhar divorced his first wife from whom he had two sons.
Prachi Desai, who plays the first wife in Azhar, has said in pre-release interviews that though she met Naureen while preparing for her role, there has been no such interaction with Bijlani. Both Gill and Arora say that her character has been developed based on whatever Azhar told them.
In the build-up to the release of the movie, a lot of focus in the trailer and the songs seems to be on Bijlani (portrayed by Nargis Fakhri). There is even a rendition of a famous song picturised on her (Oye Oye from Tridev).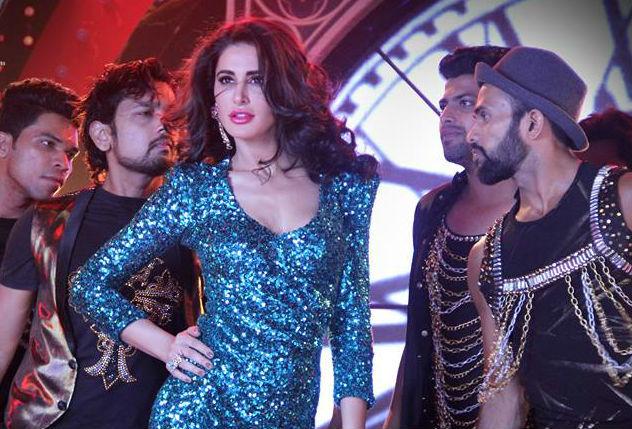 IMAGE: Nargis Fakhri dances to Oye Oye in Azhar.
The impression I got as a viewer after watching the trailer is that Azhar's relationship with Bijlani takes the focus away from the cricketer's life.
D'Souza says that the movie is a collection of all the highlights of Azhar's life and his relationship with Bijlani is very much a part of that.
Magazine says that Azhar was a very respectful and orthodox individual. In this context, his extramarital relationship and then marriage with a glamorous Bollywood star did not seem to sit well with these ideals.
Azhar had a unique style of batting, which saw him play some of the most marvellous innings in the 1980s and 1990s. Few cricketers have been able to emulate him on the field. Doing so on screen mustn't have been easy.
D'Souza says not just Hashmi, it would have been difficult for anyone to come remotely close to the way Azhar batted. Hashmi, who happens to be a fairly good cricketer, took lessons from Azhar for the film.
It is perhaps ironic that one of India's finest cricketers ended his career with 99 Test caps. It gave Azhar's life and career certain uniqueness.
With the movie releasing right when the Indian Premier League is reaching its decisive stages, it could well work in its favour.
Let's see if Azhar, the movie, is as unique and special as Azhar, the cricketer was.