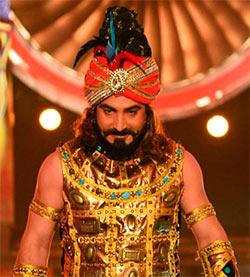 'I will be myself in the show,' Praneet Bhatt promises.
Praneet Bhatt is best known for his Shakuni act in the recently-concluded epic saga Mahabharat.
Now, he will be seen in the eighth season of Bigg Boss.
Before he went into the house, Praneet told us about his reasons for joining the show.
"I am big fan of Salman Khan (the show's host) and I never had an opportunity to meet him," Praneet confides. "I felt this is a great opportunity to stay connected with him, on Bigg Boss every weekend."
Another reason for taking up the show was: "I have been following Bigg Boss every season and love it. I have always wanted to be a part of this distinctive reality show."
The actor claims he has no game plan. "I will be myself in the show," he says. "I don't want to act in a certain way because the truth always comes out. I want to meet the other contestants in the house and have fun."
What will he miss out on the most while he's inside the house?
"I watch one movie a day. That's the only time you will see my mouth shut," he says with a laugh. "So I guess it's movies. I carried my chess board but I was told I couldn't take it inside."
Earning food will also be tough, he says. "Hungry men are angry men," he says with a laugh. "And in the house, food is limited."
The model-turned-actor claims the show will increase his popularity. "I want to say something to my friends and followers: Mere bacho, sansaar ke ghol matol bacho yeh hai Big Boss 8 dekhte hai kiski lagegi vaat aur kaun niklega super smart (My children, the roly poly children of this world, this is Bigg Boss 8. Let's see who's going to be in trouble and who'll turn out to be super smart).
The actor was earlier seen in shows like Kitni Mast Hai Zindagi, Kaajjal and Geet.