'Designing the Bigg Boss sets is total dhamaal!'
'They are so happy with the way I design the sets that no questions are asked.'
'Contestants live there for three months, and so, the sets also become a character.'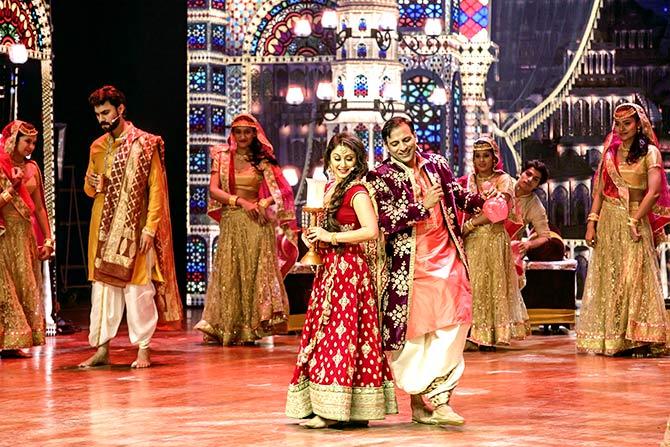 Do you like the decor of the Bigg Boss house?
Anup Jalota liked an element in the house so much that he asked if he could replicate it in his house.
And these requests are all in a day's work for Omung Kumar.
Kumar has been designing sets for the last 25 years, on television, in the movies, and on stage.
The stage, he says, is his favourite, as that's where the tension is heightened. After all, everything has to unfold smoothly in front of the audience.
"And there are no second chances," he reminds you.
His latest work is the musical Devdas where he has tried to go beyond the opulence we have witnessed before in its latest movie version. Omung even has a train chug in majestically on stage!
"Films can be larger-than-life, and you can have lights stretching a kilometre. But the stage is 60 by 40. Now, what magic can you do?" Omung asks.
He answers the question himself, and reveals to Ronjita Kulkarni/ Rediff.com the tricks he has up his sleeve.
Sanjay Leela Bhansali made Devdas look so magnificent on screen. Did that play on your mind when you designed for its stage version?
No. Everyone knows about the opulence of Devdas, but I never felt the play should or should not look like the film version.
This is a fresh start with a fresh mind.
Of course, it does come with the weightage of the opulence that people have seen. So we wanted to do something beyond what people have seen before.
Films can be larger than life, and you can have lights stretching a kilometre. But the stage is 60 by 40. Now, what magic can you do?
Now, if the director (Saif Hyder Hasan) is thinking out of the box and he gives me a scene, how do I interpret it in my way? How can we outdo what people have already seen?
I would flip the scene on its head, and say, aise nahin, aise kar sakte hai.
There are three houses in the play: Devdas's house, Paro's house and Chandramukhi's house.
So we play with the LED (stage lighting), see which frame would drop from top, what will change the visual...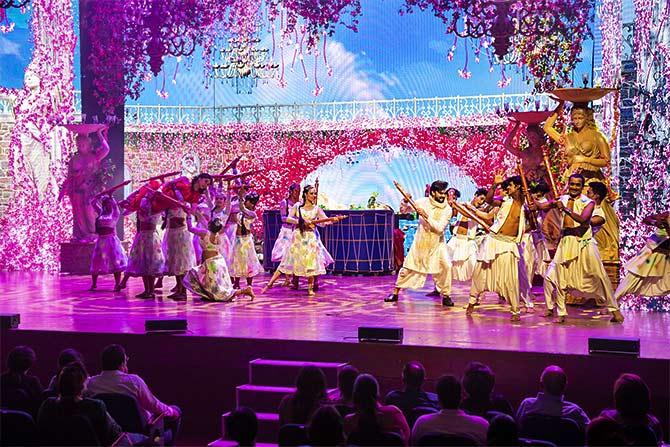 A train appears on stage!
There was a train sequence which required Devdas to just get in and the scene finishes, and shifts to Chandramukhi's house.
Why would I waste such a huge prop for such a short time?
It was not justified because not only do I have to think about the space on stage, I also have to think about the space in the wings -- where will such a large prop go after the scene?
So I told Saif, 'karna hai, toh elaborate karo, na.'
I challenged him into thinking up a scene with the train.
So he said, why don't I make two people sit on top of the train bogie? It's a fantastic visual.
My sets should not just blend in, they should talk.
Let me tell you about another visual: Every scene has a chandelier, done in different ways.
In the garden, the bougainvillea has fireflies, lighting it up, and that becomes my chandelier.
In the temple, there are diyas on a pillar.
In Chandramukhi's house, there is a chandelier made of stained glass.
In Paro's house, the pillar has glass.
In Devdas's house, there is a pillar with books, and lots of lighting.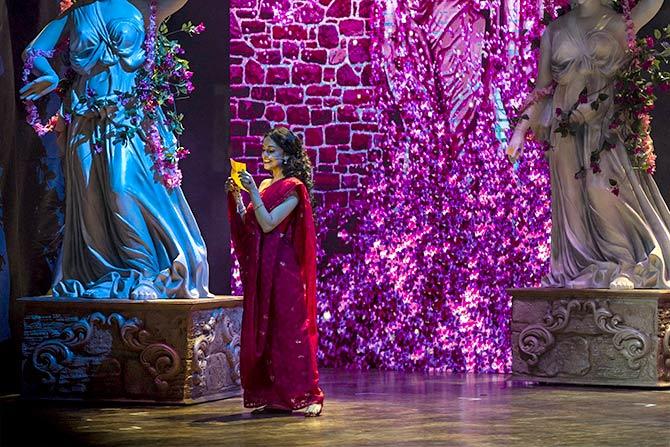 How tough is it designing for stage?
Very tough!
You have to make everything thin, portable, lightweight...Technically, let me tell you, there are fly bars -- like 30 to 40 rods -- which go up and down on a pulley. So my sets are stored on top there (when not in the scene).
I have space on the left and right as well.
For instance, I needed a big tree. But I didn't have space for the entire thing on one side. So I got a part of the tree from top, a part from down and a part from the LED. That tree is a huge element in Devdas, as it symbolises where Chandramukhi lives.
How comfortable are you with theatre?
Theatre is second skin for me. I've been doing for a long time.
I've done so many shows, including Padmavati with Sanjay Leela Bhansali in Paris.
I've done theatre since childhood.
My mother lived *in* a theatre; they owned a theatre in Chennai.
Throughout my childhood, I've done theatre, been in puppets shows etc.
My parents are from FTII along with Shatrughan Sinha and Subhash Ghai. My mother still directs and does puppetry.
As a child, my mother would direct me in Doordarshan shows like Magic Lamp and Khel Khilone.
I used to perform on stage too.
How did you become a set designer?
I was in advertising. Whenever I would pitch products to clients, they would ask me why am I not modelling for it.
So I became a model.
I would design the product launch as well, and that's how the designing aspect came in.
Then, I hosted Ek Minute on Zee TV for 12 years. That was the first set I designed on television.
And after that, there was no looking back.
Then, I left advertising and hosting and started designing sets.
After designing for film sets, I became a director.
What is tougher: Designing for TV, films or stage?
In TV and films, you get time to redo your work.
On stage, it is happening live, and there is where the tension is.
For example, in award shows, we have to see where Shah Rukh will make his entry, where the helicopter will land, where the stage will open...
That is why stage is toughest, there are no second chances.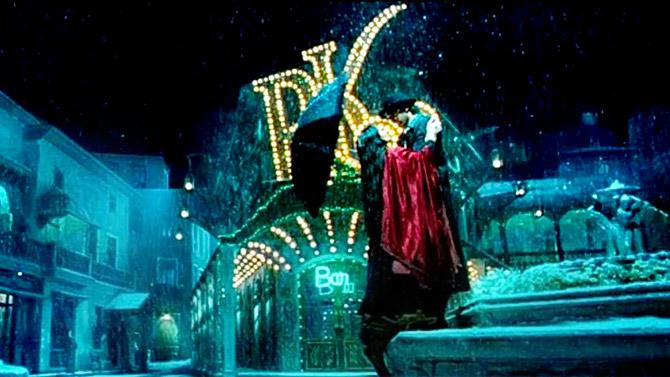 Do you feel bad when the elaborate sets you've worked so hard on have to be torn down?
Earlier, I used to get upset.
Now, I realise the work is over, we have to move on to something else.
Like, I worked so hard on the sets of Saawariya and Black, we did so much detailing. I felt really bad when they were torn down.
Those sets, and Sarbjit, are my favourites.
In Sarbjit, everything was a set, but it looked so real.
That film had a journey of 23 years for its characters, sets and costumes. That was very tough.
Yes, the characters can be shown aging, but how does a house age? How do the clothes age?
If you pause the film and watch, frame by frame, you can see the house and the jail changing.
But yes, I Am very possessive about my sets.
My wife Vanita and I have been designing the sets of Bigg Boss for the last eight years, and winning awards.
If my sets are not maintained and I can see it on TV, I get upset and call the producer.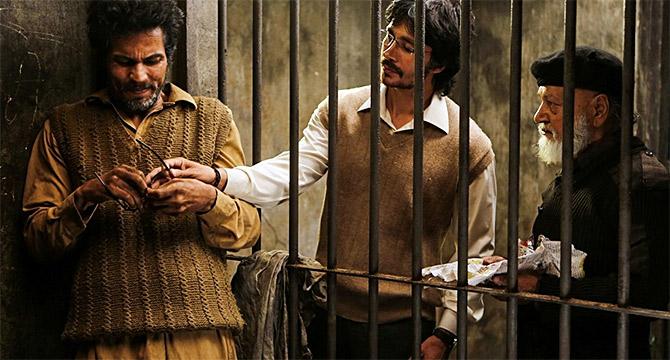 Which are the toughest sets you have made?
Saawariya. The sets were huge!
What you see on screen, we worked double!
There were 20 sets. Now, how can I redo a set so that I can have two sets in the same place?
How do I put water on the floor?
Even in Chameli, I needed a lot of water on the floor (since the film journeys through a rainy night). That was a realistic world, but the sets did not look fake.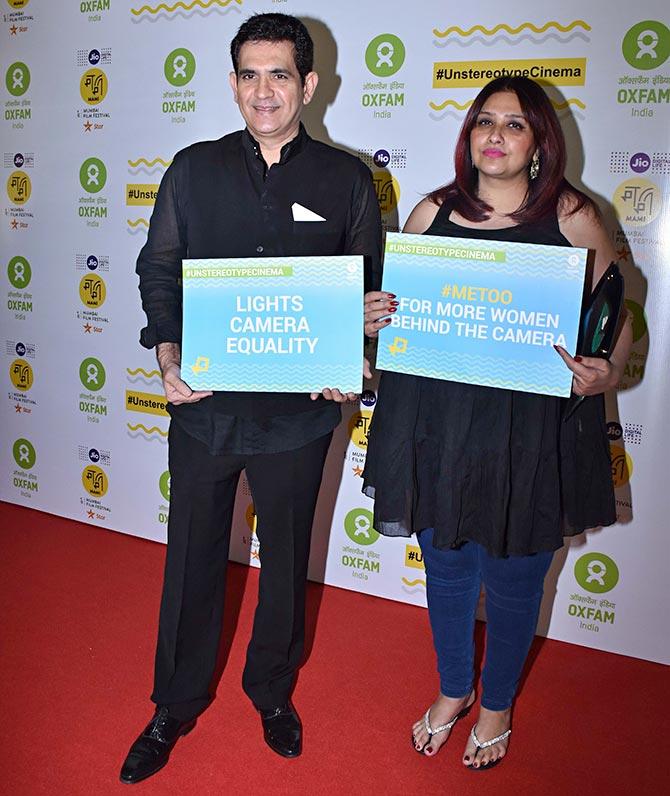 Which was your quickest film?
Mary Kom.
We showed different countries like China and Turkey in one set itself! We didn't have to go abroad at all.
In the scenes in the boxing ring, we would just change the walls -- they would be one behind the other. Like, just behind China would be the walls for Turkey, behind that will be Delhi, then Chennai...
So we could work very fast.
Mary Kom got shot in 51 days.
And the longest film?
There was too much detailing in Sawaariya.
In Black, we went to Shimla because we wanted snow.
We finished the whole shoot still, it didn't snow.
So we returned to Mumbai, and I made the whole Shimla set in Kamalistan Studios.
And there, we made snow!
We learnt from that, so when we needed snow in Saawariya, everything was fake! We shot in Karjat.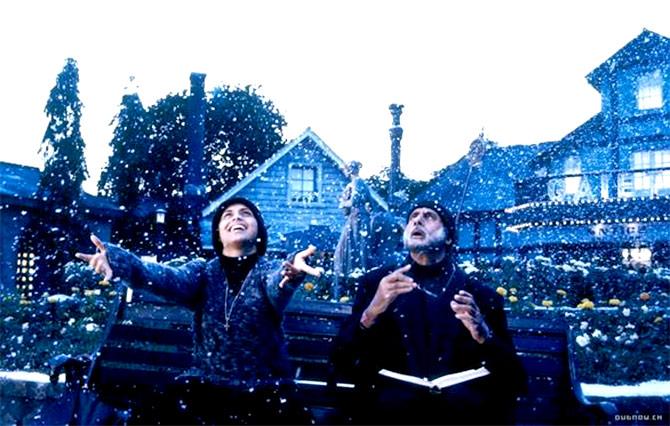 Tell us about your sets for Bigg Boss.
It is total dhamaal!
They are so happy with the way I design the sets that no questions are asked.
Last year, when we finished the sets, my wife said that next year, we will have a beach house.
We know what we will do next year already, but I cannot talk about it now.
Contestants live there for three months, and so, the sets also become a character. You see them every single day.
If you are in a boring place, you get boring.
My wife and I include sets that will get people talking unknowingly.
We leave clues.
And then we watch the show to see if the contestants have noticed or not.
Like, have they started playing with the conch?
Do they sit on the boat?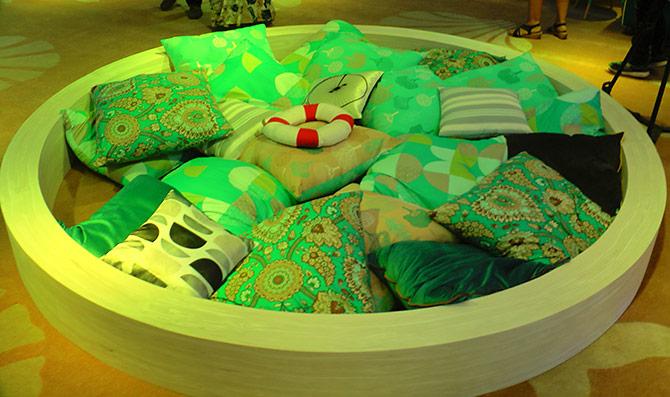 Do actors take home souvenirs from the sets?
Everyone takes souvenirs!
Sometimes they want to replicate the design in their homes.
In Bigg Boss, we had done a wooden ring, and thrown in some pillows. I thought it would be fantastic because it was a place they could lounge in.
Anup Jalota loved it so much, he said I must have this in my house!
Three weeks later, the contestants became so comfortable there that they would stop doing their jobs and just lie down there.
The producer called me up and asked if they could remove it because they were not doing any activity!
So one day, the shutters were closed, and that was removed!