'On her birthday, I decided to meet her and dressed up for it.'
'Then I saw her walking towards me with a boy. I thought it could be her brother.'
'But when she came close, she asked, "Have you met my boyfriend?"'
'That day I realised the value of sad songs in India.'
'That was the first time I was heartbroken.'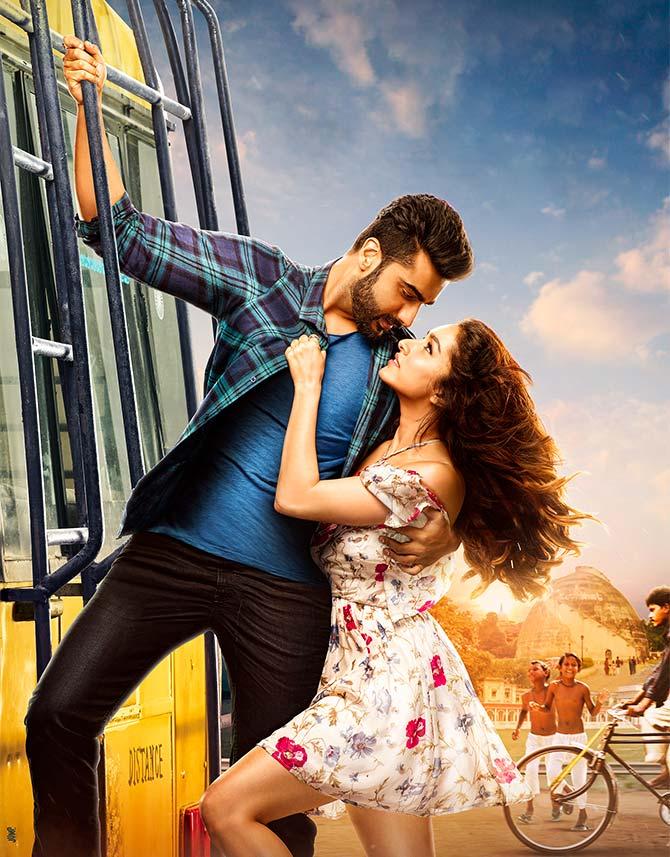 IMAGE: Arjun Kapoor and Shraddha Kapoor in Half Girlfriend.
Arjun Kapoor is very articulate.
His Half Girlfriend co-star Shraddha Kapoor says he is as eloquent in Hindi as he is in English.
Arjun explains his stand on Bollywood nepotism and why Half Girlfriend, his new release, is not frivolous in an eloquent conversation with Rediff.com's Patcy N.
Why don't you believe in a 'full girlfriend'?
Half Girlfriend is not about asking a girl, 'Will you be my half girlfriend?'
Sometimes in life, you meet some people who are more than just friends.
You share everything about your life with that special person.
You want the relationship to evolve and want to ask at the right time, but just imagine right then, you get a job offer which will take you away from the city. Or (there is) family pressure.
In such circumstances, some relationships remain incomplete.
You have to be practical, but those bittersweet memories stay with you.
Half Girlfriend is not frivolous.
It is not about friends with benefits. It is not about timepass relationships.
It's emotion that you cannot name, as it has not culminated.
Chetan (Bhagat, on whose novel the film is based) has touched on something that we have all experienced at some point in our life.
Have you ever had a half girlfriend?
There was a girl in my life, who became a close friend first and then a little more.
I would call her up every morning, message her every now and then.
At that time, I was an assistant on Kal Ho Naa Ho, so I would finish my work quickly and meet her with our common friends.
Then, we would spend time on our own. There was an understanding between us.
I did not have a girlfriend before that, so I thought I would first be friends with her and then take the relationship to the next level. This happened for almost three months.
On her birthday, I decided to meet her and dressed up for it.
Then I saw her walking towards me with a boy. I thought it could be her brother.
But when she came close, she asked, 'Have you met my boyfriend?'
I think she thought I was not serious about our relationship.
That day I realised the value of sad songs in India.
That was the first time I was heartbroken.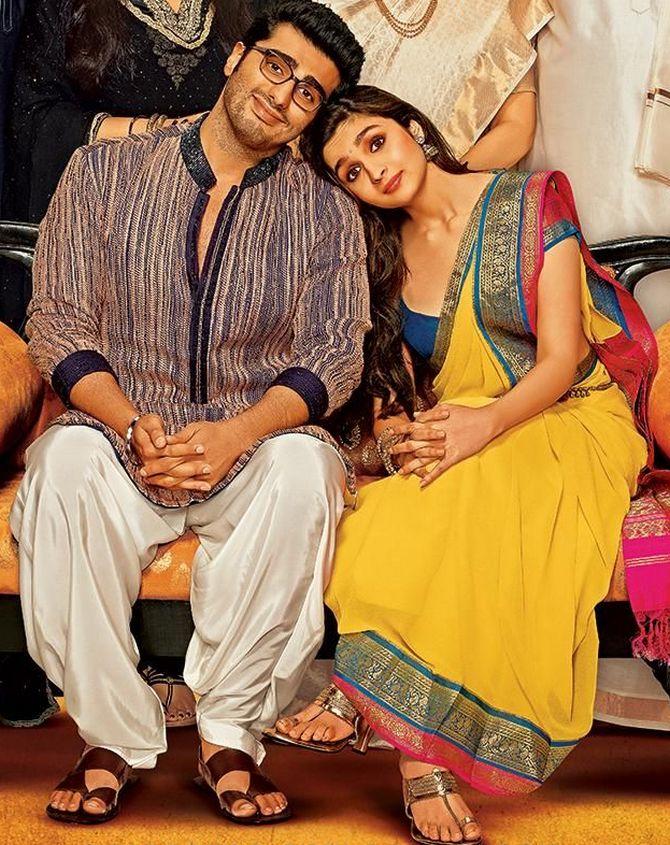 IMAGE: Arjun Kaoor and Alia Bhatt in 2 States.
This is the second time you're working on an adaptation of a Chetan Bhagat book, after 2 States.
I haven't read either of his books because my directors asked me not to. They made alterations in the films.
Chetan is a very intelligent writer. He understands his audience and writes specifically for them. He makes sure they enjoy it.
A lot of people have started reading because of him.
Whether or not you like his writing style, you will relate to his work -- you will say, 'Yes, this has happened in my colony or at home, or to a friend...'
How did you prepare for the role?
I could understand the character well because it was well written.
I also spent some months with my director Mohit Suri to understand it better.
My character is from Patna, so I wanted to go to Bihar.
Just like how Mumbai is different from other places in Maharashtra like Nagpur or Solapur, Patna is also different from other places in Bihar. The diction and dialect is different.
The Ganga runs right through Bihar, so it divides the state into two parts. The language changes on both sides of the Ganga.
The oldest university in India -- Nalanda -- is in Bihar. That is where education began in our country, so the heritage is very strong there.
My character comes from a rich heritage. He hails from a family of kings. So his way of speaking, walking... is different from the others.
At the same time, he is a national level basketball player. He watches television all the time. He loves sports.
That's why he dresses and has the kind of hair cut that he does in the film.
Today, when you see a young boy from Bihar, you cannot make out he is a Bihari.
Everyone has access to dotcom shopping and copies Virat Kohli's hairstyle.
We did not want him to be a caricature, who wears a dhoti-kurta and walks with a stick.
It's tougher to create a character who has a sense of belonging to his village Simrao.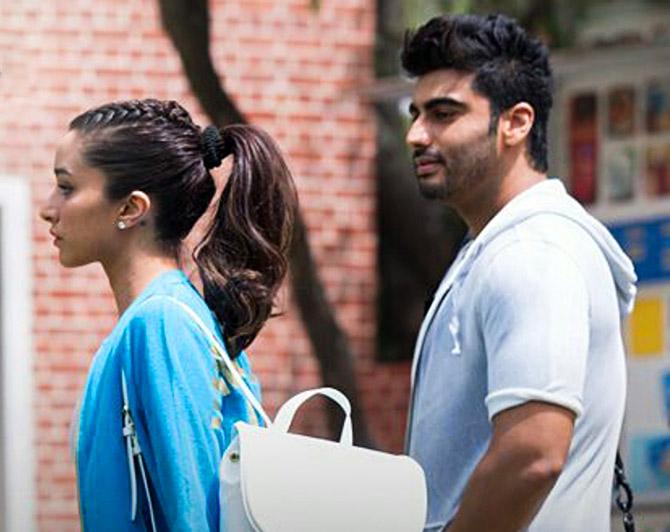 IMAGE: Arjun Kapoor and Shraddha Kapoor in Half Girlfriend.
How difficult was the diction for you?
Shridhar, my diction coach, had helped Vicky Kaushal in Masaan.
We would speak to each other in the same style.
It was difficult and I had to put in a lot of effort to get it right.
Your character has a lot of angst.
People feel there is a lot of angst in me because I don't smile much.
Now, I have started smiling because I don't want people to feel I am grumpy or angry.
My characters in my first two films -- Ishaqzaade and Aurangzeb -- were like that.
When I did Gunday, and was fun in it, people realised I was a human being.
My character Krish in Two States also has angst, but it is dormant. He had angst against his father.
This film (Half A Girlfriend) has the deepest love I have created on celluloid.
Baahubali: The Conclusion is breaking all box office records.
Hindi films fail to earn what that film has earned. What do you think?
It's sad that we want to compare and become negative about it.
We should be celebrating that a film has crossed the barriers of language and brought India together.
It has become a festival.
It has proved that people want to come to cinema halls.
Baahubali is an exception, do not use it as a benchmark. It is a sequel we waited for almost two years.
I think content has gone haywire in our (Hindi) film industry, but we are learning.
In Bollywood, we make films for a different kind of audience -- more urban, elite -- so we have forgotten to make a pan-India film like Baahubali.
(Baahubali director S S) Rajamouli had the courage and vision to do something like this.
I hope Baahubali gives people the courage to make larger than life films.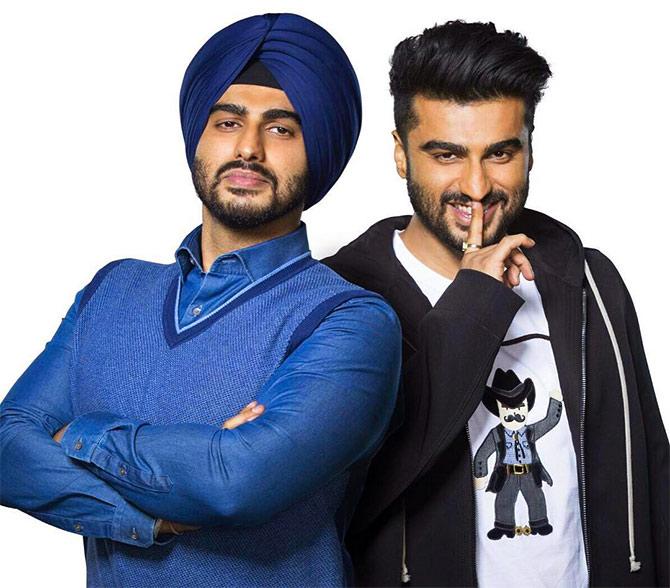 IMAGE: Arjun Kapoor in his double role in Mubarakan.
Is Bollywood inclusive for people coming from non-film backgrounds?
We only look at the acting part of it.
But if you look at it as a industry and the kind of employment we offer -- whether it is cinematography, writing, direction, production or background music -- there are people coming from across the country.
They are not affiliated to people from within the industry, and yet work here.
At the end of the day, in every profession, every father and mother wants their son or daughter to follow their profession.
If the child is inclined, they may study and get a certificate, then work under their parents and get groomed to take over the profession.
It may not always happen, but it does when the child is interested.
We don't have a degree in the film industry that considers us capable to be a part of it.
Our true test is the box office. That is my certificate.
Till the audience pays money to watch us, people will make films with us wherever we may be from.
Raakesh Roshan started his career as an outsider. He built something and then his son Hrithik took it forward. Today, he is considered a star.
Even Varun Dhawan.
Yes, we have it easier in terms of access. But at the end of the day, it is business.
A director producer will not take us beyond a point if we are not saleable.
I don't want young kids to think that we only work amongst us. That's not true.
Shraddha's first two films didn't do well, but Aashiqui changed it.
See where she is today.
There may be one or two opportunities (if you're a star kid) but after that, it is your talent.
There are people like Vicky Kaushal -- he is the son of (action director) Shyam Kaushal who lived in a chawl and worked his way up as a stuntman.
Do you think Vicky got a chance because he is an insider? I don't think so.
Vicky did what he is capable of in his audition and that's how he got a chance.
What films will we see you in next?
Mubarakan will release on July 20.
I have a double role. I had a double role in Aurangzeb too, but this is different.
In Aurangzeb, I meet myself only twice in the film, so both characters weren't across each other much.
In this, the characters are Sikh -- one wears a pagdi and the other has cut his hair.
We play brothers Karan and Charan, and we are together throughout the film.
It's a continuous banter with myself.