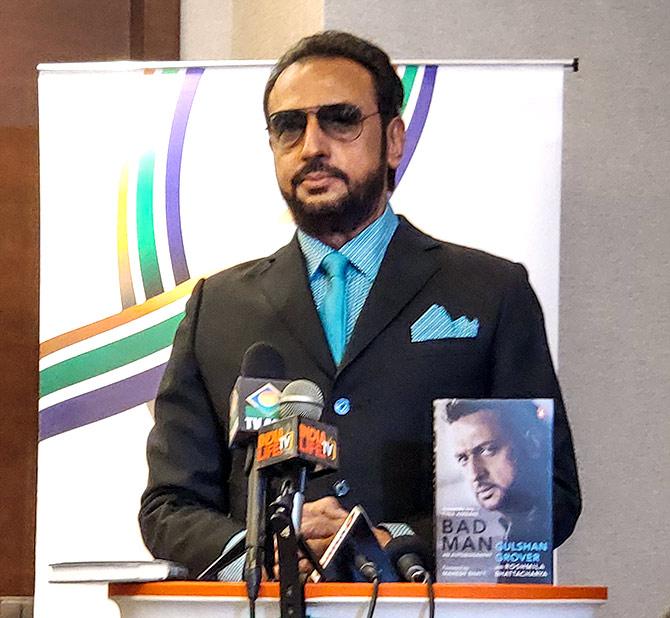 Gulshan Grover is NOT a bad man.
That's for those who believed that the man, who scowled at the men and leered at the women on screen, was indeed a sociopath.
Character witnesses, who spoke up at the New York launch of his autobiography, included actors Suniel Shetty and Anupam Kher.
It needed to be stressed on because his autobiography is titled Bad Man.
Suniel Shetty took up the refrain, asking rhetorically, "What can we say about the bad man?"
Then he answered himself: "So much to say actually... But he's a good man -- genuinely someone who..."
He went on to talk about how demanding Grover could be -- talking him out of a trip to Long Island to attend the book launch.
"He said it once, twice, thrice, ten times over," Shetty said.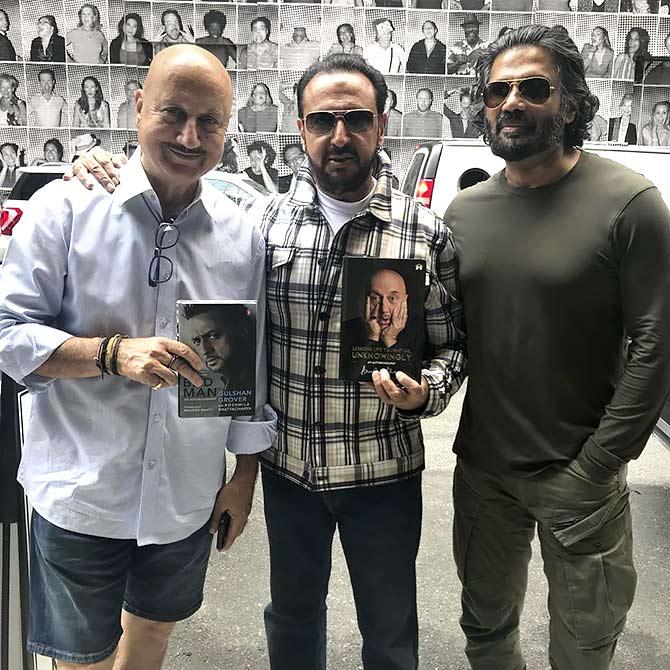 He then gestured towards Kher, saying, "I was shocked to see Anupamji here. And the first thing he comes and says is, 'Lo, mein aa gaya.'"
To laughs, he says, "That's the power that Bad Man has over all of us."
When Kher spoke, he alluded to the comradeship between him, Grover and Shetty, and said it came from the days when people did not have mobile phones. He said the conversations over the years gave them insight into each other's lives.
He then pointed out that however casual he and Shetty was, Grover never unloosened.
He had a point.
Throughout the speeches, Grover sat up straight in a dark suit, his hair, mustache and beard neatly coiffed, dark glasses bravely fending off the glare of the soft lighting above.
A bit of shirt that peeped through -- teal with white polka dots -- was complemented by a dashing touch of a well-folded handkerchief in the pocket and a plain tie -- also teal.
Grover looked so sharp that he was capable of slicing the metal chair he sat on with a dapper sleeve.
Kher went on to say Grover was one of the most hard-working actors he has known.
He said that was not to say Grover was not talented, but that despite the talent, he relied on his hard work to get ahead.
He concluded by saying that while Bad Man was a good title for the book, Grover was a very good man.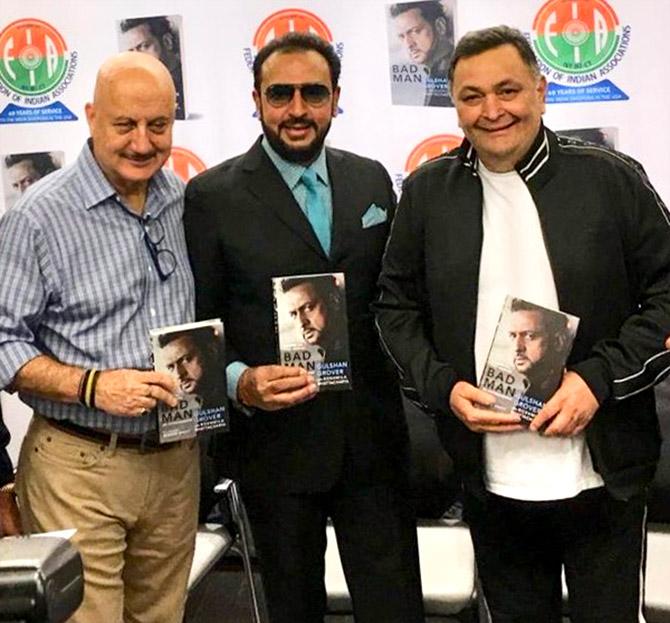 And no, the need to stress this was not a case of anyone protesting too much.
"In fact," Kher said, "all the bad men in the industry are such wonderful people, whether it was Pransaab, Amrish Puriji, Prem Chopraji, or... Amjad Khan. Wonderful people."
He then turned back to the bad man at hand, concluding by saying, ""His dedication is remarkable. His loyalty is superb."
Shetty had mentioned that many actors were writing autobiographies. Kher took it further, saying that actors had more to say than about their job.
"We have to share a way of life with the people," Kher said, before getting back to asserting that what could be a bigger matter of pride than the fact that someone from some small area in Delhi -- as in Grover's case or Shimla, as in his own -- was launching a book in New York.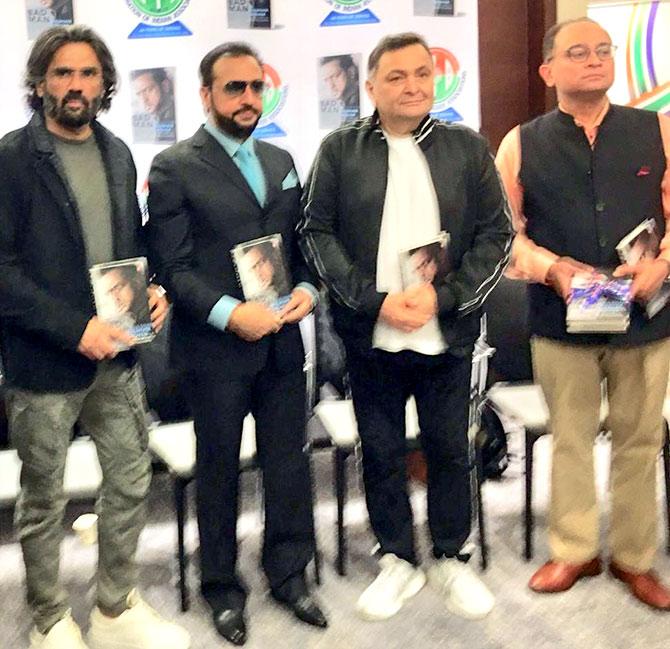 In his speech, Sandeep Chakravorty, India's consul general in New York, spoke of how many of the chapters in Grover's book seemed to suggest he was a diplomat.
He read out a few, including "All the world's a stage," "South Side Story" and "From Russia with Love."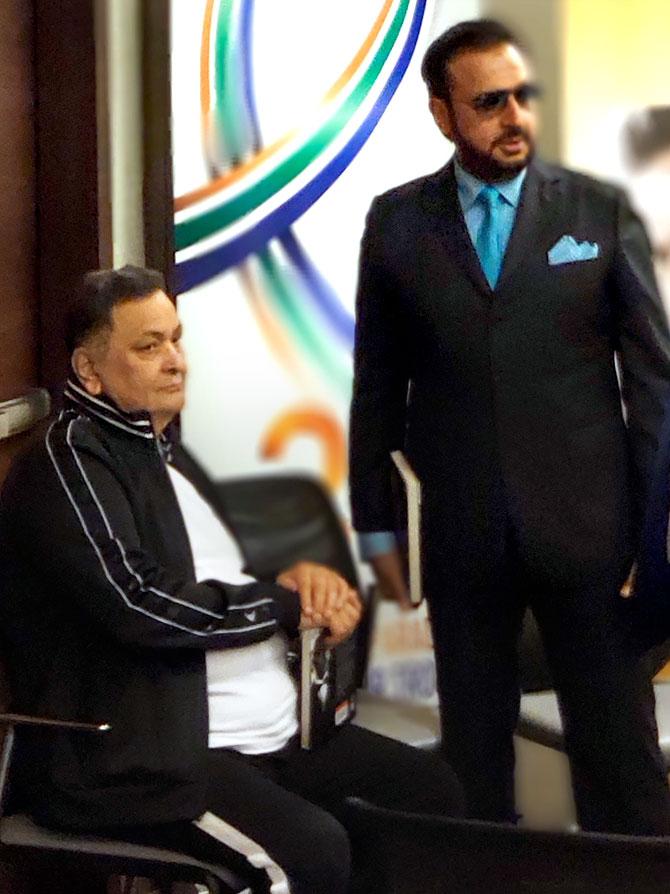 Once properly set up, Grover stepped to the podium.
He spoke slowly, deliberately, and with significant pauses.
Starting off by thanking people, he expressed his gratitude that veteran actor Rishi Kapoor, who was in the city for medical treatment, had come in.
"Somebody who is unwell, advised by doctors not to go in public: Rishi Kapoorji," he said.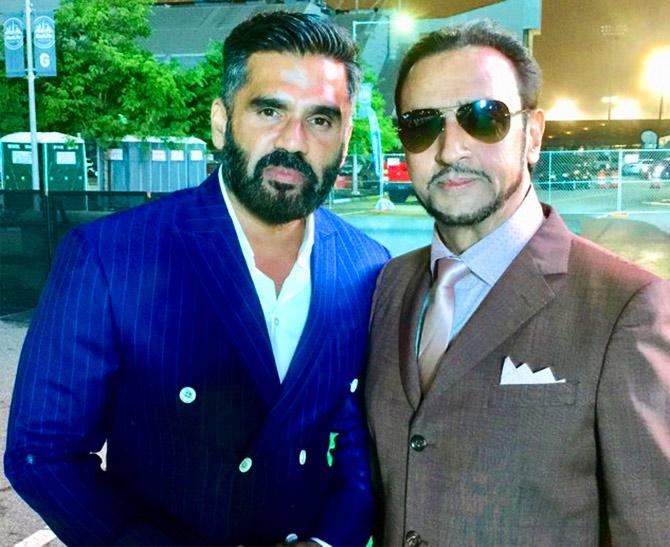 Grover discussed his autobiography, co-authored with Roshmila Bhattacharya, and said, "Whenever an achiever writes a book, writing a book is not a commercial enterprise. Writing a book is not to generate profit. First of all, the publisher, the co-writers, the various collaborators... feel there is something interesting in this story that people must know. And I say this with a guarantee -- my story has something interesting for the youngsters... who are frightened and who have stopped dreaming... The pressures the younger generation has today is ... far more intense than what we had."
He said people of his age had endured less competition and faced less peer pressure, including in such things as putting up pictures on social media.
"They have tremendous pressure (so much so that) they have stopped dreaming. They've got scared," he said. "My story says, 'Dream. Don't be scared. Work hard. Work very hard. Have faith in God and you will achieve. I did it. So many exemplary people sitting on this dais have done it. So many other wonderful actors have done it."
Before closing, he praised the Indian American attendees, saying, "The fragrance that you spread here of India reaches us back home and makes us proud."
The audience was clearly moved.
When the event wound up, there were no copies of the book remaining at the desk.