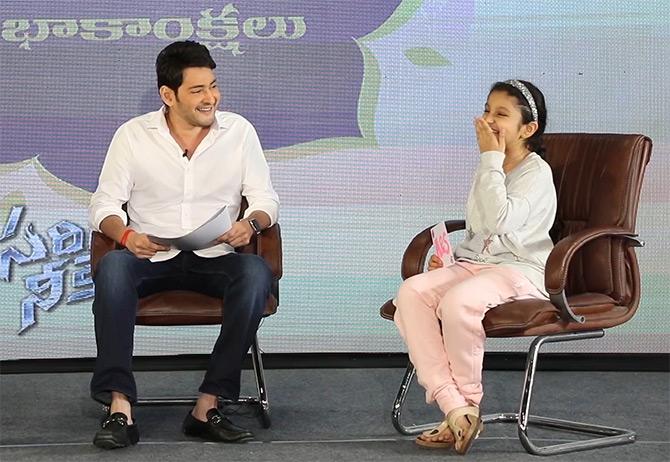 7-year old Sitara is not only her dad Mahesh Babu's lifeline, she is also his favourite interviewer now.
Sitara and her best friend Aadya (director Vamshi Padipally's daughter) conducted a video interview with Mahesh where the little girls quizzed the Telugu movie superstar on his favourite films, favourite compliment, favourite co-star, etc,
Mahesh has now become partial to Sitara's journalistic skills.
"I must confess it was a very proud moment when my daughter Sitara and her friend Aadya interviewed me," Mahesh tells Subhash K Jha.
"I thought they'd ask me some random questions about my favourite colour, etc. But they had done their homework on me," he adds.
"It was the best interview of my life," declares the delighted father. "I can't wait to be interviewed by Sitara again."
Little Sitara, quite the little star herself, recently gave voice to the animation film Frozen 2 in Telugu.
Says Sitara, "Interviewing my dad was a lot of fun. I was excited and nervous, but he made me relax, joked with Aadiya and me and had us giggling and enjoying ourselves. I had a really good time."