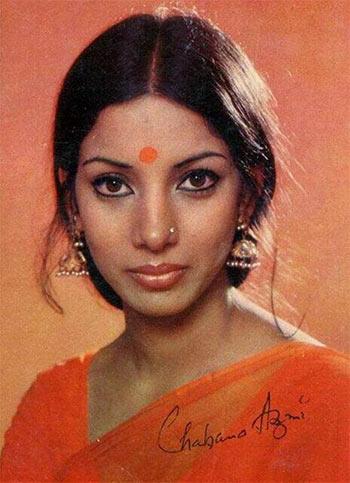 We give you the answer, right here!
National awards are the ultimate prestige symbol and recognition of genuine talent.
For one, it involves no red carpet glamour, offensive jokes at the expense of colleagues or dancing on the stage to latest chartbusters.
Instead, films, filmmakers, actors and technicians from all regions of India compete for the government-bestowed honour.
Though the National Film Awards came into existence in 1954, it was only in 1968 they made room for acting and other categories. Bengali legend Uttam Kumar (Anthony Firingee, Chiriyakhana) and Hindi cinema's leading lady Nargis (Raat Aur Din) made history as the first ever recipients under its Best Actor and Actress section.
At the recently announced results of the 63rd National Award, Bollywood dominated the show with top honours going to 2015's biggest successes like Bajirao Mastani, Bajrangi Bhaijaan, Piku, Dum Lagake Haisha, Masaan and Tanu Weds Manu Returns. Moreover, two of its most adored inhabitants -- Amitabh Bachchan and Kangana Ranaut -- have struck gold yet again.
On that note, a quick look at Bollywood stars with the maximum number of National Awards in their kitty.


The Singles Club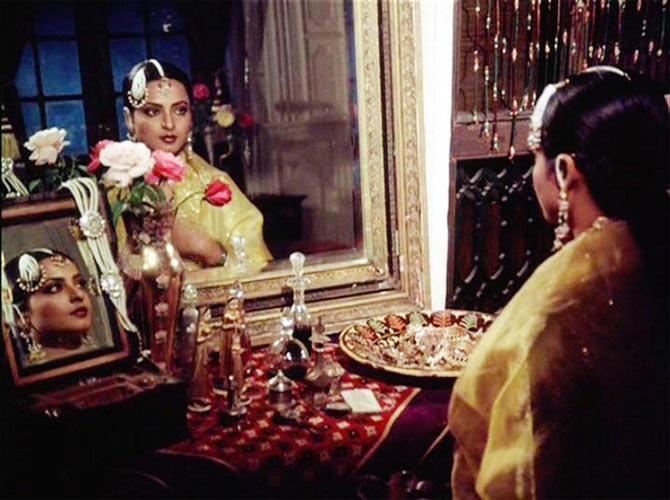 IMAGE: Rekha in Umrao Jaan
Most actors would consider it a treat to win any National Award at all. While it changed others' perception about their potential for some, it provided a validation of their obvious talent to others.
Dimple Kapadia in Rudaali, Waheeda Rehman in Reshma Aur Shera, Vidya Balan in The Dirty Picture, Priyanka Chopra in Fashion, Karisma Kapoor in Dil To Pagal Hai and a soulful Rekha in and as Umrao Jaan to name a few.
On occasions, the jury left us confounded with their debatable picks like Saif Ali Khan in Hum Tum, Arjun Rampal in Rock On!! and Anil Kapoor in Pukar.
Total wins: 1


Double whammers!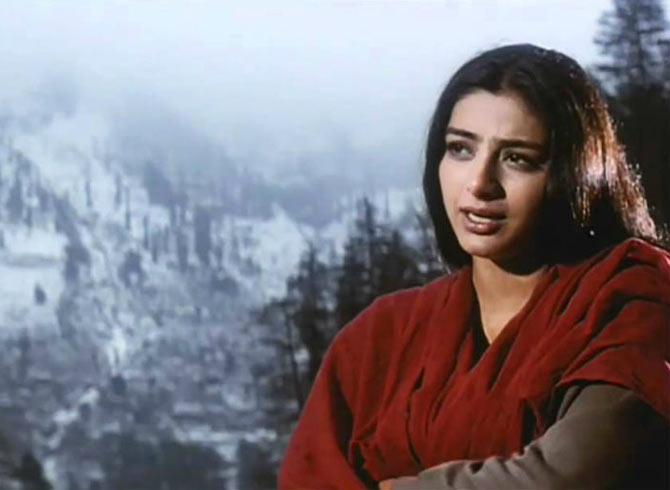 IMAGE: Tabu in Maachis
It's good enough to scoop one but imagine the thrill of grabbing two of those coveted prizes.
Let's see -- Smita Patil (Bhumika, Chakra), Sanjeev Kumar (Dastak, Koshish), Sharmila Tagore (Mausam, Abar Aranye), Mithun Chakraborty (Mrigaya, Swami Vivekananda), Ajay Devgn (Legend of Bhagat Singh, Zakhm), Konkona Sen Sharma (Mr and Mrs Iyer, Omkara), Om Puri (Arohan, Ardh Satya), Manoj Bajpai (Satya, Pinjar), Anupam Kher (Daddy, Maine Gandhi Ko Nahi Maara), Sunny Deol (Ghayal, Damini) and Tabu (Maachis, Chandni Bar).
What an unbelievably assorted list of actors who've known it.
Total wins: 2


Kangana Ranaut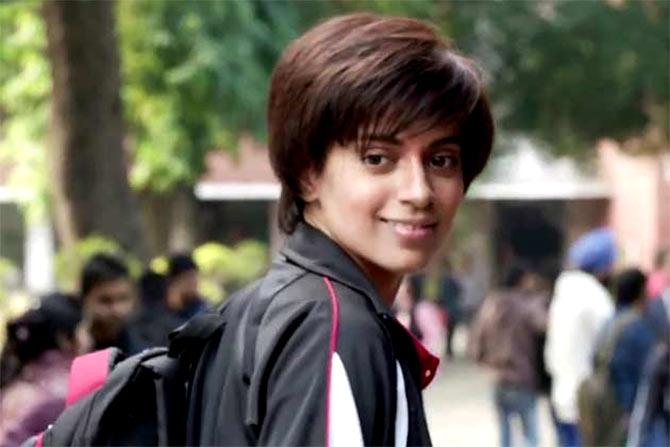 IMAGE: Kangana Ranaut in Tanu Weds Manu Returns
Fashion in 2010, Queen in 2015 and, now, Tanu Weds Manu Returns, how impressive is that? In less than five years Ms Ranaut has already got three of these under her belt.
Her performances -- a drug-dependent supermodel's tragic meltdown, a girl discovering herself during a trip to Europe after her beau leaves her at the altar and a delightful double role conveying rebellious and strong-willed women -- leave no room for doubt.
Total wins: 3


Pankaj Kapur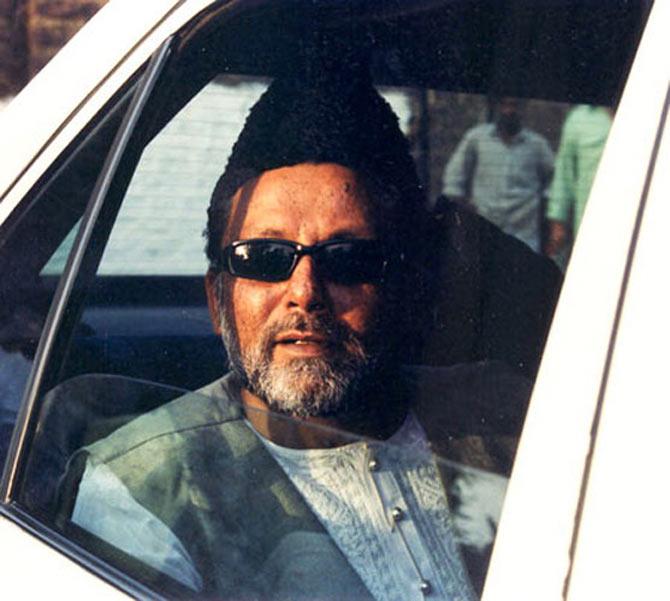 IMAGE: Pankaj Kapur in Maqbool
Pankaj Kapur is the last word in intensity; one that not only characterises the mastery of his work in Raakh, Ek Doctor Ki Maut and Maqbool but also warrants it a revisit.
Total wins: 3


Naseeruddin Shah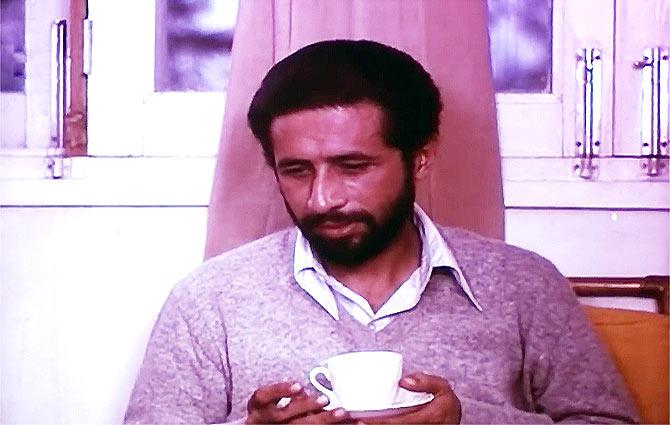 IMAGE: Naseeruddin Shah in Sparsh
One need not expound on the talent that is Naseeruddin Shah. His commitment in playing the visually impaired school principal of Sparsh, embodying the anguish of an exploited villager in Paar or conveying a has-been cricketer's bitterness and renewed drive in Iqbal earned him a well-deserved victory.
Total wins: 3


Nana Patekar
IMAGE: Nana Patekar in Parinda
Few can boast of an intensity and energy like Nana Patekar's. The shapes these qualities acquire to transform into the pyrophobic gangster of Parinda, the garrulous activist of Krantiveer and the abusive husband in Agnisakshi earned him a National Award each.
Total wins: 3


Shashi Kapoor
IMAGE: Shashi Kapoor in New Delhi Times

Shashi Kapoor's fluffy lover boy dominates most of his resume. Thankfully, he graduated to films of substance after he hit his 40s -- both as actor and producer.
If the Shyam Benegal-directed Junoon fetched him top distinction as producer, New Delhi Times recognised his previously unexplored potential as a serious actor while a Special Jury award for the poetic Muhafiz and the recent Dadasaheb Phalke honour raises the count to four.
Total wins: 4


Aamir Khan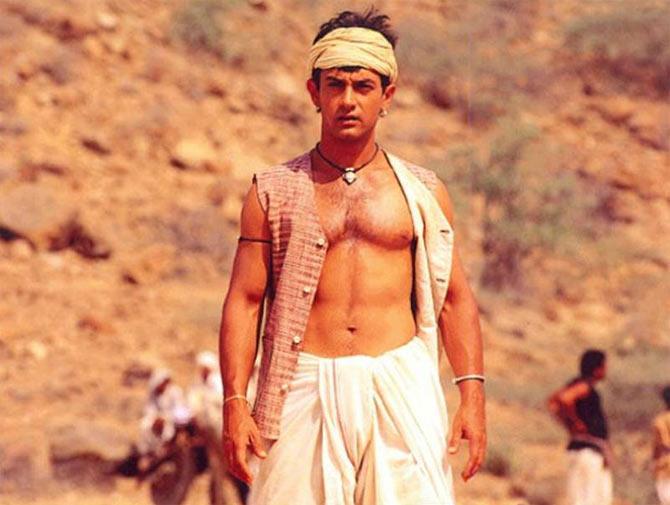 IMAGE: Aamir Khan in Lagaan
Aamir Khan doesn't care for awards nor attends award functions. Not even National Awards simply because he doesn't subscribe to the idea of applying for an award.
Nevertheless, long before he adopted this policy, the actor already has four to his credit. Three as filmmaker (Lagaan, Taare Zameen Par and the making-of-Lagaan documentary, Madness in the Desert) and one early on in his career -- a Special Jury recognition for his promising efforts in Raakh and Qayamat Se Qayamat Tak.
Total wins: 4


Amitabh Bachchan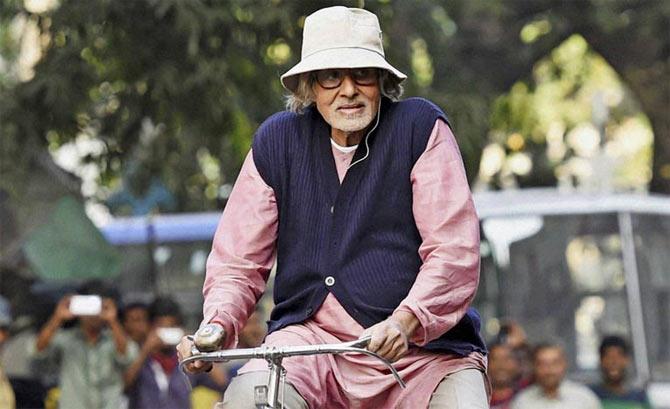 IMAGE: Amitabh Bachchan in Piku
The complex, vendetta-seeking don of Agneepath, the aggressive teacher of a blind girl slowly succumbing to Alzheimer's in Black, a 12-year-old in the body of a 60-something, progeria-diagnosed schoolboy of Paa and the perennially constipated, quirky, Bengali septuagenarian in Piku, Amitabh Bachchan's National Award wins pack in quite a range.
Total counts: 4


Shabana Azmi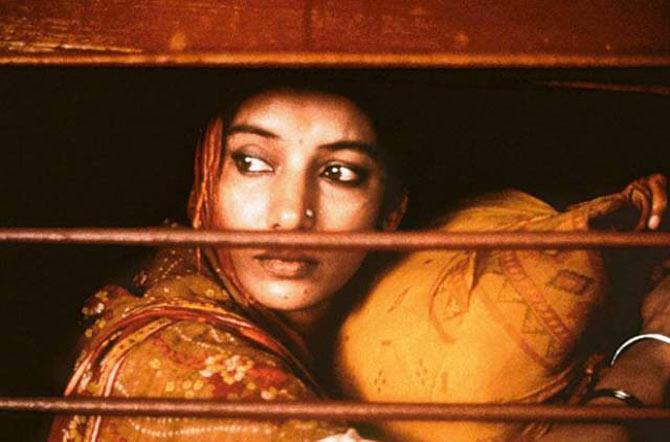 IMAGE: Shabana Azmi in Paar

Still holding the record for maximum number of National Awards, of course, is Best Actress Shabana Azmi.
One look at her body of work and it's hardly a surprise. The sensitivity, sorrow, strength, seriousness and believability she renders her performances in Ankur, Arth, Khandar, Paar and Godmother makes her Bollywood's tour de force of all time.
Total counts: 5