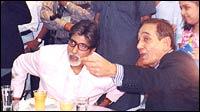 It was utter chaos when India's leading superstars Amitabh Bachchan and Sachin Tendulkar, inaugurated the suburban outlet of the designer fashion store, Gabbana.
Blue and white balloons adorned the gate of the three-storeyed 25,000 square feet store for men and women. A band attired in a red and black uniform played filmi music.
| | |
| --- | --- |
| | More on Rediff: |
| | |
The otherwise quiet lane of the cosy Khar suburb in northwestern Mumbai wore an air of vivacity as organisers, media and the masses geared for the anticipated action.
They got it.
The first celebrity to arrive was Bollywood's bad guy Amrish Puri in his characteristic hat and black blazer.
Amitabh Bachchan, who wears punctuality like a suit, arrived at the venue at 10 am. His association with Gabbana goes 28 years back, ever since his film, Deewar. The man who helmed this angry drama, Yash Chopra, was also present at the occasion.
Bachchan is a regular Gabbana patron, along with other corporate bigwigs like the Singhanias, Ambanis and Tatas.
The other guest, cricket star Sachin Tendulkar, arrived 15 minutes late with wife Anjali and daughter Sarah in tow.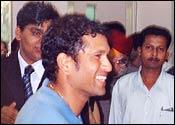 The crowds were torn between crowding Big B's car to get a brief glimpse of their favourite actor and whistling and clapping when Tendulkar stepped out of car. And no, it wasn't his much-talked-about red Ferrari.
Bachchan was presented with an ivory Ganesha idol, while Tendulkar was gifted a silver-gold Radha Krishna statue.
The two stars soon left, and another pair of star cricketers stormed the store: Zaheer Khan and Ajit Agarkar, accompanied by his bubbly wife Fatima.
Gabbana's creative head and director Akbar Shahpurwalla mentions in a press release that the ultimate aim of the store is 'to offer Indians what no one else has, fashion of the highest quality at the lowest possible prices.' Some of the labels at the store are Mossimo Butti, Roberto Cavalli and EXTE.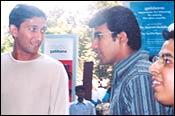 Shahpurwalla initially began his foray in the garment industry as a co-partner of Kachins, a boutique. He later branched into his own in 1995 with the city outlet of Gabbana. His own label Aqis creates ethnic outfits for men.
Essentially catering to a predominantly male clientele, Gabbana has a loyal list of celebrities like Bachchan, Sanjay Dutt, Feroz Khan, Anil Kapoor, Hrithik Roshan and Fardeen Khan frequenting the store.
Bollywood and Gabbana's association began in 1973 when the latter introduced hip costumes in Raj Kapoor's youthful romance, Bobby. In recent times, they provided the wardrobe for Anil Kapoor in Taal, Hrithik Roshan in Kaho Naa... Pyaar Hai and AB and Dutt in Kaante.


Click here for More Features