'By the 1960s, my father was very busy with his movies but he took time off for his kids. He taught me cycling and roller skating. He would play chess with my brothers.'
'He was good at drawing and I remember his helping me with some school projects.'
In the run-up to Father's Day, we celebrate Bollywood's famous fathers, seen through the eyes of their offspring, in a special series.
We reproduce an interview with Pinky Bhalla (first published April 2012), where she tells Patcy N/ Rediff.com what it was like growing up as Pran's daughter.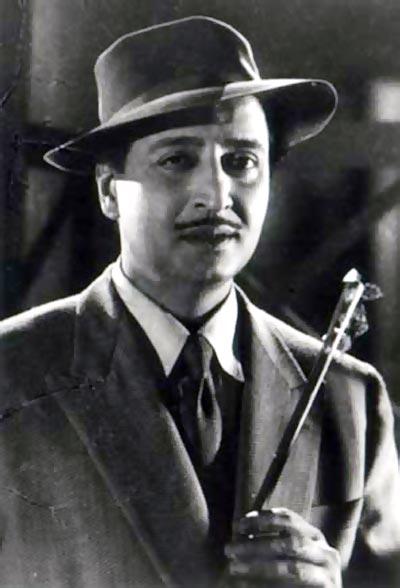 Pran in Adalat
Pran Krishan Sikand made every part he portrayed -- whether it was sinister sophisticated villains or positive characters like the Pathan in Zanjeer -- his very own, giving each role a stamp of unbelievable class.
In this special interview saluting Pransaab's memorable career, his daughter Pinky Bhalla -- speaking exclusively to Rediff.com's Patcy N -- reveals a fascinating part of her father few people know about:
When we were young, we did not know our father was such a big name in the film industry. My father never discussed films at home.
We got all the film magazines at home and read the gossip in them. He would read them too, we thought he would talk about it, but he never did.
We were really quite cut off from the film industry.
'We attended very few film parties'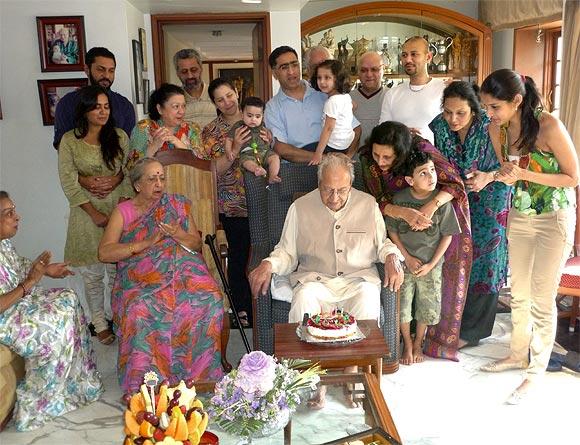 Pran with his wife (seated), daughter Pinky Bhalla (on his left) and his family on his 92nd birthday
There would be parties after the premieres of films he acted in, but we attended very few of them.
We would usually attend parties hosted by those really close to the family like Raj Kapoor, Shammi Kapoor, Manoj uncle (Kumar) and Dilip Kumar. All these people would meet at least once or twice a week just to party.
We were sent to boarding school in the fifth standard. My classmates knew I was Pran's daughter, but no one treated me differently.
I have never been on shoots in Mumbai with him, but I did go a few times for outdoor shoots -- to Shimla for Purab Aur Paschim, Kulu Manali for a Rishi Kapoor movie, to Madras for Dus Lakh and to Mahableshwar for Sawan Ki Ghata. Very rarely did our whole family go with him.
'My father wanted to be a photographer'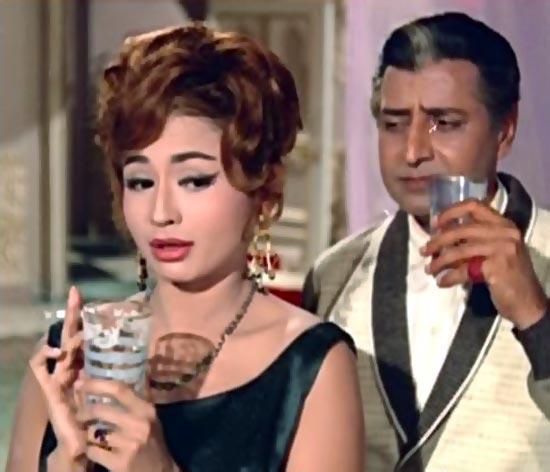 Pran and Helen in Gumnaam
My dad playing negative roles didn't really affect us; we knew it was part of his profession.
My father wanted to be a photographer and was working in a shop in Shimla where he learnt photography. Then he went to Lahore, and that's where he got his first break.
When my father signed his first film, Yamla Jat (1940), he did not tell his father he was acting in a film because his father would not approve. My grandfather was a civil engineer.
When an article appeared in the newspaper about the upcoming film and mentioned my father's name, he told his sisters to hide the paper from their father!
By the time the movie was released, my grandfather was okay with him acting in films.
He played his first positive role in Khandana with Noor Jehan in 1942.
'He never wanted to live in Mumbai, but couldn't go back to Lahore'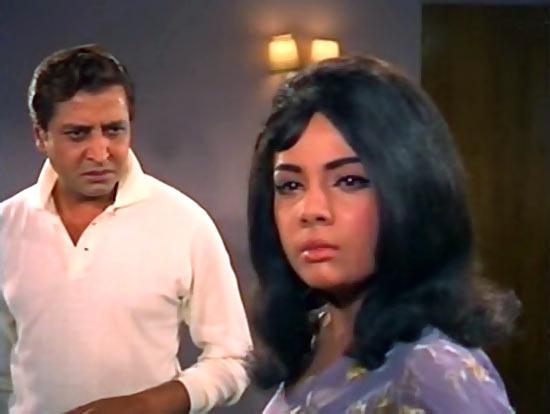 Pran and Mumtaz in Brahmachari
My grandparents passed away before Partition. My father had three brothers and three sisters. My brother Arvind was one year old when my father came to Mumbai on the night of August 14, 1947, just one day before Partition.
My father had insisted my mother leave Lahore because of the unrest, so she was staying with her sister in Indore. Dad came to Indore for my brother's first birthday on August 11, and intended to go back to Lahore, but couldn't.
He never wanted to live in Mumbai, but couldn't go back to Lahore. He had to start all over again, and it was quite a struggle. We knew very little about it because our parents never told us about it.
I know a few things like money was running out for them. When they came to Mumbai, they stayed at the Taj Mahal hotel, but gradually had to move to smaller hotels and then into paying guest accommodation.
'My father is very generous'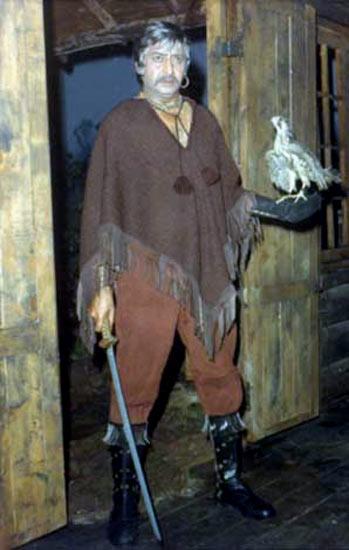 Pran in Dharamveer
My father got a break in Ziddi (1948). Within a week of its release, he signed three more movies.
I was born six years after Independence. By then he was established, but we still lived in a rented place. We bought a house when I was three years old.
He became very popular and by the 1960s he was very busy, but he took time off for his kids. He taught me cycling and roller skating. He would play chess with my brothers.
Whatever he could do, time permitting, he did. He is good at mathematics and card tricks. He was good at drawing and I remember his helping me with some school projects.
He has a photographic memory; he is good at shayari and recites poems.
My father was always concerned about us if we were travelling and would keep calling to see if we had reached safely.
I remember being mobbed by his fans when we went out. If my father went out on the streets, someone or the other would come to touch his feet.
Once we went to Punjab for my father's brother's wedding, and the fans went crazy there. They stopped the car and wouldn't let him move. This happens more in places outside Mumbai where the source of entertainment is just movies, but he doesn't get flustered about it.
My father is very generous. He has helped lots of people that we know of only now when they write to us about it.
'He would prepare for his roles at home'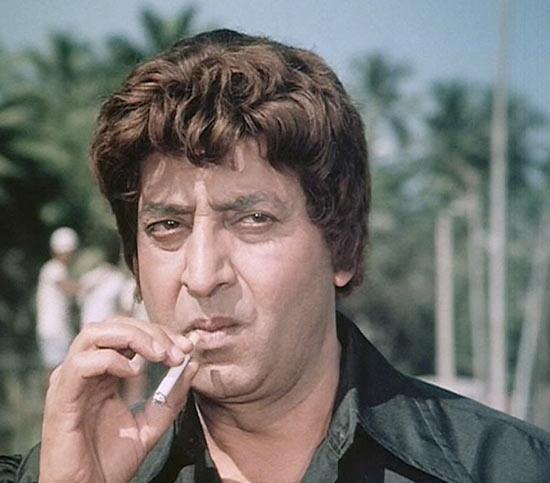 Pran in Don
I can't say which is my favourite movie of my father's, I like them all. I like Ram Aur Shyam because he really looks menacing. Upkaar was a turning point in his career because he shifted to playing positive characters.
His older films like Halaku are amazing, his get-up in that film is superb, he has a change of voice and he has done it brilliantly.
He would prepare for his roles at home. If he was doing a new role, he would go through books and look up pictures to get the look right.
If he had seen somebody walk in a particular way, he would try to copy that. He would sometimes rehearse his dialogues at home if he got them in advance because in those days there were no bound scripts.
My father reads in Urdu so he needed his dialogues in Urdu only.
My father stopped working in movies when he had a heart problem 15 years ago. My parents still stay in Bandra (a Mumbai suburb). My brother goes there everyday for lunch and I visit them three or four times a week and we all have lunch together. They always have somebody visiting them.
'Now I will be 100 and then out'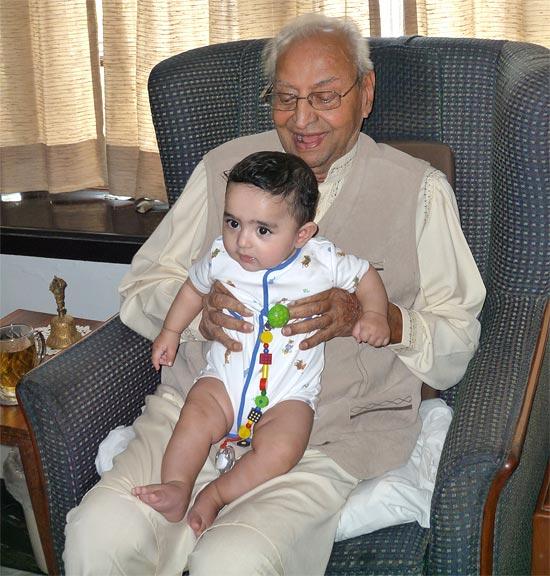 Pran with his great grandson Ryan
On his 90th birthday, we had a big party. We called all our friends and relatives and his friends from the industry.
Initially, he did not want a party, but when he entered the hall, he was very happy to see so many people around him.
He told my brother, 'Now I will be 100 and then out.'
I just want to tell my dad, 'You can never be out, you will always be in our hearts and our souls, you will always be "not out" for us.'