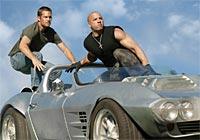 For three weeks, Rio has been dominating the world box office. But with Fast Five and Thor expanding their run, Rio may cease to ascend.

Even then, the delightful family-pleaser, which has grossed $300 million, has plenty of clout left and could end up with a strong $500 million worldwide.

The focus this weekend, however, will be on Fast Five, which is expected to become a smash hit.

Last weekend, it debuted at number one in the United Kingdom, Australia, New Zealand and South Korea, and clocked $23.5 million (including pre-weekend play), out-grossing the starts of the previous Fast and Furious movies in those four markets, Boxofficemojo.com reported.

The movie is adding many more markets this week including Russia, Germany, Spain, USA and Canada. In the last two territories alone it is expected to gross $80 million. The worldwide weekend gross could be $120 million.
A disgraced FBI agent Brian O'Conner (Paul Walker) and his girlfriend, Mia Toretto (Jordana Brewster) spring her brother, Dom (Vin Diesel) from prison. They cannot remain in America, and Brazil seems to be a good bet to escape from American authorities. Dom comes up with a plan to steal from Reyes (Joaquim de Almeida), a ruthless and corrupt businessman in Rio. Soon, Dom and Brian summon their Fast associates. The cast includes Tego Calderon, Don Omar and Chris "Ludacris" Bridges.
The gang, which fumbles now and then (to the delight of the audience) has not only to deal with the corrupt local police but has to fight to be free from pursuing US federal agent Hobbs (Dwayne Johnson).
The film has plenty of hair-raising situations. In one, Diesel and Walker the two actors drive over a cliff in a sports car, then jump into wild air above a turbulent river.
Though some of the major critics may slam the film for being brain-dead, a few have welcomed it for being a good diversion.
'Who knew that the best place to put Vin Diesel would be between the Rock and a hard place?' wrote Betsy Sharkey in Los Angeles Times. 'The spot has never been tighter, or righter, and the testosterone never higher than in the hot jacking action of Fast Five.'
Joe Morgenstern in The Wall Street Journal wrote that the film 'gets lots of mileage from a combination of high spirits, scorn for the laws of physics, readily renewable energy and an emphasis on family values -- not those of the nuclear family, but of hell-raising, drag-racing outlaws.'
Released two years after the previous installment, the new film will race across some 400 IMAX screens, 245 of them in America. This is a movie with enormous appeal to teens and 20-something crowd, which means it could also be a solid date film, with substantial number of women cheering it.
'What it all comes down to is a skillfully assembled 130 minutes at the movies,' muses Roger Ebert in Chicago Sun-Times, 'with actors capable of doing absurd things with straight faces, and action sequences that toy idly with the laws of physics.'
The previous installment in the series was made for $85 million (considerably less than many Hollywood action films) and grossed about $340 million worldwide. A bigger hit abroad than in America, the franchise is surely leading to another film in the next two years. The new movie cost about $125 million and may have no problem reaching $400 million.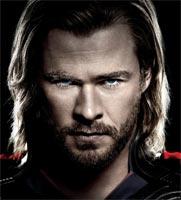 Thor, starring Chris Hemsworth, Natalie Portman and Anthony Hopkins, premiered in Australia last week. Since Hemsworth, who plays the title role of the Norwegian thunder God is an Australian hunk, Paramount decided to open the film there. It grossed an impressive $5.7 million.
It will begin striking major markets in the next few weeks, reaching India today, and other parts of the world on May 6.
Thor is impatient with his wise father Odin (Hopkins), who would rather negotiate than wage a war. He is also fighting with his brother Loki (Tom Hiddleston), who has no moral qualms.
When Thor launches war against his foes without resorting to diplomacy first, Odin exiles him from Asgard him to earth, without his divine powers. He has to prove himself to be humble and dependable before he is welcome to his previous abode. Among the many challenges Thor faces is getting to know and deal with a scientist (Natalie Portman).
The movie, directed by Kenneth Branagh (known for directing several Shakespearean hits), received mixed to good reviews in Australia, and by some British critics.
'This Thor can be entirely ridiculous sometimes, and the world of Asgard does look sometimes like the digital universe of Tron, in the recent dodgy update,' wrote Peter Bradshaw in the British newspaper The Guardian. 'It underuses actors like Jeremy Renner and the Japanese star Tadanobu Asano in minuscule roles. But this is entertaining stuff, a serviceable summer movie and Asgard to be a good thing.'
Branagh has given the film a comic touch.
'The film was never designed to be portentous or self-important,' he told Entertainment Weekly. 'It wants to have a really good time enjoying the consequences of the culture clash. We always felt there was a very strong mine of material in the fish-out-of-water. When you reduce a man who is arrogant by temperament, extremely oppressive and used to having his own way, dressed, um … unusually, you are immediately in a position where you have comic friction. This is a guy who continues to live his own reality. In his mind, he's still prince of the cosmos and he'll do what he wants. People from Earth getting in his way and asking silly questions is immaterial.'