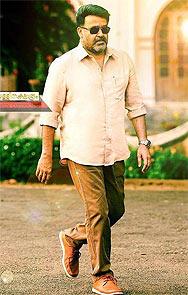 The stand-off between film exhibitors and technicians in Kerala threatens to further weaken an already shaky film industry.
The Exhibitors' Federation has decided not to allow the release of writer-director B Unnikrishnan's Mr. Fraud, which is due to release on May 8. Mohanlal plays the lead in the film produced by A V Anoop.
This comes after technicians and actors decided not to attend the inauguration of the Exhibitors' Federation office.
Liberty Basheer, the president of the Exhibitors' Federation, demanded an apology from Unnikrishnan who is also the general secretary of the film technicians' association, FEFKA.
According to the latest reports, FEFKA has threatened that if the ban continues, no new films will be released.
The exhibitors retaliated by saying that the decision on that should come from the producers.
The Malayalam film industry is going through one of its worst times in recent years. There have been just four hits in the first four months of this year and a substantial fall in the number of projects due to the satellite crisis.
The new tussle can only make things worse.