Despite going against the grain, Vidhu Vinod Chopra's
Eklavya
had a solid start across North America, grossing $800,000 on 80 screens during the four-day weekend.
The towering performance by Amitabh Bachchan who is conflicted over his duty-bound disposition caught the eye of
The New York Times
which is usually hesitant to rave about actors in Hindi films. Incidentally, it has been over a year since it praised Bachchan's son Abhishek's work in Mani Ratnam's
Yuva
.
Eklavya also carries the title The Royal Guard in North America and the United Kingdom.
Andy Webster, the second-string critic for The Times wrote:
'The main tribute in Guard, however, is to Mr Bachchan, an aging Bollywood monument (and father of the rising actor Abhishek Bachchan), whose sunken, heavy-lidded eyes, grizzled countenance and noble bearing indisputably convey the presence of a seasoned star.'
Across the Atlantic, Eklavya had a decent but unspectacular business grossing $300,000 on 40 screens.
With no opposition in the next week, Eklavya could do brisk business, unlike many films that tumble by about 60% in the second week. A 30% slide for the film would be excellent.
While many viewers went ecstatic over Amitabh's deeply etched performance, there was no shortage of praise for Saif Ali Khan who has built a large fan base here, with his
Parineeta
and
Omkara
doing
excellent business.
Sanjay Dutt hardly had fans here till the other day; even the first
Munna Bhai
was a bomb in North America. But with
Lage Raho Munna Bhai
turning into a big hit, he too helps boost a good film, and surely his small but good part as a low-caste police officer in
Eklavya
gave the film a boost.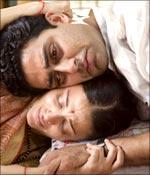 The overseas market for big Hindi films continues to be flourishing though offbeat films such as
Black Friday
have tanked so badly hardly anyone realizes they have been around. The well-reviewed
Black Friday
grossed just about $30,000 in 2 weeks.
On the other hand,
Salaam-e-Ishq
is ending its run in the US and UK with a whopping combined $3.5 million, about 15%more than another smash hit
Guru
. Nikhil Advani's multistarrer
Ishq
 grossed about $2 million in North America alone.
Guru
is ending its North American run with a strong $2.1 million -- making it the biggest hit for Mani Ratnam in this territory, where
Bombay
and
Dil Se
(despite being a big dud in India) were his top performers. The film also gave Abhishek his first certified hit as a solo hero, outside of multistarrers. On the strength of
Guru
alone, he joins the club dominated by Shah Rukh Khan and Aamir Khan.
But in the UK,
Guru
could not match its success in North America, ending its run there with just about $1 million.