| | |
| --- | --- |
| A still from Eklavya | |
| | |
| | |
| | |
| | |
| | |
| | |
Advertisement
February 16, 2007 20:23 IST


Convention, be damned.

Vidhu Vinod Chopra's latest film bellows with defiance and power, visibly the story of a filmmaker flexing his muscles to meet his own, insane standards -- while caring not for the world at large. Sure, the film is brilliant, brave, superbly edited and marvellously shot. Not to mention showcasing fantastic performances.

Then again, it's also abstruse and theatrical, heavy-winded and ponderous. If the task is merely to strike a balance between commercial and aesthetic, the film stumbles entirely. But -- and here's the most crucial bit -- it doesn't look like Chopra's aiming for the balance.

Chopra: I want Eklavya to teach audiences about right and wrong

Like Eklavya -- both the spirited lad of the Mahabharata and the titular character in this film, played by Amitabh Bachchan -- Chopra's focus is on dharma. His film talks about the subjective nature of right and wrong; does evil indeed lie in the eyes of the beholder? It's a loaded issue, and this period drama -- this really doesn't fit into the 'thriller' genre -- explores complex ramifications aided by strenuous dialogue. Bachchan talks us through the opening credits, his baritone narration deep and grandfatherly, explaining the Mahabharata legend.

Then, present day Rajasthan. Rani Suhasinidevi (Sharmila Tagore) lies on her death bed as Rana Jayavardan (Boman Irani) tenderly recites Shakespeare's 18th sonnet to her. He is the king of a feudal township, a kingdom snatched by democratic India, and while he still lives in grandiose once-upon-a-time illusions and treats the farmers like serfs, there is little he has to smile about, with a fatally ill wife and mentally challenged daughter Nandini (Raima Sen). And soon is his copper complexion further dimm'd, as she refuses to take his name with her final breaths.

It is a grudge he seems to hold against his son, Harshvardhan (Saif Ali Khan). The princeling arrives by helicopter, embraces old-guard Eklavya, who stands loyally beside him as he faces his father. 'She took your name,' complains the King bitterly, 'only your name.' The son stands in silence, faultlessly reprimanded minutes before his mother's funeral. In those crucial minutes, however, he meets adoring sister Nandini and childhood sweetheart Rajjo (Vidya Balan), and reads a letter from his mother. You know, the kind of letter that changes his life.
But while Harsh might enjoy his hair buffeted by the winds as he smiles hearing Rajjo's flashback-evoking rendition of his mother's ballad -- the film's only song, and we hear half -- the palace must deal with the outside world. With ground reality, the sort best portrayed by once-untouchable Pannalal Chohar (Sanjay Dutt), a tough cop called in to investigate a murder threat to the king, but only heading to the palace because of an enduring respect for the legendary royal guard. If only he'll show him that trick again...
Which is possibly what audiences ask. Will Vinod show us that trick again? A magical masterpiece no one can resist? Will he show us Parinda again? Well, with this film he does, though not quite as you would expect. The pigeon-love -- exhibited in every film he produces -- seems stronger than ever this time, and it could possibly be appropriate for Vidhu to now time his off-screen appearances with a furious flurry of feathers as fanfare. Anyway, deployed as well as ever, we love the darned white birds again.
Cinematographer Natarajan Subramaniam dazzles with every frame, truly spectacular lighting and flawless editing making the film a banquet for the eyes -- there's something to suit every visual palette. And then there are the performances.
As the title suggests, this is an out-and-out Amitabh Bachchan film. The script paints the actor into a helluva tight corner, pushing him to act the daylights out of the role, or fail. And act he bloody well does, creating a memorable and unbelievably compelling character. Eklavya is conflicted and determined, forceful yet fragile, and -- using his eyes to masterful effect -- Amitabh hands in a stunning performance. This is one of his most mature roles, and it is work like this that must excite the legendary leading man. We're thrilled, for sure.
Equally commendable is Sanjay Dutt, evoking inevitable chortles in a tense, extremely emotional father-son drama. The Deputy Superintendent of Police is an Obelix-ian character of both anger and affection, and despite his tough as nails no-nonsense attitude, it is his childish innocence that makes him irresistible. Dutt, looking unlike anything he has before, is spot-on.
Saif's role is one of tremendous restraint, and he plays it to perfection. There are very few moments given to the actor to display great histrionics, his character more given to brooding silently. Yet this is a flawless performance, and the best kind of acting -- making it seem effortless. Boman is reliably excellent, and continues to go from subtler strength to strength; he has an enviable mastery of visible nuances, pulling them off without ever seeming gimmicky. One wishes Jackie Shroff had a bit more meat, while Jimmy Shergill, cast against type, does solidly, and is well-rewarded -- pitted against Amitabh in the film's finest scene.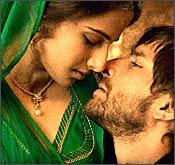 Of the women, Raima again shows her skill as an exceptional actress, effervescent in a crucial character. Her Nandini might be impaired of mind but wields a crayon with considerable skill, a superb parallel to the nearly-blind Eklavya's undying marksmanship, based on sound. In one of the film's most regrettable flaws, her character is unjustifiably edited out of screentime as the film hurtles towards the climax. Balan has very little to do in the film, while Tagore is essential to give the film the air of nostalgia it desires.
Eklavya is a powerful drama, yet one is more than likely to get caught up in the terrific treatment -- and miss the larger point of the film. The lyrical camera and flowing imagery are made more fluid by a vivid, strong background score, often lending the film touches of magic-realism. When Rana Jayavardan longingly touches the mirror that reflects a captivating Sharmila Tagore portrait (of Nayak vintage), one half-expects it to ripple wetly as his finger strikes it.
Vidhu, of course, is a master filmmaker, audaciously plunging the theatre into darkness for over three minutes. This is insanely awesome stuff, the kind of thing Hindi cinema will reel from. Audiences might even yell at confused projectionists, but who cares. Bring on the applause. 
The alternate review: Eklavya is definitely worth a watch
Yet it is this that somehow overpowers the theme, technique taking precedence over story. The script is powerful, yet occasionally self-indulgent. Unapologetically it turns to hardcore Hindi and Sanskrit, as to the Bard, and the film may thus alienate itself from most audiences. It impresses undeniably, but the question is, are you in love with it?
The answer is tough. I would suggest watch it again to decide. I know I must.
For a flawed masterpiece is still a masterpiece.
Rediff Rating: