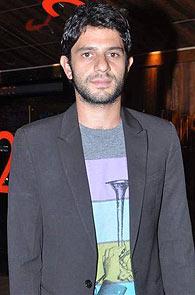 Actor Arjun Mathur is not new to Bollywood. His cameo roles in Luck By Chance, My Name Is Khan and I Am, have been applauded. In Ankur Arora Murder Case, he plays the lead for the first time.

Arjun has appeared in numerous television commercials, the most notable being for Belmonte Suitings alongside Shah Rukh Khan; Airtel 3G with Aditi Rao Hydari, and for Godrej products alongside Aamir Khan.

Arjun talks to Rajul Hegde about his career thus far and the unusual subject of the film.

Are you excited about this film since you are playing the lead?

Yes, definitely. After slowly becoming known as a consistently good performer and a nuanced actor, being the lead actor has taken a great deal out of me.

What is the story about?

It's about the urgent and disturbing issue of medical negligence. It's about how sometimes the general public does not know what is happening in the operation theatre. We are not familiar with medical jargon. We have to believe what is told to us by the doctor.

Sometimes things are not what they seem. That's exactly what the film is looking at. It is also about a fight for the right and to get justice for the victim of medical negligence.

What is your character like?

I play the character of a medical intern, a very idealistic young lad who aspires to be a renowned doctor. He believes in the oath he took at medical school and wants to work in the service of humanity.

He looks up to the senior surgeon Dr Asthana (Kay Kay Menon) and wants to be like him. When he sees that a good doctor may not be a good human being, he realises that there are grey areas in this profession. He decides to sacrifice everything for upholding the integrity of the medical profession.

Did you do any kind of workshop to get to know the nuances of medical science?

Yes, we did a two-day workshop where we learned how to handle the apparatus and familiarise ourselves with medical terminologies.

We constantly had a doctor on set to guide us with the right pronunciation when delivering our dialogues.

Have you come across any incident of medical negligence in real life?

When I was 13 or 14 years old, I met with a car accident and was quite badly injured. I underwent surgery and was in hospital for almost six weeks.

When I was discharged, I realised I couldn't walk properly and there was a very bad pain in my back. When we went back to the hospital and complained about the pain, the doctors got a profile x-ray done and found three untreated compression fractures in my lower back. I was admitted again for another month.

It may not be a case of complete medical negligence but, yes, there were certain ailments that went unnoticed.

What was your experience of shooting for the film?

It was something new and very alien to me. It was exciting to step into the shoes of a character that exists in a world that is unfamiliar to you.

As actors, we get to see things from a different perspective. Like we expect that a doctor will fix everything but that may not always be the case. Doctors are also human beings. They have to keep calm in the face of everything that they witness.

Also, as a child was involved, there was a lot of emotion on the sets. For me, as an actor, it was a challenge to push myself to the emotional limits.

What was it like working with Kay Kay Menon, Tisca Chopra and Paoli Dam?

Kay Kay Menon is a fantastic actor. I have looked up to his work over the years. He is one of the most humble, co-operative and down-to-
earth actors I have ever worked with.
He would constantly be looking for improvement in the scene and if I couldn't find my motivation for a certain scene/line, he would suggest that I think about it and then it would come out correctly.
Tisca's and my character bond strongly. So it's been a great experience.
Paoli completely surprised me. I hadn't seen any of her previous work. The first scene we shot with her was the courtroom scene where she has a long dialogue. I was very impressed with the way she performed the scene.
If I had to describe each one of them in one word, I would say Kay Kay Menon is brilliant, Paoli is extremely hard working and Tisca is endearing.
What was it like working with producer-writer Vikram Bhatt?
I'm lucky I worked with Vikram Bhatt. It takes a lot of courage to invest in new talent. I give full credit to him as he saw the potential, placed his faith in me, and took the decision to cast me for the lead role in his film. I owe him a lot.
As a producer he is fantastic because he gives absolute freedom to the director and at the same time he knows exactly what he wants from the character and the film as a whole.
He oversees the entire project very patiently. He gives that space, detaches himself, but he's still there with complete support whenever needed.
Would you like to share some interesting anecdotes?
I can think of two anecdotes for now. One is when we were shooting a scene with Kay Kay Menon where I had to confront him about his mistake. I have acted with so many actors in the past but before that one scene I was so nervous that I called up one of my friends! He calmed me down and then I gave the shot.
Second one was during a scene where I had to keep walking in the middle of the road and there were cars coming from the opposite direction. Though the car drivers were instructed to come straight and close to me and dodge away, I literally had some two-three minor attacks during the entire scene. I laugh when I think of it now.
You are graduating from small roles to big roles. How does it feel?
I would put it a little differently. I have done enough small roles in big films. So, I am graduating from small roles in the biggest films.
It feels good, it's gratifying and I am on the trajectory I intended to be on. I don't come from a film background, and I didn't employ any gimmicks or tactics to gain audience appreciation. So, I think I have been considered purely on the basis of my work.
Are you choosy about the roles you do?
Right now I'm being choosy, but earlier I accepted everything that came my way. Now it's more about quality.
I don't want to do anything that I would watch later and be like, 'Oh God! What was I doing?'
You worked as assistant director in Rang De Basanti and The Rising- Mangal Pandey before you acted in films. Was acting always in your mind?
Acting was in my mind since I was 10 years old. It's just that for a long time it was a hidden ambition. After school, I didn't want to study any more so I didn't go to college. I did a couple of acting courses like with Barry John and then started working as an assistant director. I was very lucky with the movies I got to work with and it turned out to be a way into acting.
What's in the pipeline now?
Fireflies
co-starring Rahul Khanna and Monica Dogra (
which premiered at the New York Indian Film Festival 2013
), and
Couching Tiger Mannu
, co-starring Sanjay Mishra, Tinu Anand, Namit Das, and Kawaljit. Also
Coffee-Bloom
, co-starring Mohan Kapur and Sugandha Garg.