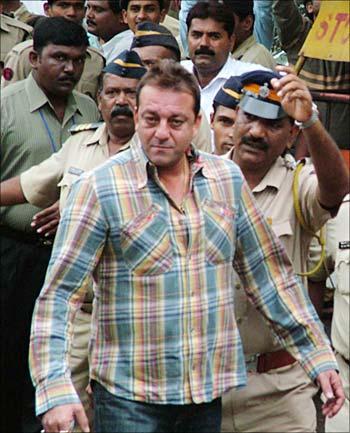 Sanjay Dutt can relax at home on Sunday, July 29, the day he turns 48.
On Friday, TADA court Judge Pramod D Kode said he would sentence Dutt on Tuesday, July 31.
Last November the star was found guilty of possessing arms in the 1993 Mumbai blasts case.
"I have no plans to celebrate my birthday. It will be a quiet birthday. I will be at home," Dutt told reporters assembled outside the court on Friday.
The actor, who arrived early at the court, removed his boots and walked up to the first floor barefoot. All the accused are required to remove their footwear before they enter the courtroom.
He sat quietly behind the Memon family with other co-accused, Rusi Mulla, Kersi Adajania and Yusuf Nullwala.
Yusuf, Essa and Rubaina Memon were sentenced to life in prison on Friday while chartered accountant Yaqub Memon was sentenced to death for his role in the 1993 blasts.
Dutt was held guilty under Sections 3 and 7 of the Arms Act for possessing a pistol and an AK-56 rifle respectively.
While Section 3 recommends a punishment ranging from one year to three years, Section 7 provides a minimum punishment of five years and a maximum of ten years.
Dutt has filed an application for release under the Probation of Offenders Act. If the judge grants his application, he will walk away free, but will need to maintain good conduct during the duration of his sentence.
If the judge rejects his application, then Dutt will be immediately taken into custody.
When Judge Kode informed him about his day of sentencing, Dutt bowed his head and walked out of court.
His day of reckoning would wait for another day.
Text: Syed Firdaus Ashraf | Photograph: Arun Patil