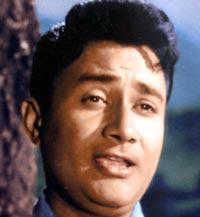 Among the few people that legendary star Dev Anand held really close to himself was his loyal driver Prem Shripath Dubey.

Dubey, 56, worked with Dev Anand for 33 years.

He gives Patcy N an insight into the person Devsaab was.

Monaji (Kalpana Karthik, Dev Anand's wife) had asked me to come early on Sunday morning, December 4, as she had to go to church.

But at around 7 am, my wife told me Dev Anand was no more. I told her it's not possible. But it was.

I immediately took an autorickshaw and rushed to Devsaab's house. Monaji was in her room. She did not come down the whole day. There were lots of television reporters around.

Devsaab was not sick at all. The last time I saw him was on November 17 when I dropped him to the airport. He was flying to London with his son, Suneil. He was fit and walking. I asked him if he wanted a wheelchair and he said no.

I have been working with Dev Anand for 30 years. His brother Chetan Anand gave me the job in 1978. At first, I was driver to Suneil Anand, who had returned from America after finishing his education there.

One day, it so happened that Devsaab had to go to Mahabaleshwar and his regular driver Madan Sharma could not go with him. So I went instead. Devsaab always stayed at Fredrick Hotel, room number 11. It was always reserved for him. He would go to Mahabaleshwar to write scripts. He wrote Swami Dada there.

We would leave for work everyday at 11 am or 12 noon but if there was a shoot, we would leave at 9 am. The first thing he would do when he reached his office was read the newspaper.

He never had lunch, but dinner was at 7 pm sharp. His tiffin would come from home -- just a little bhaji with one chappati, that's it. At 8 pm he would drink a glass of hot water. We would leave office at around 9 or 10 pm. At home, he would drink soup and have some fruit. Breakfast was porridge, omelet, milk and banana.

But in the early days, Devsaab loved parathas, gobi, methi and baigan ka bhartha. Apples, grapes and popcorn were favourites. But in the later years, he just ate sukhi chappati, papaya and banana. He never ate sweets; he did not drink alcohol or smoke.

Devsaab had three cars. He loved Fiats and had two -- an old 1985 model and an 118 NE. There were always channa packets in the car for him to snack on, and plain bread which he loved.

He never lost his cool. Even when he was angry he said what he had to say lovingly. He called me Prem, but when he was angry, he would call me Premsaab, to imply that now I have started thinking of myself as the boss!

I live in a chawl in Khar-Danda, a western suburb in Mumbai. I have a wife and three sons. Devsaab had asked me to live in his bungalow but due to the politics of his servants, I was not allowed to stay there.

All the financial matters were looked after by Suneilsaab; Devsaab never looked into financial matters.

After being with Devsaab for 30 years, I have started talking like him!

Sometimes, Devsaab would take the wheel and make me sit beside him. He was a good driver. When we went on long drives, he would stop the car at roadside tea stalls and we would have a cup of tea.
I have Devsaab's driving licence. I will not give to anyone, not even for a crore of rupees.

I worked for Devsaab for Rs 5,000. Had I worked for someone else, my pay would be more. But it was not about money, it was about principles. Like Devsaab had principles, I too had them. Like Devsaab never acted in commercials.

Once in a while, Devsaab would give me his clothes. The belt I am wearing is from the film Hare Rama Hare Krishna. I am wearing his shirt too, which he had worn in Jaanemaan. His favourite colours were yellow, brown and black. Once in a while, he wore red. Did you know he had 800 jackets?

His favourite hobby was reading. Whenever he got time, he would be reading something. He wouldn't talk much.

Devsaab started looking weak after the death of Goldiesaab (Vijay Anand). Devsaab did not cry as much when Chetan Anand died as he did on Goldiesaab's death.