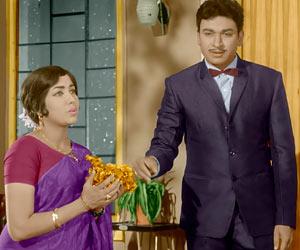 Evergreen Kannada blockbuster Kasturi Nivasa, with Rajkumar in the lead, will re-release today in colour.
This Kannada classic, first released in 1971, was made in black and white at a cost of Rs 3.75 lakh.
The film has been given a makeover at the cost of Rs 2 crore.
Producer K C N Gowda, who funded the film, started 'colouring' the film in 2011, but passed away in October 2012, having completed just 70 per cent of the work. Gowda's sons have now completed the work.
Kasturi Nivasa stars Rajkumar, Jayanthi, Aarati and K S Aswath in lead roles.

It is considered a milestone in Rajkumar's career and also in the history of the Kannada film industry.
It is said that although the producer stopped shooting after a day and wanted it to be reshot in colour, Rajkumar insisted the film be completed in black and white.
Kasturi Nivasa is directed by Dorai-Bhagawan. It was filmed in 19 days in Mysuru and Kanteerava Studios, Bengaluru.
Of the total budget of Rs 3.75 lakh, Rs 1.25 lakh was spent on the black and white set. Making the film in black and white saved Rs 1.25 lakh, according to K C N Mohan, son of the late producer.
The film has a powerful storyline, good cast and extraordinary music by G K Venkatesh.
Interestingly, Rajkumar was initially reluctant to act in the film, that was written by G Balasubramaniam, originally made in Tamil and directed by G Balasubramaniam.
Sivaji Ganeshan had rejected the script because it had a tragic ending. It was initially offered to him by writer G Balasubramaniam. An initially hesitant Rajkumar had said then that when Ganeshan had rejected the film, how could he accept it?
It was Rajkumar's brother Varadaraj who convinced Rajkumar to act in the movie, according to director Bhagawan.
The script was sold to producer Noor for Rs 25,000 by G Balasubramaniam, and subsequently sold to K C N Gowda for Rs 39,000.
After Rajkumar had finished shooting for the film, the remake rights for the Tamil film were sold for Rs 2 lakh to Sivaji Ganeshan that was titled Avanthan Manitan.

Sanjeev Kumar bought the rights to remake the film in Hindi, titled Shaandaar, for Rs 4 lakh.
The K C N family has earlier released another classic black and white film Satya Harishchandra (starring Rajkumar) in colour.

They are now planning to convert other Kannada classics such as Veera Kesari and Mantralaya Mahatme to colour. They also plan to bring Babruvahana in the 3D format.
Colouring Kasturi Nivasa involved nearly 60 artists. All the positives, negatives and other material of the print were acquired from the archives for the purpose.
The movie had 2.15 lakh frames. The costumes worn by the actors were of 1970s vintage. A particular software was used to get the nearest matching colour, according to Mohan.