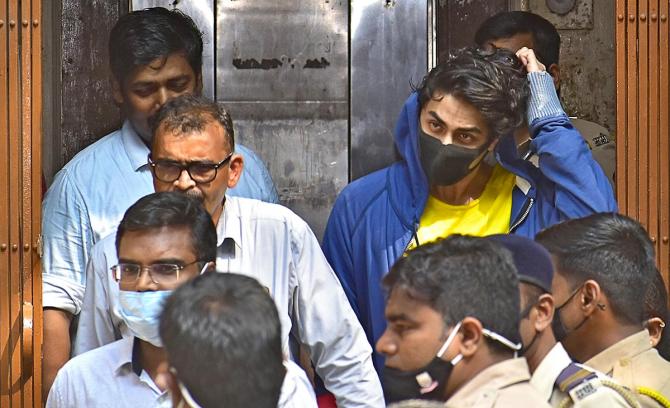 Certain reports suggest that Shah Rukh was allowed a brief conversation with his son Aryan, who was arrested after a recent drug bust.
But sources close to the superstar say he is yet to speak to his son.
A close friend of the Khans tells Subhash K Jha, "Both Shah Rukh and Gauri are deeply disturbed, but Shah Rukh is outwardly very calm. He is not worked up, and not in the mood to lose his temper. He is in constant consultation with his lawyers, trying to get his son's bail order."
Meanwhile, support from within the film industry for Aryan is swelling.
After Salman Khan's late night visit to Shah Rukh Khan's residence, Suniel Shetty showed his support by saying that 'the child needs a breather.'
Many other colleagues and co-stars have come forward to support the Khans.
"Shah Rukh is a much-loved star within the film industry. Aryan is a polite, quiet young man, who loves to spend his time with close friends. No one, not even their enemies, would want them to go through this traumatic time," a close friend of Shah Rukh and Gauri says.