'Everyone in the house calls Hina 'lomdi'(fox)' because she has this habit of back-biting.
'Shilpa has a split personality, that's scary!
'Hiten (Tejwani) will last till the end because he is respected.
'Vikas Gupta is a mastermind.'
Dhinchak Pooja gives you the lowdown on Bigg Boss house.
Cringe-pop sensation Pooja Jain, popularly known as Dhinchak Pooja, who entered Bigg Boss 11 as a wild card contestant, has been eliminated in just two weeks.
The Youtube hit-maker, who has belted out songs like Selfie maine le li aaj, Dilon ka shooter, Swag wali topi and Afreen, sang her songs on the controversial show and made the other housemates sing them as well!
She formed such a close association with fellow rapper Akash Dadlani that host Salman Khan nicknamed them, 'Rap Ne Bana Di Jodi'!
In her short stay, Pooja did not ruffle any feathers and stayed in everyone's good books.
She discusses her stint with Rediff.com's Rajul Hegde.
You nominated yourself to save Arshi Khan from elimination. Any regrets?
No. It's okay to get evicted.
Arshi is inside, she will play her game.
I would have won Bigg Boss, that's the kind of fan following I have.
I think I got eliminated because the audience didn't like me, as I did not entertain or interact much with everyone.
I would have been happy inside but I am fine being out as well.
Had it lasted longer, it would have been difficult to deal with people in the house.
How tough is it living in the Bigg Boss house?
I would always wonder why people fight so much and why there's so much drama. But, after going inside, I realised that it's not easy to live in confinement. And there is no control over your emotions.
I spent a lot of time observing people and understanding things. I thought I would enjoy myself but the vibes of the house is such that you tend to get lost.
It was an amazing, short and sweet stint. I was there for the experience and the fun.
I don't mind going back to the house, but only after a month. I really need a break to get back to form (laughs).
You hardly made any friends.
I bonded well with everyone.
I will miss Arshi and Akash Dadlani. They were very sweet to me. Akash is an entertainment package on the show. I will miss his jokes, goofy antics and rap songs.
You were mocked for your songs and head lice.
From the time I entered the house, it was quite clear that the housemates had targeted me. Some thought I was immature, not so strong and would not be able to fight back. It was their plan to make me weak.
I heard them talking about lice, and making fun, and asking Bigg Boss to send Medicare. But I just ignored it.
I connected with a few housemates -- I used to chat with Shilpa (Shinde) in the kitchen, with Hiten and Vikas sometimes. But I am used to living alone, so it didn't matter to me even when they made fun of me.
What did you think of the housemates?
I wouldn't say they were bad because it's difficult to judge people in 15 days.
But Hina (Khan) tries to dominate everyone during the tasks and I think that's what gets to people. Everyone in the house calls her 'lomdi'(fox)'. She was nicknamed that because she has this habit of back-biting.
Shilpa has a split personality, that's scary!
Hiten (Tejwani) will last till the end because he is respected and stays away from controversies.
Vikas Gupta is a mastermind. He does things for his gain but makes you feel as if he is doing it for your advantage.
You got chance to compose a song in the house.
I could have said no, as I was in jail and the situation was strange. I was upset and hadn't eaten.
But I worked hard for the housemates' luxury budget.
The celebs were insecure of the perks provided to me although they shouldn't have been -- it was only for the task.
I am glad the song was entertaining and everyone liked it. Right now, I don't even remember the lyrics. I am so lost.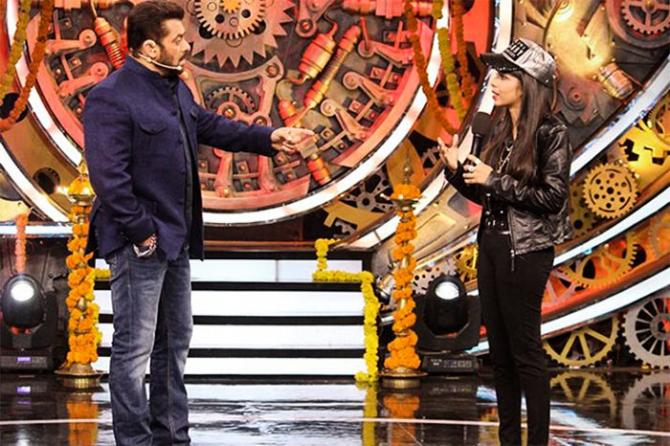 Before entering the show, you had said that Bigg Boss made your dream of meeting Salman Khan come true.
He is such a huge star, yet so humble.
He looked cute every time he sang my songs.
It was clear from his expressions that he enjoyed singing them.
Bigg Boss 10 contestant Swami Om claimed that you got the idea of your debut single Selfie maine leli aaj from him.
It's my original composition.
Who is Swami Om? I think I have heard about him in the last season of Bigg Boss but I have never met him in my life. He's just bluffing to stay in the news.
What next for you?
I am looking forward to some good opportunities that will suit my personality. But I won't stop composing songs.