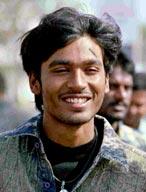 Tamil actor-singer Dhanush says he is overwhelmed by the response to his song Kolaveri di, which has become a rage online, attracting even fans like Amitabh Bachchan.

The Tanglish (Tamil and English) song, a funny take on heartbreak, is from Dhanush's upcoming Tamil movie 3. It has already become a craze on the internet.

"I am overwhelmed by the response," Dhanush said. "When we were recording the song, we never thought it would become such a rage. We didn't have any plans, any marketing strategy to make the song a hit. It just happened. My voice is full of mistakes and that's why it suits the song. I guess that worked for the song because it can be easily hummed."

Kolaveri di (why this murderous rage), which is being shared by the online community rapidly, was released digitally on November 16 by Sony Music. The video shows Dhanush, the son-in-law of superstar Rajnikanth, singing the song in a studio and composer Anirudh Ravichander on the keyboard while director Aishwarya R Dhanush and co-star Shruti Haasan watch along and give suggestions.

"When I was writing the lyrics, I kept in mind all the English words that are used in the Tamil vocabulary. Words like I, you, me, how, why, cow.. I just framed them into sentences and that's how I came up with the song," said Dhanush, who also penned down the lyrics of the song. Debutant music-director Anirudh Ravichander said they wanted to do something new with the song and it was Aishwarya who came up with the concept.

He adds, "Aishwarya maam gave me the situation and asked me to weave around it. The concept of heartbreak is very common and happens all the time. We wanted to try a new concept with (Tamil-English) lyrics and surprisingly, it worked. We have used different instruments from all over the world. Shehnai, strings, acoustic guitar, acoustic bass. I have kept the keyboard sound minimal." he added.
Amitabh Bachchan is the latest to be smitten by the quirky lyrics and foot-tapping music of the song. "Just heard 'Kolaveri di' after much talk on it ... its so original and catchy ..congrats Dhanush and Aishwarya (Rajni's daughter) .. love," Bachchan posted on Twitter.

Dhanush replied, saying, "It's a great honour to get a tweet from Big B, very kind of him. I dedicate the tweet to all you guys who made kolaveri this big. Love you guys. God bless," he posted.

Kolaveri appeared as the number one Indian trend on Twitter on November 21.
Also Read:
Meet Dhanush, the National award winner
Rajnikanth's daughter Aishwarya on directing husband Dhanush in 3
Pix: Aishwarya-Dhanush wed