Deepika was reluctant to do the role, but Ranveer persuaded her, and the 000s on the cheque did the rest, reports Subhash K Jha.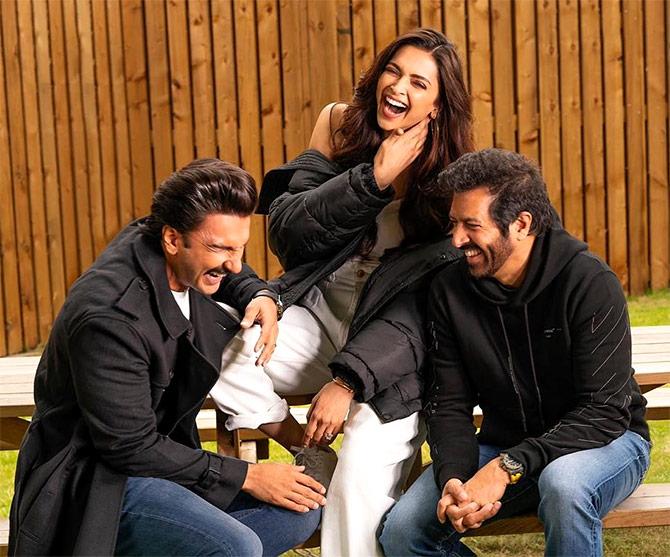 Ranveer Singh has excitedly spoken out about his fourth pairing with wife Deepika Padukone for the cricket film '83 as being the first where they don't die at the end.
The three films Deepika and Ranveer have done together earlier, all directed by Sanjay Leela Bhansali, were love tragedies.
A source close to Bhansal wonders how much of a role Deepika will have in '83.
"The film is about the Indian cricket team led by Kapil Dev winning the 1983 World Cup. How much of a role can Deepika have as Kapil Dev's wife Romi Dev in a plot that is not devoted to Kapil's off-field life?" asks the source.
Sources say after back-to-back author-backed roles in Ram Leela, Piku, Bajirao Mastani, Padmaavat and the forthcoming Chhapaak, Deepika was reluctant to step aside from centrestage to do '83.
"She was in two minds, not sure she wanted to play a non-central character," says a source close to the producer.
So how did Deepika get convinced to finally do the role?
"I think Ranveer almost convinced her, then the zeros on the cheque did the rest," says a source close to the producers of '83.
Apparently, Deepika will be paid Rs 14 crore to be part of the cricket epic.
PTI adds:
Ranveer had made the announcement on Wednesday on Instagram.
'*drum roll All smiles as All-star @deepikapadukone joins the #83squad! @83thefilm @kabirkhankk,' Ranveer wrote alongside a photo with Deepika and film's director Kabir Khan.
'Who better to play My Wifey than My Wifey?! @deepikapadukone plays Romi Dev in @83thefilm! Genius casting courtesy @kabirkhankk,' he said.
Later, Deepika took to Twitter to confirm her casting. 'On to the next... Thank You @kabirkhankk for this incredible honour! #RomiDev #Day1 @83thefilm @RanveerOfficial,"'she wrote.
Kabir Khan said he is excited to have Deepika on board as he was looking for an opportunity to work with her for a long time.
'I'm totally thrilled to work with someone I have admired for so long... Welcome to '83' @deepikapadukone! You had to be Romi! #83OneMoreTime,' the director wrote on Instagram.
'83 will release on April 10, 2020. The shooting is underway in Glasgow.