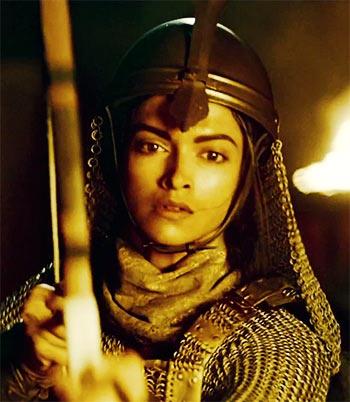 After her breathtaking turn in Sanjay Leela Bhansali's Ram Leela, Deepika Padukone has reportedly payed a stunning tribute to the late legend Madhubala in a sequence from the director's Bajirao Mastani.
According to reports, D-Pad is seen performing on the iconic Pyar kiya toh darna kya song from K Asif's Mughal-e-Azam.
According to sources from the film's team, SLB designed the entire song based on Asif's spectacular vision.
"The Mughal-e-Azam song was designed to highlight Madhubala's beauty in all its glory.

"Director K Asif had shot the song in a spectacularly constructed Sheesh Mahal. Bhansali's song is set in the 'Aaina Mahal' set as a tribute to K Asif, Mughal-e-Azam and Deepika," the source adds.
Word is, Deepika's version, titled Deewani Mastani, was especially composed by Bhansali to replicate the experience of Naushad's Pyar kiya toh darna kya.
"Sanjay sir is the biggest fan of Lataji (Mangeshkar).

"He got Shreya Ghosal, who is a direct descendent of the Lata Mangeshkar school of singing, to sing in Bajirao Mastani."
The song is choreographed by Remo D'Souza.
Incidentally, Katrina Kaif is also expected to portray Madhubala in the Kishore Kumar biopic whenever it is made (by Anurag Basu) with Ranbir Kapoor in the title role.

So we have TWO modern-day Madhubalas among us. Wonder what the late actress would have to say about that...

Image: Deepika Padukone in Bajirao Mastani