Actor, social activist and now director, Nandita Das wears the many hats with considerable élan.
She believes in choosing films that resonate with her sensibilities, regardless of the genre of the film. Firaaq marks her directorial debut and with stalwarts like Nasseruddin Shah and Paresh Rawal praising her, it could not get any better.
Swati R Chaudhary asks Nandita to elaborate.
Tell us about your directorial debut Firaaq.
Firaaq is set in the context of the aftermath of a communal riot in Gujarat. It is a work of fiction, but is based on true stories. It traces the emotional journeys of 'ordinary people' -- some are victims, some are perpetrators and some who choose to watch silently. It is through their journeys that we experience the impact of violence, and desire peace.
I have chosen an ensemble structure because in mass violence, there are no individual heroes or villains. Yet in the midst of all this madness, some find it in their hearts to sing hopeful songs of better times.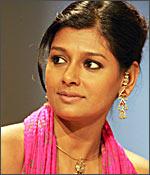 What made you take up this subject?
I don't even remember when the seeds of Firaaq were sown. It had to do with waking up to newspapers filled with stories of violence. It had to do with conversations about identity and the notion 'others' that would soon turn into arguments, polarising people instantly. It probably even went back to growing up in a liberal secular environment and gradually finding oneself in the midst of prejudices, thrusted identities and the many 'isms' that make one feel alone and alienated. The sadness, the anger, the helplessness kept growing and a compelling desire to share all those stories with a larger group of people started taking root. I needed this catharsis. I didn't start out looking for a story that I could direct; the stories found me.
Was direction a natural progression for you?
In many ways, yes. It was always exciting to watch the rest of crew work towards shaping a scene. I would often give suggestions or ask questions. Slowly, the desire to tell stories the way I wanted to started growing stronger. Actors are perceived to be larger than what they are. But what people don't realise is that we actors are at the mercy of a hundred factors that shape a film. So I thought making a film from scratch and having the freedom to make what I want to would be fulfilling.
How did you go about choosing the cast and crew?
I thought Naseeruddin Shah, Paresh Rawal, Raghuvir Yadav and Deepti Naval would be perfect at the scripting stage itself. There were some who I had wanted to cast but for different reasons, we couldn't work together.
The journey of finding the rest of the cast was exciting too. I'm happy to have found talented actors like Sanjay Suri, Shahana Goswami, Nowaz, Tisca Chopra, and many others.
Tell us about your experiences as a first-time director.
While I have been fortunate to have worked with acclaimed directors like Mrinal Sen, Shyam Benegal, Govind Nihalani, Mani Ratnam, Deepa Mehta and Adoor Gopalakrishnan, there are other lesser-known directors, who have influenced me over the years. I guess it was all stored subconsciously in my mind.
I have learnt the craft of filmmaking on every set. The biggest lesson I learnt is that there are no rules in filmmaking.
When I started writing the script, there were moments when I realised that there were experiences that had inadvertently woven themselves in. And, then there were others that I knew I wanted to share with my audiences. As I began researching and putting my thoughts together, I felt a collaborator would help me streamline my thoughts and also add to the skills of writing. I felt that Shuchi Kothari was the right person.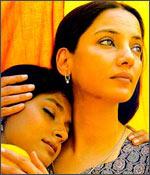 How was it directing stalwarts like Nasseruddin Shah and Paresh Rawal?
Being an actress, it was tough to resist the temptation of 'directing' actors. During the madness of shooting, working with actors gave me the greatest joy. In a way, I got the opportunity to live all my characters! After working on the script for months, to see the characters come alive was amazing.
Naseeruddin Shah, Paresh Rawal and Raghuvir Yadav -- in spite of being so experienced -- were very open to trying different things. I took it as a big compliment, when Naseer texted me just after the shoot, 'Mighty impressed by your precise and clear instructions!'
Paresh Rawal often asks me when I'm starting my next film with him! That too, a comedy, which I would love to do!
Other actors like Nowaz, Shahana and Amruta brought a sincerity to the performances that was truly heart-warming. Little Samad will always be precious to me. My struggle to transform the ever smiling Samad into a sad and lost child that Mohsin is was a tough one.
Your kind of cinema is not governed by commercial considerations...
My decision of doing selective films -- in Hindi as well as regional languages -- and choosing Delhi over Mumbai, were often seen as wrong choices, even by my well wishers.
I have instinctively anchored towards projects I could relate to. My choices have always been influenced by my artistic choices and social commitment. Although some of my choices have not turned out the way I had wanted them, I am happy that I have at least made those choices for honest reasons.
What I look for is a good script, a director who can translate that into an interesting cinematic experience, and a challenging and relatable role. Often, all these things don't come together because there are many factors involved in filmmaking.
All said and done, it is a gamble. But the only thing I can confidently say is that the criteria for choosing a film is not based on any other reason other than the ones mentioned above. We all need money to make our ends meet but it's a relative need. It is a pity how a powerful form of creative expression gets reduced to mere economics.
If I wanted to take up acting as a full-time career or do mainstream movie cinema, I could have shifted to Mumbai after Fire. But it was a choice I made and the peace that I have gained in the bargain was worth it.
How do you explain your preference for unconventional roles and art films?
I have never classified films as art or commercial, Hindi or regional. I do films that resonate with my sensibilities. The criteria to choose a film has always been the script, the director and the role I am offered.
Now, when I look back at the 30 odd films I have done, I have realised that they needed to make less compromises with the form and content. Of course, they are always struggling with budgets and marketing issues and so the vision doesn't translate into a reality. I would love to do different genres, but who would take the risk of giving me a comedy role?
I have done more rural characters, which was not a conscious choice. Some of those stories and characters attracted me more. Just to wear modern clothes and have different hairstyles cannot be the reason to take up a film. Just as not all urban characters are the same, why do we think all rural women are?
What excites you more -- acting or direction? How often do you intend to direct?
Both are exciting in different ways and are fairly incomparable. Although I feel directing is more challenging and fulfilling, it is also far more stressful. Also, acting allows me to be a part of different stories, travel to different parts of the country and all the experiences put together make life interesting.
I have always enjoyed doing different things and I hope to continue that. I don't see any reason why one has to make choices between this or that. I have never seen acting or directing as a career, but more as an interest and a means to communicate. I have never really planned my life, even though I believe that every choice you make leads you to the next crossroad. If there are stories that compel me to direct, I will direct.
What next?
I am just working towards taking Firaaq to as many audiences as I can. I am also reading a few scripts. I hope to get back to acting soon and also my human rights work, which has been neglected in the last few months.
Tell us about your next film, Ramchand Pakistani.
Ramchand Pakistani is about a Hindu Dalit rural family living on the India-Pakistan border that gets torn apart. Ramchand is a seven-year old boy and his father accidentally crosses the border. The father and son are taken to the Kutch jail and the mother is in her village in Pakistan, not knowing what has happened to her family. The characters are all victims of bureaucracy, suspicion, fear and prejudice.
I play Champa, a Hindu Dalit woman from the Sindh part of Pakistan. She goes through a range of emotions from anxiety, anger, losing hope, wanting to die, to coming to terms with the reality. Even though it is across the border, she looks, feels and lives a lot like the women from the deserts of Rajasthan or Gujarat. Champa is both strong and vulnerable like most women and discovers her strength through the challenges she is forced to face.