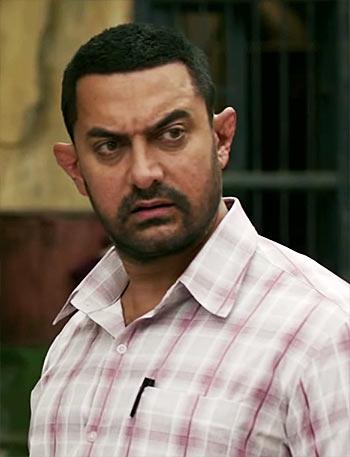 Sultan trailer: 3.18 minutes
Dangal trailer: 3:25 minutes
Sultan dialogue: 'Agle Olympics mein main hi Hindustan ko medal dilaonga, aur woh bhi sone ka (I will bring a medal for India in the next Olympics, and a gold medal at that).'
Dangal dialogue: 'Jo main karna chahta tha woh maara beta karega! Desh ke liye gold jiteyga maara beta (My son will fulfill my ambition. He will bring a gold medal for India).'
Sultan's theme: Aarfa (Anushka Sharma) misses her dream of winning a gold in the Olympics because she gets pregnant. But a star is born in the world of wrestling as her husband, Sultan (Salman Khan), achieves her dream.
Dangal's theme: Mahavir Singh Phogat (Aamir) misses the gold in wrestling, so his daughters Geeta and Babita take his dream forward.
Unlike the Sultan trailer, the Dangal trailer looks realistic -- it is a biopic of wrestler Mahavir Singh Phogat.
You don't get to hear any dhinchak Bollywood songs but you get Daler Mehndi's catchy title song, Dangal dangal. Its picturisation may remind you of the Chak De! India trailer where Shah Rukh Khan, as a hockey coach, trains an all-girl team while the title song plays in the backdrop. The only difference in these films is that the sport is different.
The saddest part of the trailer is Aamir as a young wrestler. With huge muscles, he looks like he is suffering from a bad case of computer graphics.
The point where Dangal really scores is when Aamir Khan talks about women's empowerment: 'Maari chori ka choron se kam hain ke (Are my girls less than boys?)'
And the punchline of the film: 'Main hamesha yeh soch ke rota riya, chora hota toh desh ke liye kushti mien gold laata. Yeh baat mere samajh mein naa aai, gold toh gold hota hai, chora lavey ya chori.' (I always felt sad as I thought that, if I had a son, he would bring gold in wrestling for India. I never understood that a gold medal is a gold medal, whether a girl brings it or a boy).
Sakshi Tanwar, as Aamir's wife, impresses with her acting and her Haryanvi accent.
The rest of the star cast, including the two young girls, give the trailer a fresh feel.
Dangal's Aamir has a better Haryanvi accent than Sultan's Salman but one wonders if the former will beat the latter's box office record when it releases on December 23. Then again, Aamir has the mind of a genius.