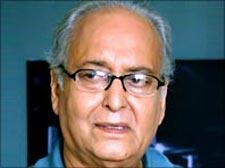 Veteran Bengali actor Soumitra Chatterjee has been awarded the prestigious Dadasaheb Phalke award.

The actor is known for his frequent collaborations with the iconic director Satyajit Ray, in films like Apur Sansar, Sonar Kella, Teen Kanya, Charulata, Feluda and many more.

Soumitra Chatterjee said he was very happy on hearing about his possible selection for this year's Dadasaheb Phalke Award.

"Yes, I have heard. How can I react? All I can say is that I am naturally very happy," said 77-year-old Chatterjee to PTI.

"I cannot express my joy and pride at the news. He should have got the award much earlier. Many years ago, it was Kanan Devi who won the award. Then it was Bhupen Hazarika and now it is Soumitra Chatterjee," said actress Madhavi Chakraborty, who starred opposite Chatterjee in Satyajit Ray's 'Charulata.'

Pointing out that Chatterjee had also won the National Award, film-maker Rituparno Ghosh said, "The Phalke Award is only a formal recognition. To us, Soumitra-da was always the best."

Renowned

writer and former head of Sahitya Academy Sunil Gangopadhyay, who studied with Chatterjee in college, said, "It is a matter of pride for Bengal. A 100 congratulations to him. He should have got the award long back, but that does not diminish our joy."

Veteran filmmaker Mrinal Sen, who directed Chatterjee in Punascha and Akash Kusum, said, "I was speaking to Soumitra over phone this morning and I told him that I was sure that he would get the Phalke award. I am seeing him since he acted in Apur Sansar and he is getting better by the day."

Describing Chatterjee as an actor of great calibre, director Buddhadeb Dasgupta said, "It is good that a real artiste has been recognised, although late.

"Soumitra da is not passing through good times. But what serves as a lesson to us is the manner in which he has put his difficulties behind and is continuing work both in films and stage."

Congratulating Chatterjee, actor and Trinamool Congress MLA Debashree Roy said, "I am proud because I have worked with him."

Chatterjee was honoured with the Padma Bhushan in 2004.

Join us in congratulating the star.