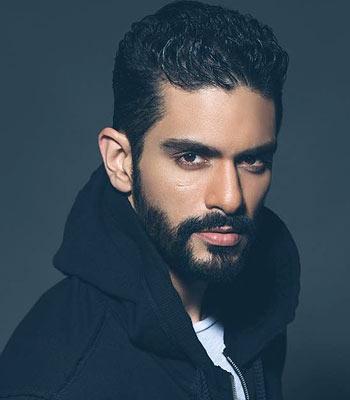 Giving up cricket isn't easy for a cricketer especially when you are a legendary cricketer's son.
But giving up the dream of being an actor would have been even more difficult for Angad Bedi.
The young actor in a free-wheeling conversation with Rediff.com's Jahnavi Patel.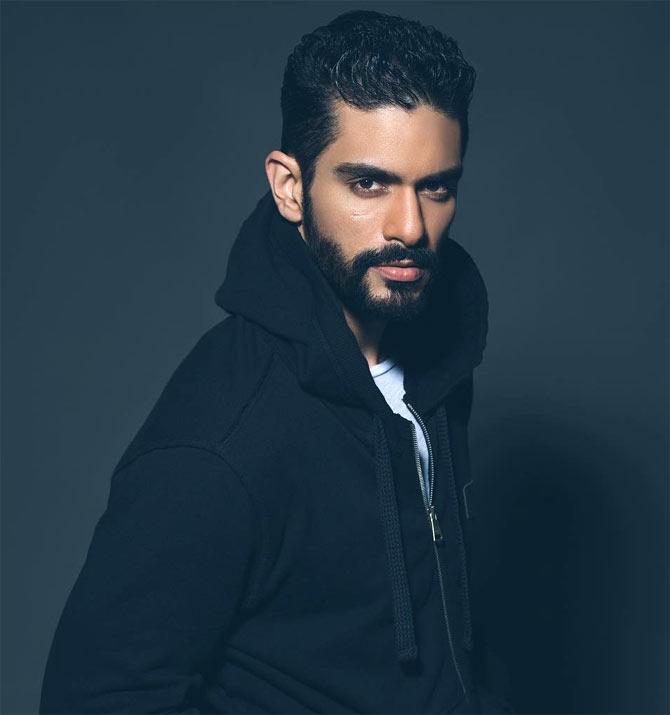 Photograph: Kind Courtesy Angad Bedi/Instagram
Before I can ring the doorbell to Angad Bedi's apartment, he opens the door, saying, "I heard you climb up."
The cozy apartment, decorated in shades of light blue and white, is a testament to the upcoming actor's place in life.
A poster of Ungli, one of his earliest films, dominates one wall.
A suitcase stands in one corner; "it is always there -- it gives me ambition," he says. He says the same thing about the grey and white wings etched onto the ceiling.

And the ambition is clearly propelling him in the right direction.
Angad has had two releases this year, Pink and Dear Zindagi. Both critically acclaimed hits.
He has also starred in Anil Kapoor's 24 and is already working on a Web series.
"I consider myself extremely lucky," Angad says, munching on a protein bar. "I have studied and graduated out of Delhi. I moved to Mumbai after graduation. People used to say, 'Isko filmi bhoot sawar hogaya hai. Jaayega Mumbai, aa jayega char paanch mahine mein (He is bitten by the acting bug. He will go to Mumbai and return in four, five months).' But I knew what I wanted to do. I wanted to train as an actor.'
And that is what he did. He trained with his "guru" Vijay Kashyap. Did theatre workshops. Met people. And, most importantly, he gave it time.
"I went through the grind," he says. "I had conviction and it is still with me -- the hunger, the passion to be in cinema, to do better roles, to perform to the best of my ability not just to make myself feel better but also to see what impact I can have on my director and co-stars. It's a beautiful feeling and that's what I am here to do."
"It's been six years now, and I have been a part of four to five films," he adds. "I am living my dream; it's the best feeling in the world."
The dream of being an actor came early in life to Angad, but it wasn't an easy one in a house that breathed cricket.
He is, after all, Bishen Singh Bedi's son. Bishen Bedi, arguably the greatest left-arm spinner in cricket history.
What was your childhood like?
My childhood was all about discipline, hard work and training. I led a very regimented lifestyle. I have been training since I was 13.
I am glad that discipline was instilled into me by my father, by the game that I played. It is helping me now.
My thought process is more of an athlete's, so it gives me a lot of power and mental strength. I still train every day when I can.
I train like an athlete. I am very competitive. I like to fight. I like to prove my performance.
I am glad that I was born into a family that came from sport. My father represented the country for 17 years. He captained India for more than four years.
I haven't seen him bowl for India because I wasn't born then. But I have seen his videos. I have played with him in a few charity games.
The way I am and the way I am able to hold myself here is all thanks to my upbringing.
How did you gather the courage to tell your parents about your dream of being an actor, not a cricketer?
Though I was born in a cricketing family and played Under 16 and Under 19 cricket for Delhi, my heart was always in cinema.
Even while I was playing cricket, I was day dreaming about how it would be to stand on a film set saying lines...
I was like if I don't play for India by 18 or 19, I will leave the game.
(In any case) that was not my goal... I thought that was the right time to get out.
(At that time) designer J J Valaya gave me an opportunity to walk the ramp.
When the pictures came out, (television news anchor) Shashi Kumar, who was making a film on the 1984 Sikh riots, saw them and called me for a meeting.
He asked me if I would do his movie. I told him that I wasn't a trained actor and he said he didn't want one.
That's how my journey started.
It was a 20-day short role. I played the lead. The film was called Kaya Taran.
There was no connection to the film industry at all. My father knew a few people like Gulzarsaab, Salim uncle (writer Salim Khan), Javedsaab(lyricist Javed Akhtar), Naseeruddinsaab (actor Naseeruddin Shah), but they got along on a different cricketing level.
I owe it to my mom and dad for letting me go, for believing when nobody else believed that I could do it.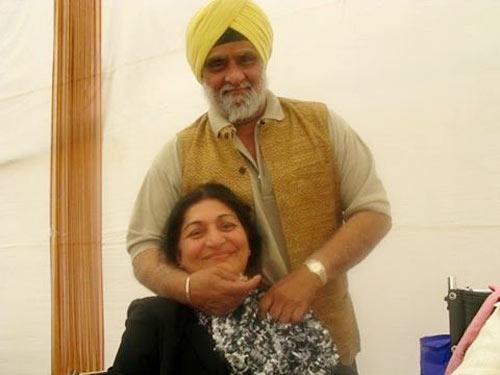 IMAGE: Angad's parents Bishen Singh Bedi and Anju Bedi. Photograph: Kind Courtesy Angad Bedi/Instagram
How much has the 'log kya kahenge' factor that most Indian kids grow up with changed or influenced your decisions?
Never.
When we were promoting Pink, Mr Bachchan wrote a letter to his granddaughters and said that because of your surname don't let people tell you what you need to do in life. Don't worry about log kya kahenge. That was such an important letter.
I told him, 'Why didn't you write this letter 10, 15 years ago?'
He asked me why, and I told him that it would have helped so many youngsters.
Why didn't you continue modelling?
Modelling is something that may help you earn some money and gives you exposure. I wanted to be a part of the film process.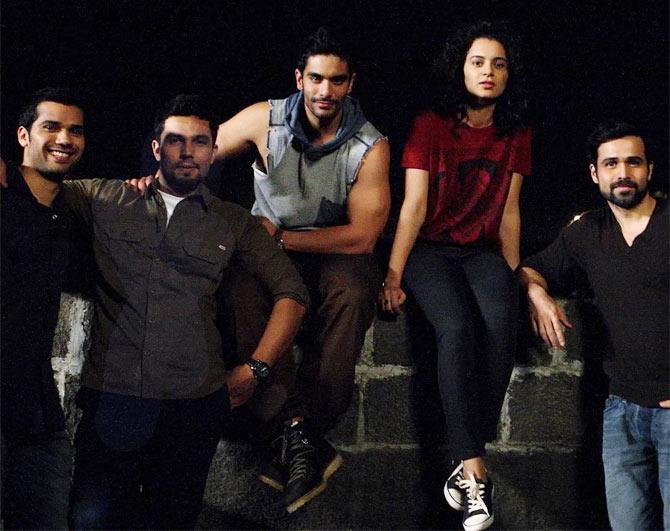 IMAGE:The Ungli gang -- Neil Bhoopalam, Randeep Hooda, Angad Bedi, Kangana Ranaut and Emraan Hashmi. Photograph: Kind Courtesy Angad Bedi/Instagram
Did you at any point feel like continuing with cricket?
Never.
Even when I had a break (from steady work) after Ungli.
I had signed two films, but they went to somebody else. I got replaced in Kai Po Che, and Ram Leela didn't work out because of dates with Ungli.
Then Ungli got delayed. But I am very attached to Ungli. Rensil D'Silva is a very good filmmaker, and I got an opportunity to work with Kangana Ranaut, Emraan Hashmi, Randeep Hooda and Dharma Productions.
Though it didn't do well, I knew it would help me become a better actor.
Thanks to sports, the minute you put me down, I will rise. Then Pink happened.
What about wanting to play cricket for India?
I do wish I had played for India, but then I have done a superhit film with Amitabh Bachchan. I think I'll take the latter.
For me, it is as big as the World Cup.
***
Mention Amitabh Bachchan and Angad turns into a complete fan boy.
"I have grown up on Mr Bachchan's films," he says. "My cousin used to own a VHS shop and I used to pick up all Mr Bachchan's films and watch them on repeat. There's not a single film of his -- from Saat Hindustani to Pink -- which I haven't seen."
And then like any Bollywood fan worth his salt, Angad launches into Bachchan's most iconic lines.
"I know all his dialogues," he says.
"Rishte mein toh hum tumhare baap lagte hain, naam hai Shahenshah."
"Hum jahan khade hote hain line wahin se shuru ho jaati hai."
"There are so many moments that I remember!"
"The first film that I went to see in the theatre was Ajooba at Uphaar cinema in Delhi," he continues. "That's my first memory of a theatre... My favourite films of him are Shakti, Don, Naseeb, Namak Halaal. I love the entire 'I can walk English, I can talk English' scene (in Namak Halaal), Namak Haram, Anand. I love him in Khuda Gawah -- just the way he said 'Benazir', it gave me goose bumps."
"I am obsessed with that man," Angad confesses, noting that he still stalks his icon on Twitter. "I love him. I am not just in awe of him, I think he is a national treasure. Who else has had a career for 45 years and is still going strong? It's only him. Just to be associated with him, to be known by his family and to get love from them is great."
"My dream was to work in a film with Mr Bachchan. For me, it's my most special and treasured moment to be standing in that courtroom with him (in Pink). It was such a priceless moment that I didn't think I'd be able to exchange that with anything better."
But it got even better.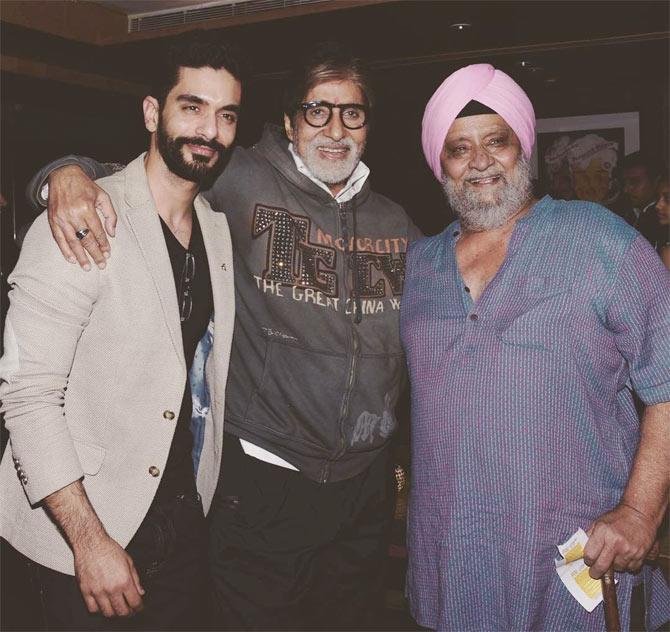 IMAGE: The biggest moment of Angad's life -- his father and Mr Bachchan watch his film together. Photograph: Kind Courtesy Angad Bedi/Instagram
You mentioned that your father and Mr Bachchan would see the film together and watching your father's reaction would be your biggest award. Did you get that award?
It was the biggest moment of my life.
It was surreal to see Mr Amitabh Bachchan and Mr Bishen Singh Bedi sit together and watch a film I was a part of. It was (the biggest award)!
After the movie, my father looked at me and said, 'You were okay.'
When he says you're okay, that's the biggest compliment ever.
We were staying in a hotel in Delhi, so he called me home and said, 'Now there is responsibility on you.'
I asked him what (he meant by that).
'I have seen two of your previous films, F.A.L.T.U and Ungli and I didn't think there was much to offer in those films,' he said. 'But now (after Pink) there is moral responsibility on you as an actor as to what you pick next... You have to be careful about what you get associated with.'
"We had a half-an-hour chat and that kind of chat I (last) had with him when I was 16. I told him this was the kind of chat we had when I was representing Delhi in Under 19. He said, 'Yes, there was responsibility then and there's responsibility now'."
My father still gets messages on my performance and he keeps forwarding them to me. I know he feels very proud.
Till Pink happened, your father was not convinced about your acting career? Has that changed?
He is not from the industry, and he is a very different person.
He doesn't understand mediocrity. He goes like, 'Be the best. Don't be okay or good. Get into the skin of things and make sure you leave an impact.'
He gives me so much drive. I feel like if I can convince my father, I can convince the entire world.
If I can convince him that I've done a decent job, then the entire world will love me.
So, his opinion really matters...
His opinion matters not because he is my dad, but because he has brought so much glory to this country and he has worked very hard in his life. He has come up the hard way.
The struggle that he has had... he (now) sees me in the space that he used to be in.
For me, that's beautiful. He points out such important nuances in my performance that it helps me become a better actor.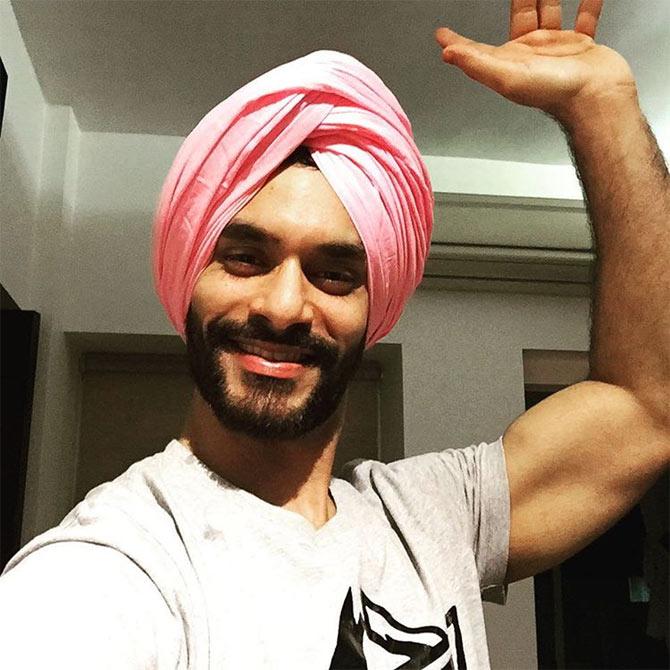 IMAGE: He goes balle-balle! Photograph: Kind Courtesy Angad Bedi/Instagram
You are a Sikh and you cut your hair to pursue your dream of being an actor.
Your father said you would have to justify this drastic step you had taken with your work...
I have upset a few of my very close people. But this is the journey that I was destined to be embarked upon.
The haircut is justified with Pink.
It was a stressful time between him and me before, but now we've become friends.
He has understood where I want to be. He understands my drive.
There's fire in my belly. I am hungry for roles. I want to do powerful work.
Do you discuss your projects with your father before signing a film?
I discuss my role.
I also have a strong instinctive nature.
If I hear something, I have a feeling that this is what I want to do. When I discuss this with my father, he says, 'If you are convinced, then go ahead.'
That why it takes time to be a part of a good project. I don't want to be the wasted one or be a part of cinema that people are not going to appreciate.
I want to be part of good films.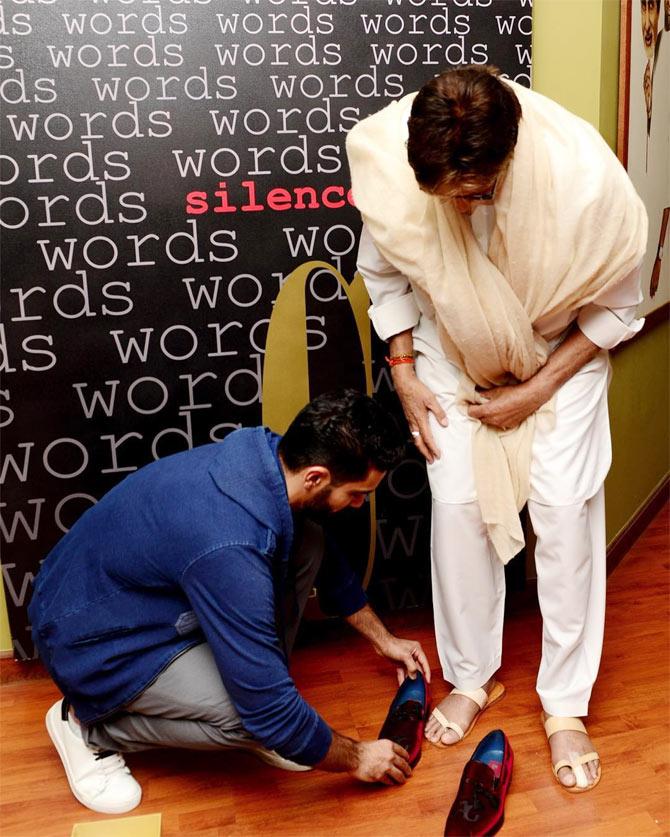 IMAGE: 'Sir, I want to be in your shoes,' Angad tells the Big B. Photograph: Kind Courtesy Angad Bedi/Instagram
Has working with Mr Bachchan changed anything about your working style?
Yes, it has.
Mr Bachchan taught me discipline. He doesn't tell you; you observe him.
If you observe him, you will become a better actor. It's as simple as that.
He is a very giving and great actor and co-star.
He is young in his head. He can have conversations with 7, 15, 30, 70 year olds.
He is everybody's friend. He is very caring.
I always notice how Mr Bachchan carries himself, how he thinks.
I asked him many times if he gets irritated by the media asking some questions. He tells me, 'No, Angad. It is their job to ask questions. It is my moral responsibility to answer them.'
I feel special that I am on one-on-one terms with him. He gifted me his shoes!
I told him, 'Sir, I want to be in your shoes.'
He asked, 'What do you mean?'
I said, 'Just give me your shoes.'
He said Abhishek had told him that you can't gift shoes to anyone, so he asked me to give Rs 11 ka shagun (as a token) and gave me his most expensive shoes. They fit me.
His family is so beautiful and so welcoming...
To be accepted by that family is to be accepted by this industry.
Even working with Anil Kapoor has changed the way I think.
I did a cameo in 24 because I wanted to work with Anil Kapoor and wanted to show him my work.
I just wanted to observe how he works. He is very old school. He goes like, 'Angad, lines yaad rakh (remember your lines). Get the pitch of your voice correct. Abuse yourself in the morning or night, shout, but get the pitch out.'
If you remember your lines and have that throw in your voice, you'll go far -- that's his mantra.
He is a great man. I want to be like him.
Anil Kapoor works really hard. We used to shoot many nights. We would get tired, but that man didn't.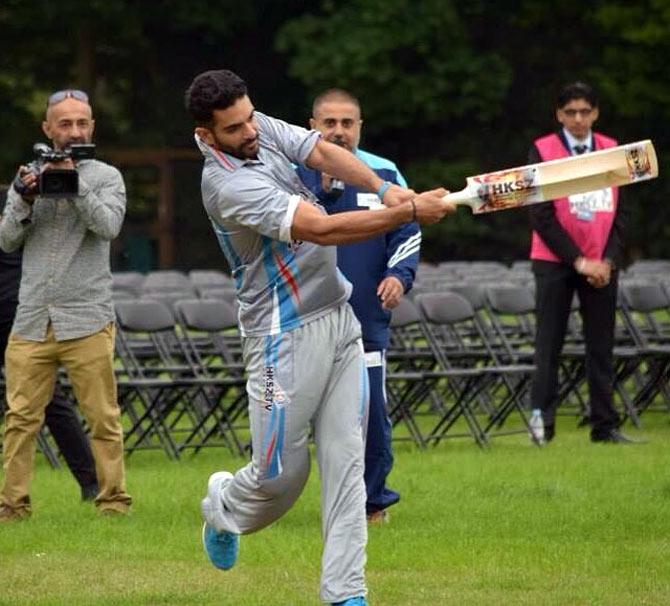 IMAGE: He goes for a shot. Photograph: Kind Courtesy Angad Bedi/Instagram
Speaking of 24, you haven't explored the television space much. Would you like to?
Right now, I just want to explore cinema. I feel right now content is still evolving on TV.
The only things I like to watch are Kaun Banega Crorepati because it is so educational, and The Kapil Sharma Show because it is entertaining.
If given an opportunity to host something, why not? But I haven't got one yet.
Once you get a better brand value that will also happen. I would love to host Khatron Ke Khiladi one day. I think it's a great show.
I am not really looking to grab everything. I am just on my path and enjoying the journey.
***
Right on the heels of Pink and 24 came Dear Zindagi. And though Angad appears only in a cameo in the film, working with Alia Bhatt and Shah Rukh Khan, he notes, was special.
Angad, who went to the same school as SRK (St Columba's in Delhi), remembers once chasing Khan for a film. He recalls, "He (SRK) told me only one thing, 'Tera time aayega, chinta mat kar (your time will come, don't worry).' When I met him during Dear Zindagi, he said 'Aa gaya na'."
"Shah Rukh has seen my work, I am associated with his production company. It's a very big high. Forget Alia, if a guy was sitting there and Shah Rukh Khan was talking (referring to Khan's role as Bhatt's shrink in the film), he would be in love with Shah Rukh Khan. You just fall in love with him, he is so charming. He is brilliant and witty."
And Alia, Angad feels, "makes this industry a better place to be in."
"She is a very special talent," he says. "I feel there are two people (in the present generation of actors) who are extremely talented. Ranbir Kapoor and Alia Bhatt. Not going by their stardom or family name, they are genuinely very strong performers. The more you see Alia, the more you love her. You just can't take your eyes off her performance."
This -- working with inspiring people -- means as much to Angad as the role.
The fear of being stereotyped, on the other hand, means little.
"I want to pick roles that have power," he says. "Today, the audience has become so evolved and educated that they know that this is a guy called Angad and he is playing a role called Rajveer (his negative character in Pink). They can tell the difference."
"There is no main lead, second lead any more," he adds. "The roles that are written are all character driven. What will you call Kapoor & Sons, starring Fawad Khan and Sidharth Malhotra? It's a two-hero film. Nobody is less or more, but then who stole the limelight? It was Rishi Kapoor. You have to do the role to your best ability and the audience has to love it."
For the moment, Angad is absolutely okay with the film not banking on his shoulders. "Eventually yes, I would like that someone says, 'Angad ko lo, uske wajah se opening lagti hai (Take Angad, the film has opened well because of him)'," he says.
"That is a great feeling, but the fact is that till that day comes, I have to work. I want good makers, good roles and people to watch the film."
Do you feel content is king today?
Content is the star of the film.
If the director and the screenplay are good, you have nothing to worry about.
Today, there's stardom only with the three Khans (Shah Rukh, Salman and Aamir), Mr Bachchan and Akshay Kumar.
Nobody else can open films with a guarantee.
Even then, you don't see Salman in Sultan, you will see Sultan the character.
You don't see Amitabh Bachchan in Pink, you see Deepak the lawyer.
You see Jehangir Khan in Dear Zindagi.
That's happening because the content is good.
Tomorrow, characters are going to flourish.
I know Rajveer Singh will be remembered for years to come.
I wish I can make more memories with more films and have more character names associated with me that people talk about for years.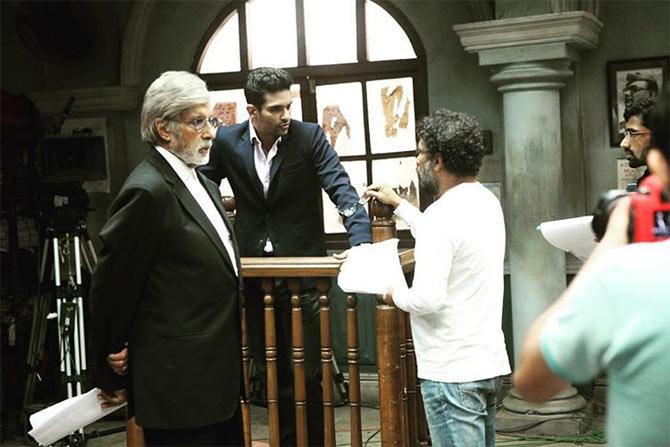 IMAGE: Director Shoojit Sircar and Angad Bedi engrossed in a conversation as Amitabh Bachchan seems ready for his take. Photograph: Kind Courtesy Angad Bedi/Instagram
Do you feel the pressure to deliver a performance after Pink?
No. I am confident of my abilities as an actor. I just want to get better.
I don't have apprehensions in acting opposite anybody.
Once you acted with Mr Bachchan, you can act with anybody.
When you have a film like Pink, what changes in life is that now I want to do a role better than Rajveer or something at par with that...
I can't be a part of something that will not elevate me as a performer. My character in Powerplay (a Web series by Excel Entertainment) is right there.
I am in the lead with Richa (Chadha). Karan Anshuman is directing it. We are trying to make something beautiful.
I want my father to see Powerplay because it revolves around cricket. He will enjoy that.
I play the captain of the team. I didn't play for the country, now I am acting as a cricketer who has played for the country.
Having worked with acclaimed directors like Shoojit Sircar and Gauri Shinde, would you say you are a director's actor?
I do go by their vision, but I am also an instinctive actor.
If I feel something can be done in a better way, I always share it.
Good directors are those who always collaborate, and that is the case for actors too.
Lot of people like the guidance of the director, I like the interaction with the director.
I like to ask questions. I want to understand the character's back story and where he is going.
One beautiful thing that Shoojit Sircar taught me was: 'No matter which film you do, just remember to act to the best of your ability. It's not in your hands whether the film works, but your performance is. Less is more. The minute you go internal in every character, it will show in your face.'
'Good and bad films will be made,' he said. 'Sometimes you'll have to work for money; sometimes you'll not get money. Still, you'll have to work. Bad films work, sometimes good films don't. That's not in anybody's hand, but whatever film you do, just act well.'
That's what I want to do. Then let fate decide.
I don't have the fear of being judged.
I just want to do good work. If I can even do 10 memorable films, I think I will be a very successful person.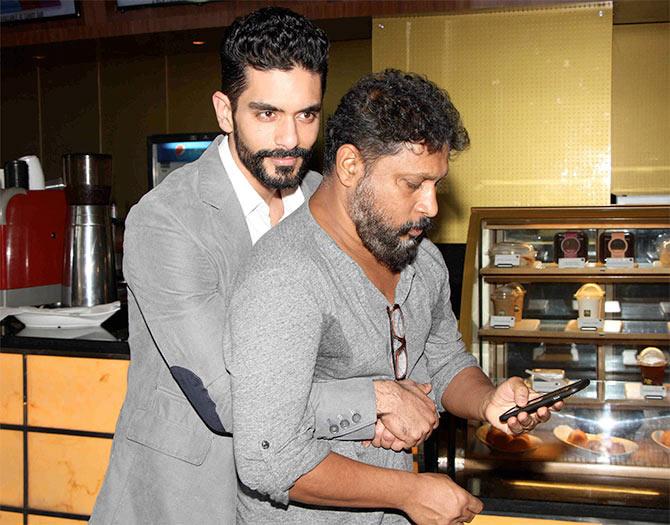 IMAGE: Angad can't keep his hands off Shoojit. Photograph: Pradeep Bandekar
So, you won't be dissatisfied if any of your films don't do well?
I won't be because you, as a person, want to excel every time.
Then there's something called the law of nature -- what goes up comes down.
As an actor, you want every film to be successful, but that fate has to lie with the audience.
You cannot be disappointed or dejected. You can only move forward and hope that the next project that you get is accepted by them.
You have done films after long intervals. Is that a conscious decision?
No. For some odd reason, I feel blessed. There are a lot of films that came to me and didn't materialise.
At some point you want to push and say, 'Take me. Why didn't you take me?' But then you see the final product and realise it's okay; you could do better things.
You have to convince yourself and believe in that.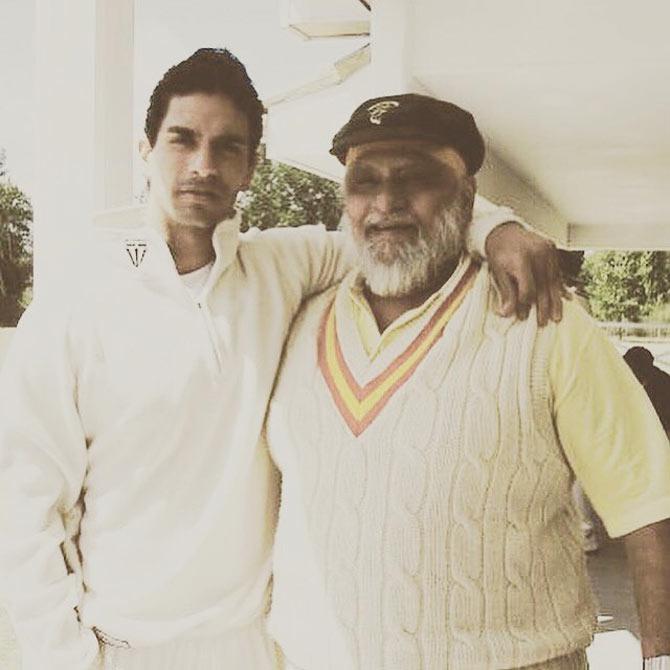 IMAGE: Like father like son-- Angad with dad Bishen Singh Bedi. Photograph: Kind Courtesy Angad Bedi/Instagram
Are you content with the way your Bollywood journey has shaped up till now?
I am happy. I have no complaints. I don't come from here; I am just going by my instinct.
Things are falling into place, and I am really grateful for that.
I am getting the love and respect of the audience. I just want to give them more, love them more; I want them to love my characters more.
I know what I want to do. You can't just bask in the glory of one or two films.
You have to prove yourself time and again because the audience also wants to see what is next.
Now that you are in the circus, you have to get better with every act.
When I saw Pink, I knew it was going to be a landmark moment for me, but I couldn't get overawed by it, so I immediately dove into another project.
Is this industry a good place to be in?
It's a great place to be in.
If you can be in this film industry, you can be anywhere in the world.
It is the best learning of life.
***
"I know what value this profession has for me. It has been very difficult to come into this line, and I don't want to get intimidated and squander away everything," Angad says.
And that at the moment also means he is more interested in looking for a film than a life partner.
Ask him about the reports of his relationship with Nora Fatehi, and he shrugs it off, saying, "When you are in the field of sports and entertainment, it is a part and parcel. It will be written."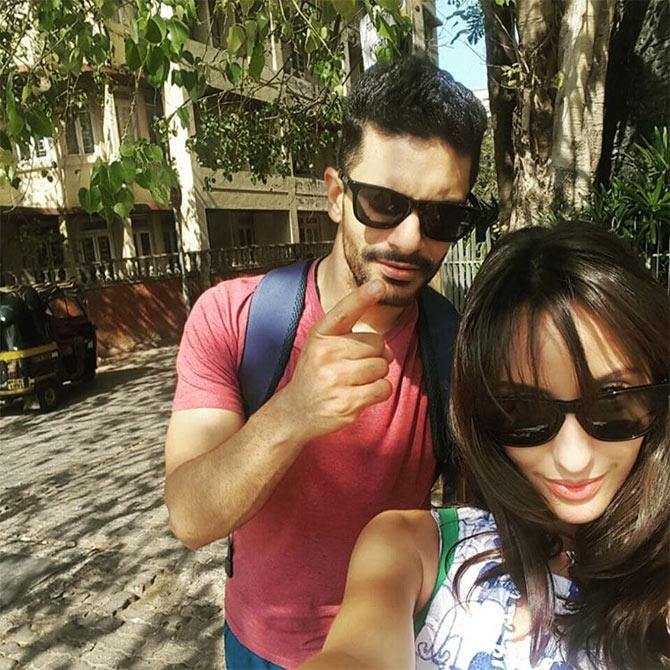 IMAGE: Selfie time for Angad and Nora Fatehi. Photograph: Kind Courtesy Angad Bedi/Instagram
"I am surprised that nobody has written about my affair with Yuvraj Singh. Can't Yuvraj and I have an affair?" he quips.
"Richa Chadha is my friend, if I go and have coffee with her, tomorrow people will say something is going on between us. The life of actors and cricketers is highlighted more."
"I am not in that zone right now," he adds. "I am trying to discover myself now. Once I reach that level of stability, whether it is emotional or financial, then I can think of looking for the other person."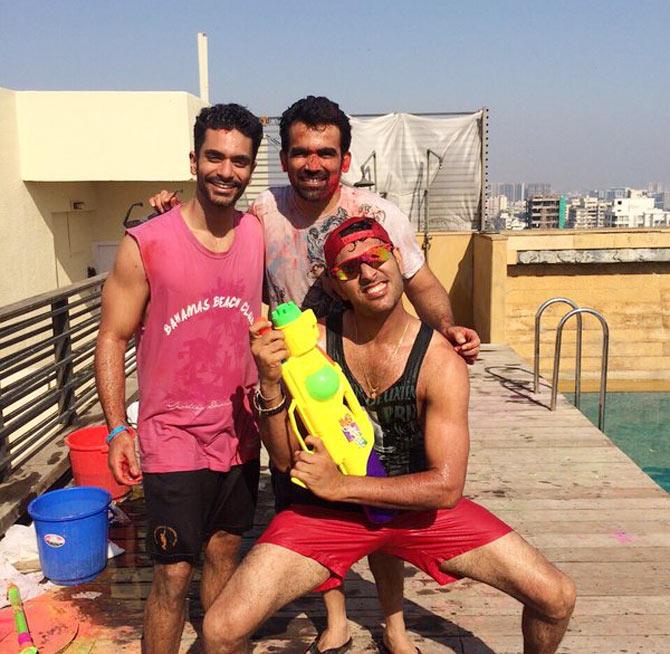 IMAGE: Holi Hai! Yuvraj Singh, Zaheer Khan and Angad enjoying the festival. Photograph: Kind Courtesy Angad Bedi/Instagram
For the moment, Angad says, he is happy focussing on work and hanging out with his besties -- cricketers Yuvraj Singh and Zaheer Khan -- and other friends.
"Ashish Nehra and Harbhajan Singh are in my immediate friends' circle," he says. "Rensil D'Silva, Shoojitda, (Pink producer) Ronnie Lahiri -- they have become family now. I have a great interaction with (director) Ali Abbas Zafar from time to time. Prasad Naik, who is a photographer, is also like family. I have some friends from the advertising world also."
"These are the people I hang out with," he adds. "We watch cricket, cinema. It's a good mix. I am fortunate to have the best of both worlds."