Kannada film industry's leading star Upendra is a multi-talented star. He has acted, directed and written many movies.

Starting off as a film lyricist, Upendra later got an opportunity to direct films. Meanwhile, his acting debut A became a huge hit. He followed it with big hits like Upendra and Preetse. Upendra's recent film Budhdhivantha too has become a blockbuster.

On Thursday, the star got to chat with his fans about his movies and more.

For those who missed the chat, here's what transpired:
---
sami asked, HI UPPI.. are u planning to direct any movies in nera future?
Upendra answers, I am working on some scripts. I am thinking on how not to think. Subject is actually thoughtlessness.
---
nkpandit asked, Namaskara upendra ravare.I am from abu dhabi and big fan of you.wHAT I LIKE MOST OF YOU IS YOUR SIMPLICITY AND POWERFULL ACTING ALL THE BEST TO YOU
Upendra answers, I cherish memories of visiting your place a couple of times. I have great friends there. Thanks for your message.
---
vijju asked, hi sir hw r u when will u act with chiranjeevi
Upendra answers, In future political grounds I will act with him.
---
Sharankumar asked, Hi uppi, Buddhivanta script was too good, we ecpext some more good scripts which will live up to our expectations......, u rock maga upi :)
Upendra answers, I am working on a script about how the human brain functions. Why don't you guys give some suggestions to the script because you expect me to be very unique in my direction.
---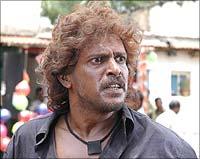 krish_kiran asked, Hi Upendra, How are you....I was seeing your house in one of the TV interviews...Just the look of your house shows the immense creativity that you have and that you show in your movies. You are really great. But i have one complaint in your movies is that you dont consider all the range of people to view your movies. Its mainly the teenagers and the younger lot who prefer to watch your movies. Why is this? Why dont the older lot like your movies as much as the younger lot. Either ways, i am quite young and i like your movies a lot. Anyway, not sure it question will be ansered, i wish you all the best for all your future movies....
Upendra answers, All the subjects that I have directed like Om, A or Upendra are all high level intelectual thoughts. A deals with whether love is there in the world or not and it is a mature thought. Upendra is about the 'I' syndrome and Om was a trendsetter. These films cater to all age groups because it sets every one thinking.
---
Sharankumar asked, Hi uppi.., one happy news....., u have developed ur dancing skills to good level..., u can become a good dancer..., just matter of time.., u danced quite good in Buddhivantha movie
Upendra answers, Thanks for the appreciation. During my struggling days I was dancing on fire, now I am dancing on the floor. Thanks for your compliments, I promise to improve.
---
mady asked, Your ar real super starrrrr ! when you are coming in hindi movies
Upendra answers, Kannada vannu international stamdards tanda mele hindige hopguthene.
---
Ashok007 asked, ur favourite holiday spot abroad ?
Upendra answers, APS college ground is my regular spot.
---
chadan asked, hi how are u
Upendra answers, Hi, I am fine. I have just completed one schedule of Dubai Babu in Mumbai.
---
Somashekar asked, Hello Real Star? hopw r u? how to become best director?
Upendra answers, First of all, become a good human being then you will understand what is good and bad. Only then you will write a good script. Don't think too much. Just do it.
---
anu asked, hi, uppendra i like ur style and dialogue style,"uppigintha ruchi bere illa, bhuddivantha is great film, very nice picture we enjoyed that film.
Upendra answers, Thanks a lot.
---
vnirmalkumar asked, hello upendra, you have recently acted in a tamil film and it is surprising to see audience whistling and clapping when u were on screen. you seem to have good fan base in Tamilnadu too. have u any plans to act in any other tamil movies in the future?
Upendra answers, If there is an exciting script, I don't mind taking up more projects in Tamil.
---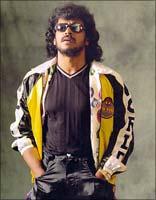 nanda asked, why you wear such kind of ugly dresses with ugly color combinations
Upendra answers, Creativity starts with clothes to hair style, posters to publicity.
---
maverick asked,  helloooooooo UPENDRAA garu...i like ur nd ur acting toooooo much...wen r u goin to make again a movie in telugu...its long time since we had ur good telugu movies..
Upendra answers, I may fulfil your desire soon.
---
NNK asked, PEIYANKA HEGIDHARE
Upendra answers, Channagidhare.
---
Divik asked, Uppi one serious question.........I heard and believe that your and trend setting director Kashinath were roommates and he was the one who gave u the break and encouraged u in the begining. I feel u are placed in a better position financially than your mentor kashinath..........What may be the reason.......U roam in a Benz and he in an Old Maruti van which doent start at times............please answer..........
Upendra answers, He is a very simple person.
---
shamu asked, Uppi sir, do u believe that films can improve a person?...or it just can entertain?
Upendra answers, What is the result of improvement? It is to be happy and this is the ultimate aim. Films entertain and they give hapiness. Did you get my point?
---
jones2 asked, i watches h20 and i liked it nice work
Upendra answers, I love sensible audience like you.
---
hemanth asked, hi uppi, have u got any chance working with MR. Vishnu
Upendra answers, We are planning soon. A film with Vishnuji will raise expectations.
---
yogaraj asked, hi uppi, Your film Bhimoos Bang Bang Kids started an year ago but still not released so what is the purpose of the delay. And in some news paper i read that film is going to be released in four languages is it true?And tell me about ur future projects.
Upendra answers, There is plenty of graphic work inivolved. It involves super heroes. Because of the graphics it is getting delayed. Yes, there is a plan to release it in four languages.
---
Fahed asked, Are you going to come out with 6 pack abs or some thing like every one is doing????
Upendra answers, In Budhivanta I have four packs and the other two packs you will see in my future films.
---
csdinesh asked, to understand how not to think refer to a book by Pujya chinmayananda titled Meditation and life
Upendra answers, I have read all those books. I just want to know whether it is practically possible to survive without thinking. Is it practical?
---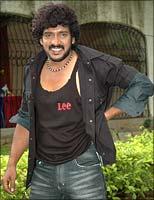 knaren_1975 asked, Hi Sir, I have a very simple question, i Have seen your movies directed by yourself. I found all the movies a bit like a pyscho type. what made you choose those movies which makes especially Family people bit uncomfort by watching in the theatre with the kids. As you know you're most bankable star in Kannada now a days. Dont you feel that you loose some set of Audience due to these Films.
Upendra answers, That is why I acted in movies like Kutumba and Gowramma.
---
sharag asked, we want to know abt ur life story..y can't u write a book on that..it may inspire some more guys to hard work in life.....whast ur say uppi ...?
Upendra answers, I have seen only my first half of my life. Let us see what the second half has in store, then may be I will write.
---
dhanub1982 asked, sir i have a que that is r u having an idea of having a own studio for kannada indusrty where all facilities are there?
Upendra answers, Maybe in the future.
---
sharma asked, Hi Upendra ravare, I would like to see u as one of the best directors of kannada industry? Today Kannada industry is struggling with talented directors. In Tamil we have very creative directors like Mani ratnam, Shankar etc who have taken their language to national level... In the recent times we have seen Yograj Bhat, Suri...please i request u also to direct movies & we know u have the potential to take our kannada industry to national level.
Upendra answers, Sure. Thanks for your compliments.
---
bhima asked, Hi Nimage upendra movie madalu prerane yenu?
Upendra answers, NAANU.
---
Uppittu asked, Who do you think is the best director in Kannada?
Upendra answers, I will certainly consider it. Thanks for your advice.
---
Uppittu asked, Who do you think is the best director in Kannada?
Upendra answers, GOD is the best director and screen play writer. He directs life.
---
Uppittu asked, Whats the difference between acting and direction
Upendra answers, Acting is just a part of the film while direction is the soul of the film.
---
rajeshca asked, hi uppi???? how are you??? how is priyanka and your child???
Upendra answers, They are fine, thank you.
---
purush asked, Hi Upendra.. Me froM IBM.In Feb we came to Uppi Resort & we took lot of Pics with u & ur Family. Is Uppi resorts Road is OK now?
Upendra answers, Thanks to Chandrayaan and ISRO the road is very good now.
---
yus asked, Hi Uppendra, Im seeing there is lot of remake movies going around? WHen the trend will change? U can direct some gud movies abt psycho killers? Try to break the barrier like Hero shoud be very gud man, let him also do some mistakes and results how he turns to be villan like that? Also some thriller like final destination...Jst an idea
Upendra answers, Please watch Upendra again.
---
zimchak asked, Namaskara Uppi , this Venu from Netherlands originally from Tumkur .Please do visit Netherlands once , we would want you to speak in our Kannada Sangha aka SriGhanda .
Upendra answers, Sure, in the near future and when I am there I will meet you.
---
ajiths asked, Hi Upendra.. its also possible to use one's mind only when needed and rest of the times, just be without thinking. Of course, a lot of penance and practice is needed. Cheers, -Ajith Shenoy
Upendra answers, All great events, discoveries, great thoughts have occured when the person was not thinking. Thinking is always like a remake. Thinking is always what we have seen. It is not original.
---
ajiths asked, Hi Upendra.. its also possible to use one's mind only when needed and rest of the times, just be without thinking. Of course, a lot of penance and practice is needed. Cheers, -Ajith Shenoy
Upendra answers, Can you accept the answer given by me?
---
raghu_004@rediffmail.com asked, guess i wont get your reply.. anywayzz take care madi.. :) all the very best
Upendra answers, Thanks a lot.
---
supratik asked, Why don't u change ur hair style
Upendra answers, I changed in Aishwarya and also in Budhivantha and in future I will try and be seen in different kinds of hair styles.
---
malli asked, Hi sir i am Hospet i saw your Budivantha movie very very nice
Upendra answers, Thanks a lot.
---
Upendra says, Thanks all of you. It was nice chatting with you. Hope to see you all again. All the best!!!