Bollywood is doing all sorts of things to keep busy during the lockdown.
While Shefali Shah narrates her shopping expedition, Tisca Chopra and Rasika Dugal clean their homes. Mallika Sherawat, on the other hand, is reading scripts.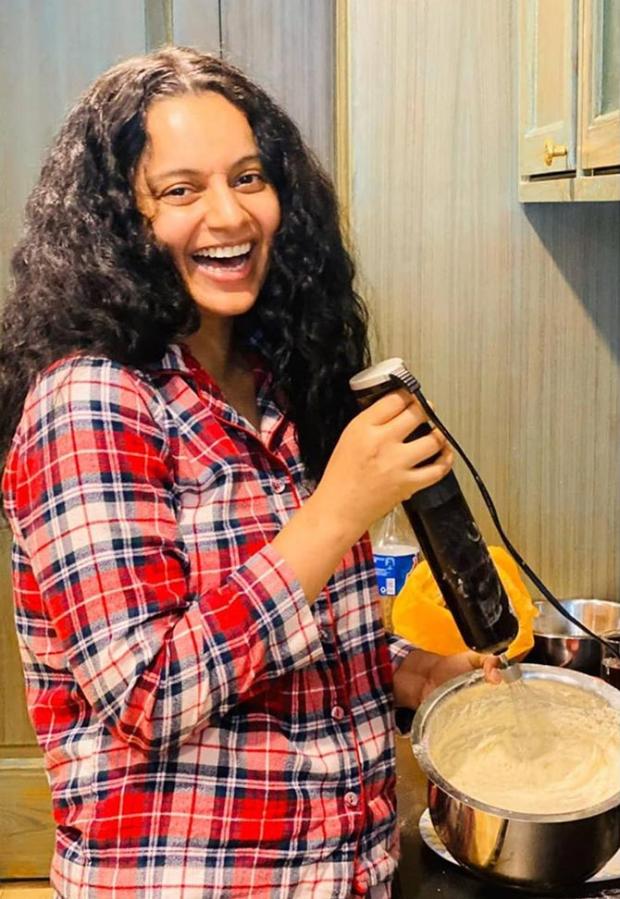 Kangana Ranaut bakes cupcakes in Manali where she is with family.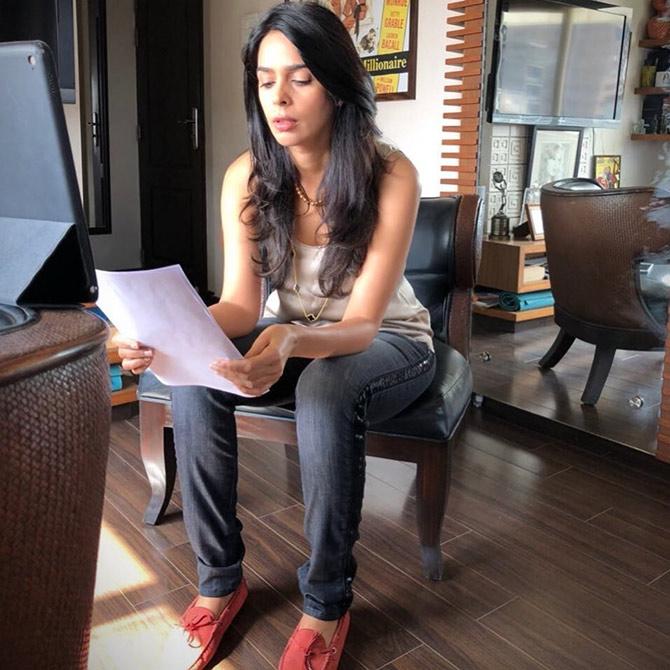 Mallika Sherawat goes through a script.
Like everyone else, Ayushmann Khurrana loves Money Heist, Netflix's thrilling series.
He plays the tune from the show, and writes, 'I want to be the professor. That's why I'm wearing similar glasses and playing Bella Ciao. I want to put this out in the universe. Hello reverent filmmakers, are you listening?
'Please! I'm dying to do something like this. I'm itching to go on sets and work, like each and every human on this planet. We all want to go out and work. But patience is a virtue they say. Till then Bella Ciao.'
Nushrat Bharucha and the ladies in her family sort their vegetable supplies.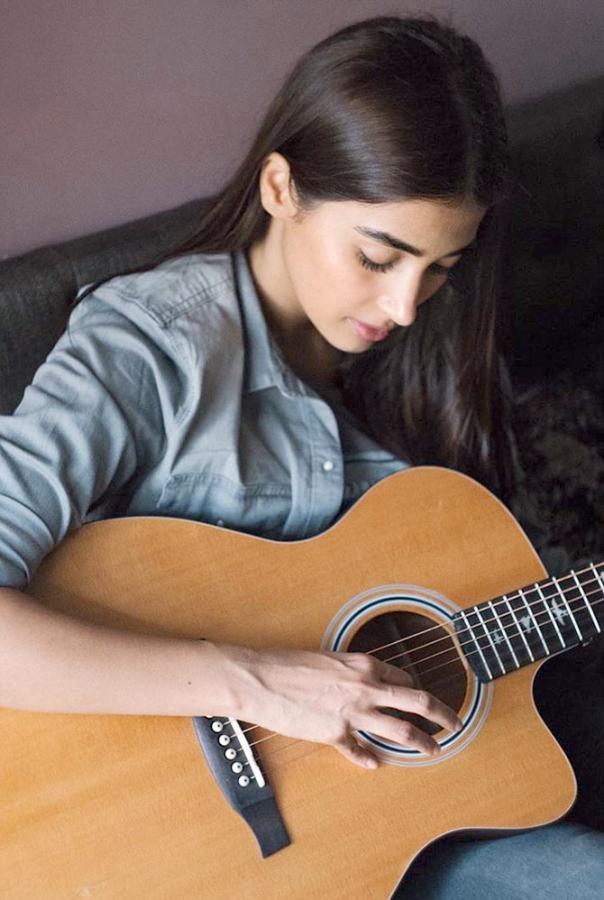 Pooja Hegde strums the guitar.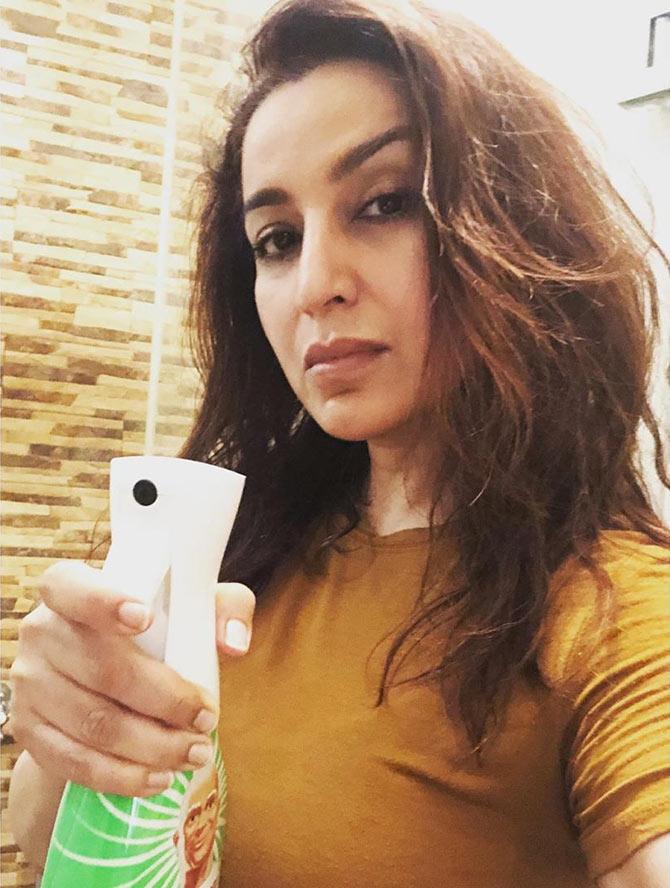 Tisca Chopra cleans her bathroom. There's just one problem though: 'I got after my bathroom yesterday, it's now so clean that no one is allowed to use it.'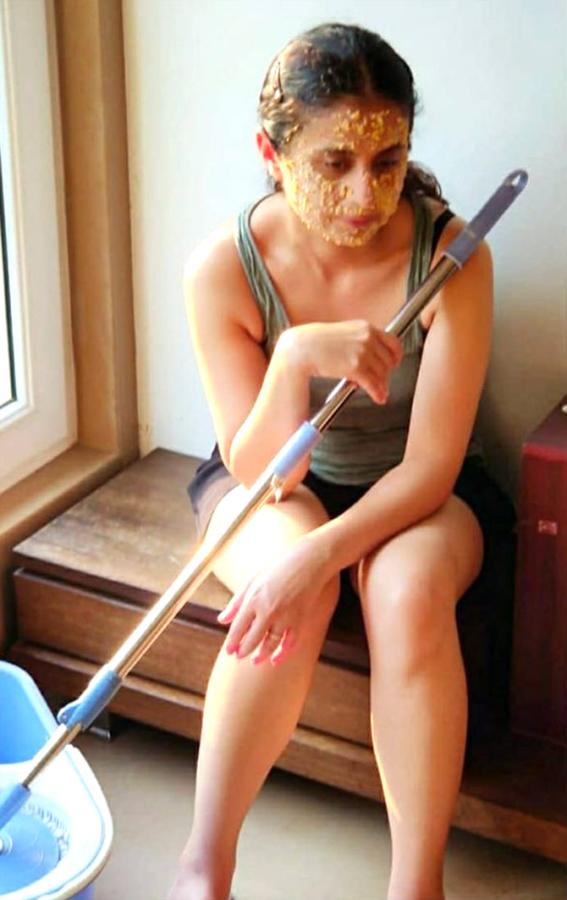 Rasika Dugal is multitasking -- she's mopping the floor as well as continuing her beauty regime by using a face pack.
Daisy Shah cuddles with her dog and watches television. Please click here to know her favourite shows.
Madhuri Dixit uses her free time to do what she's always wanted to do:
Video: Kind courtesy Madhuri Dixit/Instagram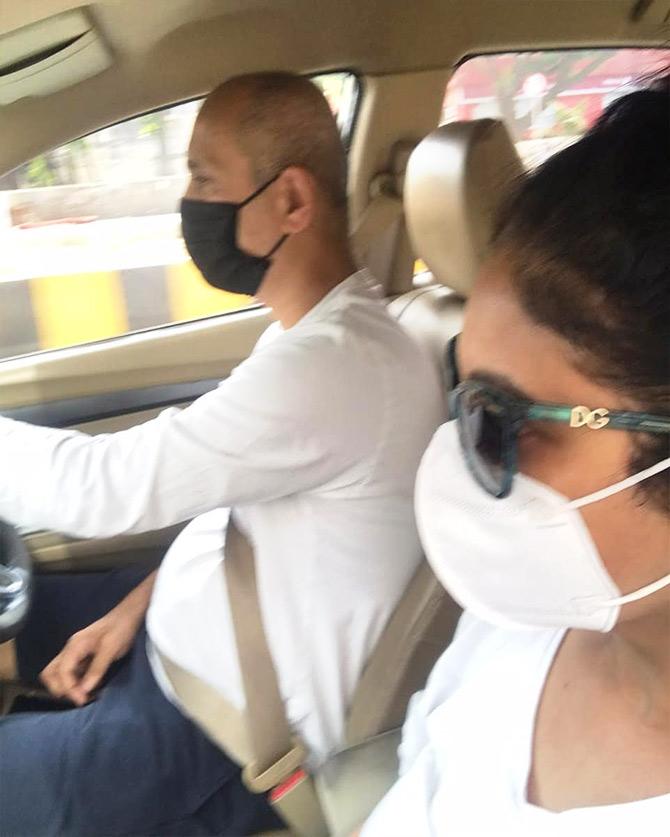 Shefali Shah, who went grocery shopping with her director husband Vipul Shah, narrates her experience:
'Andheri K ward where we stay is the 2nd highest covid positive area in Bombay. It's under a complete lockdown.'
'Only on Monday between 9 am to 5 pm we can go out and buy groceries, vegetables, fruit, bread, eggs and essentials. The necessities.'
'That's exactly what we did today. Vipul drove me and we went with our masks and gloves and sanitiser to look for stuff.'
'Every single store had a line which was as big as the line outside siddhivinayak. So we found a smaller store that had a line as big as the one outside babulnath temple.'
I stood in the line maintaining a minimum of 7ft distance. He stayed in the car (no need for 2 of us to be out). The man behind me had no interest in keeping afar and was standing lesser than 5 feet away.'
'I told him to back off, but to no avail. I did a namaste and begged him to move behind. He kept arguing god knows about what.'
'Finally I scared him saying that you could get it from me if I have it. That worked.'
'I stood outside the store, gave our order and bags and got groceries, fruits and vegetables whatever was necessary for us and for my parents. Which we dropped off outside their building on our way back home.'
'The highlight of today were two special things I got. Shrikhand (for us and my parents) and mehendi cones (for mom and me (she loves to put mehendi).'
'It was easily the most fruitful journey of togetherness of our lives.'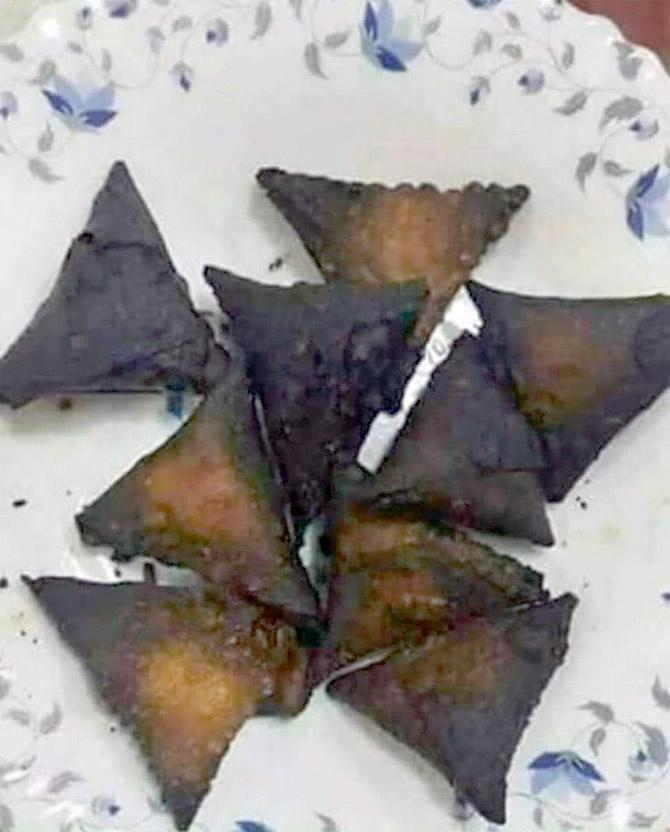 Suneil Shetty shows off his wit with this caption: 'Burnt 2500 calories today.'
Adah Sharma teaches us how to make a mask at home:
Gauahar Khan gives out work out tips:
Farhan Akhtar posts a video of girlfriend Shibani Dandekar dancing with her dog.