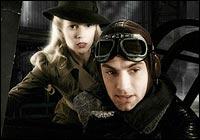 Until fairly recently, Kerry Conran was the kind of quiet, geeky engineer you probably have at your office.
For over a decade, he held temporary jobs at a number of publications, lived in a small apartment and earned a small amount of money.
But that was before he decided to change the way we watch movies.
With the release of Sky Captain And The World Of Tomorrow this week, the world can see what Conran has created. It is something the writer-director began thinking about when he was 10 -- an original, fantastic piece of work set in 1939, starring Jude Law as the Sky Captain, Gwyneth Paltrow as the reporter Polly Perkins and Angelina Jolie as the eye-patched Franky Cook.
Apart from the actors, nothing in the film exists!
Everything you see in the film has been created using a computer. There are no sets or locations. Everything exists on a hard drive alone. It has all been put together using a combination of paintings, animation and photographs.
While most films take around three months to complete, these actors spent a mere 26 days, acting against a blue backdrop. The background was filled in later.
Conran believes his techniques will usher in what he calls 'a renaissance of independent filmmaking.'
The only thing that can limit future filmmakers, he believes, will be their imaginations. All for a fraction of what it currently costs, too. Needless to say, thanks to the economics, studios won't be as cautious as they currently are, making it simpler for filmmakers to take all kinds of chances without burning their fingers financially.
So, how did this 38 year old come by three huge stars and a budget of $70 million?
Growing up in small-town America, Conran and his older brother Kevin -- who happens to be Sky Captain's production designer -- were enthralled by old movies like King Kong, Abbott And Costello Meet Frankenstein and The Wizard Of Oz. He realised they were awkward, but the fact that they were so amazing too is what drew him to them.
Conran soon joined CalArts, a filmmaking school in Los Angeles, and began thinking about making a movie entirely on a computer. Software was becoming more sophisticated, after all. After graduating, he began working on an early version of The World Of Tomorrow using a Macintosh IIci. Four years of hard work gave him six minutes of film.
Then, one night, a friend of a friend called Marsha Oglesby -- who also happened to be a Hollywood producer -- dropped in for dinner, saw the six minutes and was blown away.
She showed the movie to her boss, who showed it to Jude Law, who showed it to Paltrow. Italian producer Aurelio De Laurentiis was brought in, Paramount bought the domestic rights, and voila! filming began.
Conran and his crew had a rule: The only things real in the film would be the actors, costumes and any object they physically touched. After principal filming was completed in London, he and his illustrators could tweak every scene, introducing or removing anything they wanted.
'We would generate backgrounds, literally making paintings on glass canvas,' he recently told the Washington Post.
The young director is already working on his next script, based on Edgar Rice Burroughs's John Carter Of Mars series of pulp novels.
Filmmakers have been thinking about the novels for over 50 years. Going by his current record, chances are Conran might beat them to it.