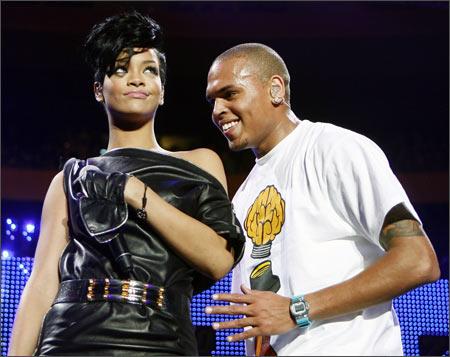 Popstar Chris Brown reportedly threatened to kill Rihanna and choked her until she was unconscious.
The incident occurred when the Umbrella hitmaker had a heated argument with Brown over a text message from other woman, after which he pulled his hired Lambourghini on the side of the street.
Already annoyed over the argument, Rihanna threw the car keys out of the car, and Brown got out of the car to look for it, unable to find the keys he returned to the car and put his hands around Rihanna's neck and shouted, 'I'm going to kill you.'
Rihanna, who was badly bruised after the incident revealed that that she lost consciousness after being choked, and woke up only after Brown had fled the scene.
'Chris knocked her around,' News.com.au quoted a source, as telling People.com.
'Black eye, blood, bruises. She had to be treated by a doctor,' the source added. The horrific bruises include a split lip, a bloody nose and bite marks on her hands.
Brown turned himself in to police afterwards and was later released on bail.
Prior to the attack, Rihanna had been recording a song about killing a cheating partner, which has leaked on the internet.
The singer had teamed up with rapper Akon for the track, called Emergency Room, which tells the saga of a woman seeking revenge from her unfaithful man.
The song further reveals about the woman's intention of removing the intravenous drip of her hospitalized man, reports The Sun.
The song's lyrics leaked on the internet are as follows: 'I'm going to leave your heart broken on the floor/ You're gonna be in the emergency room/ I'm standing by your bed/ And so tempted to pull out your IV.
'Tryin' to call a nurse but nobody can help you now/ Let me see you try to live without me/ Now where's your heartbeat?/ Flatline on the ECG. I gotta say I found this a bit shockin'/ It's on receipts to tell you went shoppin'/ You bought some Nike shoes. But why you buying stockings?'
Meanwhile, Brown's sister insists that he is a 'good boy' who has never been violent.
Lytrell Bundy says that Brown is an 'upstanding citizen'.
'He's always been a good boy -- never violent,' the New York Daily News quoted her as telling Extra magazine.
He is reportedly staying with his mother in Virginia, and attempting to reach Rihanna.
Meanwhile, Brown, is facing the backlash of the incident and has been dropped by 'Wrigley' and 'Got Milk' campaign.
Rihanna and Chris Brown at an event in New York.
Text: ANI | Photograph: Lucas Jackson/REUTERS