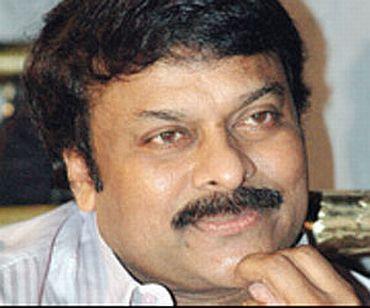 Two days after he announced that he was bidding adieu to his acting career, Telugu Megastar Chiranjeevi changed his mind and accepted Big B Amitabh Bachchan's request to don the grease paint again.
"I will do my 150th film which will be directed by Puri Jagannath," Chiranjeevi announced at the premier show of 'Buddha...Hoga Tera Baap', starring Amitabh Bachchan and directed by Jagannath, in Hyderabad late on Thursday night.
Interestingly, Amitabh offered to play a guest role in Chiranjeevi's next film, much to the cheer of the fans.
Another Bollywood director Ramgopal Varma said he was ready to direct Chiranjeevi in his 151st film, if he was willing to continue acting.
It was at the premier show that Amitabh Bachchan requested Chiranjeevi to reconsider his decision to quit acting.
"Yes, I will act again. Puri Jagannath will direct the film," Chiranjeevi declared amidst loud cheers by scores of fans and film personalities present at the multiplex complex.
At the launch of UTVs Action Telugu movie channel two days ago, Chiranjeevi, who is now a member of Andhra Pradesh legislative assembly, said he would not act in films henceforth and the gap would be filled by his actor-son Ram Charan Tej.
Incidentally, Charan will be producing his father's 150th movie.