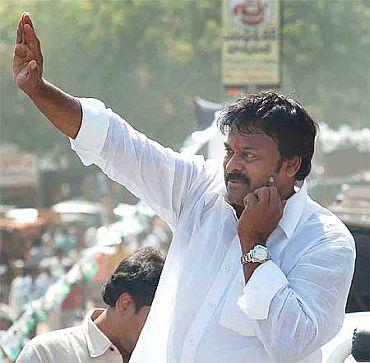 Praja Rajyam Party chief K Chiranjeevi on Tuesday night claimed that people of Andhra Pradesh were longing to see him as state chief minister in real life rather than in reel life.
"Why CM in cinema? People are aspiring to see me as chief minister in real life itself," Chiranjeevi shot back when a spectator wanted him to play the role in a movie.
The incident occurred at the launch of UTV's Action Telugu movie channel in Hyderabad.
The actor-turned-politician also announced on the occasion that he would not act in films anymore. "No more films... I shall henceforth devote full time to politics alone," said Chiranjeevi, whose PRP's merger with the ruling Congress is nearing completion.
Chiranjeevi had announced in December last that he would don the grease paint once again for his 150th film to be produced by his actor-son Ram Charan Tej.
But that project did not take off because of political developments in the state as well as PRP's merger move with the Congress.
Chiranjeevi's announcement on Tuesday assumes significance as there are indications that he may be inducted either in the state cabinet or even the Union Cabinet in the next round of reshuffle.