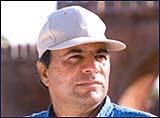 The first thing that strikes you about
Dr Chandraprakash Dwivedi
is his immense knowledge of Indian history and literature. His eyes light up and his voice becomes animated as he passionately discusses art and filmmaking.
A qualified physician, Dr Dwivedi decided to become a filmmaker after practising as a doctor for a couple of months. His mega serial, Chanakya, which aired on Doordarshan, brought him acclaim. This was followed by the not-so-successful Ek Aur Mahabharat on Zee TV.
Now, Dr Dwivedi is debuting on the big screen with Pinjar. He jokes that he wants to compete with the legendary Indian poet Kalidasa, who wrote seven epic novels, by at least making seven films. 
Based on Amrita Pritam's celebrated novel, the film deals with the aftermath of Partition and will release on October 24.
Pinjar opened to mixed responses at the International Indian Film Festival in New Delhi, reveals the filmmaker. While some felt it was too lavish, others found the actors evolving into individual characters to the detriment of the film.
Clad in a turquoise blue kurta and black churidar, Dr Dwivedi, who speaks chaste Hindi despite being brought up and educated in Mumbai, shared some of the difficulties in making a Partition drama with Sukanya Verma. Excerpts:
Why did you decide to drop your medical profession in favour of a more creative career?
Who says a person who has been trained for some other profession cannot write a book, create poetry or be a filmmaker? Rather, such people are more serious about their chosen profession than the one they have been trained for. Their integrity and dedication are higher than the other professionals in the same field. 
| | |
| --- | --- |
| | Pinjar coverage on Rediff: |
| | |
At some point or the other, everyone is unhappy. But a poet is able to express it. That is a God-given gift. However hard I try, I cannot be Gulzar or Javed Akhtar. But I have been blessed with an unusual perspective when it comes to history. I do not, for example, see the Mauryan era the way the others do.
Actually, it is not paradoxical that a trained physician turns to creativity. As a general physician, he is constantly surrounded by people. I practised as a doctor for exactly a month and 28 days.
Were you always interested in India's rich culture and literature? Did making a hit television serial give you confidence or did you always want to direct movies?
I have always been interested in literature. I used to write essays and plays even when I was in school. In fact, I didn't agree with most of the content in the plays I watched back then. I felt I could write better. When my plays were staged, I received a lot of praise; people told me I had knack for it. So I continued writing. I had no desire to be a filmmaker. I had only written Chanakya. Someone else was to direct it. But as the differences between us continued to mount, I decided to direct it as well. It was a challenge for me. I never strategically planned anything.

Initially, Chanakya was supposed to be a film. I went to television later because it was not possible to meet telecast deadlines if I shot it on film. The medium of films is not new to me. I started with films, then worked on video and have now reverted to films.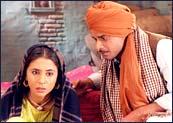 Why did you choose Amrita Pritam's Pinjar? What fascinated you about this novel? Does the film carry any message?

A filmmaker's life is like a journey with various stopovers. During this journey, he is constantly looking for subjects that suit his thought and perspective. I wanted to make serious cinema. Serious literature fascinates me. While going through various stories written on Partition, I read Saadat Hasan Manto who has written some of the most meaningful stories that bring out the pathos of Partition. Then I read Pinjar. I was sure I would be able to make it into a meaningful film. What I found special about the novel was its depiction of the crumbling structure of society, people's beliefs, faith, values of life and principles. There is mistrust between two communities. All the props which keep our society alive or take it forward are falling apart. Among these crumbling structures, can two totally paradoxical personalities with different ideologies who belong to communities that have been enemies for ages live together? Pinjar says they can. This is the message of the film.

What does Partition mean to you?

I wasn't born before Partition. Plus, I was born in Rajasthan, so no one in my family had a tale to tell me about Partition. So I knew nothing about its pain and tribulations.
But when I read about it, I realised what a tragedy humanity has gone through. And yet, men did not lose faith; they got on with life. I believe, and the historians agree, the history of humanity has never witnessed a darker tragedy. Without waging a war, 10 lakh people died. There were crores of people who were uprooted from their homes. Even the affluent were begging for a handful for pulses. All this happened because those who were crossing over, especially from here to the other side, thought they would have everything they wanted there. But I don't think that happened. Otherwise there wouldn't have been so much of a tussle between India and Pakistan for the last 56 years.
The reasons that resulted in the birth of Pakistan still remain. The questions which lead to a war remain unanswered even after the war ends. Crores of people crossed over, lakhs of women were raped, crores of women were abducted. Later, most of them were restored to their families, but a tragedy of this magnitude has not been there in the history of humanity.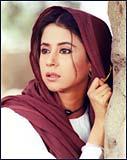 But this tragedy was confined to the written word. When someone searches through these stories and wants to make a film, he is asked, 'Why do you want to make another film on Partition?'

We are sick of telling love stories. Why don't you look at love stories which really shake a human being's existence?
We are tired of repeated versions of supernatural tales. Yet they continue to assault our sensibility. Is it a crime to try and create a meaningful dialogue or work on a meaningful subject?

A person who dares to be different is put in the dock and asked how he dares to be different. Actually, society should be put in the dock and asked what it has done to make things better in the last 56 years?

The questions remain the same even today. So does the interaction between Hindus and Muslims. The words, the sentences and the slogans remain the same.

The Hindu-Muslim issue is a very sensitive subject in our country. Will the film hurt the sentiments of either community?

In any part of the world, wherever there are two communities, two ideologies, conflict is bound to happen.
Even when I made Chanakya, there was a controversy though it had no Hindu or Muslim issues. Vicharon ka mathbhed hamesha rehta hai [A clash of views will always exist].

I don't think there can be any controversy regarding Amrita Pritam's work. As far as I am concerned, Pinjar is Amrita Pritam's creation. Even if there is a controversy, the onus to discuss what is wrong is on both the sides. If they can prove what I am doing is wrong, I am willing to speak to them. I refuse to accept a perception based on external evaluations.

What kind of research did you need to do for Pinjar, which is a period film?


| | |
| --- | --- |
| | More on Rediff |
| | |
Everyone makes a 'period' film. Every story brings a certain period with it. The question is: does the filmmaker know the period he is working in? Even a film made in 2003 belongs to a certain period.

There are two types of creative filmmakers -- one is aware of the period, story, structure, architecture and society. When such a film is made, it is called a period film. The second kind do not depict a period in their films. So 'periods' are badly or faithfully recorded in films.

If I had made a film in 2002, it would have had all the nuances of that year. Everything related to the lives of the people of that era will be reflected. It cannot form the crux of the story, but it will be evident in, maybe, a particular news item in a newspaper. For example, if I make a film set in 1993, it will have mention the mandir-masjid issue.

Re-creation has become a habit with me. The three important things for successful re-creation are art, archaeology and contemporary literature. You do not require too much help from art and archaeology to recreate 1946-47, since it is possible to look at those structures and the architecture. Plus, you can look at old photographs. To obtain the knowledge of the society of that time, stories written in that period are of great help. I read a lot of literature from that era as well as post-Partition stories that carry the images and pictures of that particular time.

So my work was both easy and difficult. It was easy because we had a lot of material to fall back upon. It was difficult because it is recent history and people could easily pinpoint our mistakes. Chanakya was set in 4th century BC, a period the common man was not familiar with. But there are lots of people who can accurately describe India in 1947. Pinjar is not just a story; it has history and society as its backdrop. That's why we were really careful with the dates and details required to recreate that period.

Where did you shoot Pinjar?

After touring the whole of Punjab, we decided it was difficult to shoot there as it has really developed and progressed. The structure was still Old Punjab, but there was so much of electrification, development and modernisation. So we shot those portions in Rajasthan or recreated sets in Mumbai. The camps of Amritsar and Lahore have been shot in Mumbai. We did shoot in Amritsar's Golden Temple.

What were the problems you faced while making Pinjar?

The main difficulty is that you hardly get any support for such films. Even if it is an Amrita Pritam book, literature is usually ignored in films. Our usual opinion is literature spells failure. Whether you go to the producer, the first question asked is 'Why literature?'

Literature doesn't fulfill the expectations people have from films. I would like to mention two lines of Premchand, 'Main doodh bechna chahta hoon. Log mujhse sharaab bechne ko kehte hai [I want to see milk. People expect me to sell wine.]' That's why he left films.

Did you have to make any compromises as a filmmaker while making Pinjar?

Immensely. It would be a lie if I say I didn't compromise during the making of this film. There were certain things that I wanted to do differently. I started with a conviction that remained unchanged till the end of the film. But not everyone associated with it had the same reasons or continued to share the same wavelength.

It was a question of integrity. And the fact that certain people feel a film is meaningful only if it is successful.


I want Pinjar to do well so that if another Chandraprakash Dwivedi wants to make a film on a different subject in the future, my film is not cited as an example of what happens to such movies.

What did you think of other Partition films -- Garam Hawa, Tamas, 1947: A Love Story, Gadar: Ek Prem Katha?

Gadar and Pinjar share the same background, but don't speak the same language. The difference between the two is Pinjar is literature. So you cannot expect Pinjar to portray hatred, sloganeering or any other kind of provocation. Our approach is very realistic. Pinjar has the format of successful Hindi films but does not emulate commercial films.

Did any film inspire you while making Pinjar?

Tamas. I have seen it many times. I have grown up on Shyam Benegal and Govind Nihalani's films. I believe in their kind of cinema.

Is Pinjar art or commercial cinema?

Anyone who has spent Rs 13 crores will expect a return from his film. Even the art filmmakers, as you call them, want their films to do well. Even if a big industrialist spends Rs 50 lakh on a film, he would like to get that money back.

Pinjar boasts of a huge cast. Your wife, Mandira, and Rakesh Satu are the casting directors. How did they choose the cast?

Pinjar has a huge cast of 180 actors. But I am used to it since I was dealing with 300 artistes every day in Chanakya.
The casting was done keeping in mind the requirements of the story; my casting directors have been familiar with this subject for a while now. I wrote the screenplay and dialogues for Pinjar in 1998.

Urmila is associated with glamorous roles. She has never acted in a period film before. What made you think she was right as Puro?

I think I'll this answer this question after the film releases. I don't think we have the right to confine an actor to a certain image. If we are not able challenge talent, it shows our own limitations. Naseer [Naseerudin Shah] is an example of an actor who did not get enough challenges, as we don't have enough stories. I think Pinjar will pinpoint the fact that it is the writing, and not the actor, that is limited. 

Urmila and Isha Koppikar have prominent Marathi accents. Did you work hard with them to get a Punjabi undertone?
Yes, they do have prominent accents. Actually, a director should be present when dubbing takes place. I don't know about others, but I was there for the dubbing process as well. The actresses have worked really hard, which is as it should be.

Are you satisfied?

They have done a very good job. But the credit for this success goes to our recordist, Narender Singh, who is Punjabi. He has excellent command over the language. Dubbing is not only about pronunciation, it is about 'feeling' as well. The dialogues will not strike you as mere words.

Did you ask the cast to read the book?

I did ask them. Some read it. Some did not.


When you told Amrita Pritam you want to adapt her book for your film, what was her reaction?

In the novel, the story starts in 1935 and ends in 1948. In the film, it starts only in 1943 and ends in 1948. Amrita Pritam is such a liberal person; she frankly told me her medium is writing novels, stories and poems, while making films is mine. And the two are totally different. She gave me complete freedom to do what I want.

Has she seen the film?
No.
Why did you choose to release Pinjar 's music at the Wagah border?
There are several reasons. For one, the women who were abducted during Partition passed through the Wagah border. The women who were later restored to their respective families -- where they were either rejected or accepted -- passed through the Wagah border. Thirdly, there were a couple of women who helped unite other women with their families. They passed through the Wagah border. Lastly, Punjab was one of the states that was most affected by Partition [The Wagah border lies between Amritsar and Lahore]. 

Any interesting memories whilst filming Pinjar?

Filmmaking is like giving birth to a child; the memories will always be painful. Whenever a film is on a literary subject, it is like watching literature being murdered.
You have said you hope Pinjar releases in Pakistan.

Everyone, and not just me, wants Pinjar to release in Pakistan. The story is directly related to India and Pakistan, but those for whom the film has a message and those who can relate to the values it is talking about cannot see it.

If we want to release Pinjar in Pakistan, we will have to speak to both the Indian and Pakistani governments. This is not simple when neither government gains anything out of it.

Pinjar started small but has become big by the time of its release. Now 20th Century Fox is releasing it in India. How does it feel?
Initially, Pinjar started with a very humble budget of around Rs 90 lakhs -- it finished as a Rs 13 crore film.

My producers [Lucky Star] were meeting several distributors within the industry. But our so-called distributors do not have faith in such films. Some felt there is no need to make such movies. Some felt the actors weren't saleable enough. Everyone had a different opinion. None of these opinions support cinema. Why should I start a dialogue with people who don't want Pinjar? Meanwhile, my producers met Twentieth Century Fox. Fox believes in this kind of cinema. Fox is an international institution and has made several movies. Our producers were highly impressed. That is why they opted for Fox.

Do your sensibilities match with Bollywood? Can you see yourself directing a Kabhi Khushi Kabhie Gham?
No. I cannot. I don't regret it either. However, when I saw the film, I honestly liked it. I saw it on television and I wondered why people are criticising it. Everybody chooses his own story and his own format. What I noticed was how beautifully it was executed.
Click here for More Interviews