Fixated on guns, genitals and gaalis, Cartel's first impression is a complete stinker, warns Sukanya Verma.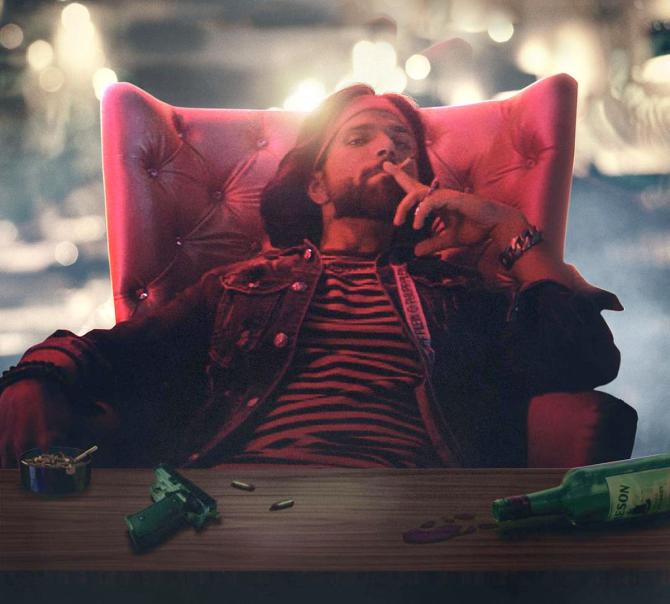 Streaming space is swamped in schlock and Cartel could very well find a top place in the heap.
Someone, somewhere perpetuated the myth that sex and violence are the mantra for grabbing eyeballs on OTT and yet another instance of it is unleashed in Ekta R Kapoor's ghastly new show available on Alt Balaji and MX Player.
In this done-to-death slice of Mumbai mafia trying to make a meal out of stale Agneepath, Satya, Vaastav, Sarkar leftovers, 'Aarey Colony ki mashoor family gang,' like a news anchor announces, form the crux of a gang war following the breach of treaty between rival parties.
As the matriarchal leader and Godmother of the Angre clan, Rani Maa (played by Supriya Pathak) smugly wearing her ogre skin from Goliyon Ke Raasleela: Ram Leela, ghaghra choli swapped for nauvari, makes her entry chanting 'shanti, shanti, shanti' and tucks a revolver in her sari.
The irony is loud and clear -- Cartel wears its mindless violence like a badge of honour.
A few seconds later, some random guy in a suit, failing to cut a deal with Rani, puts on a playlist and pops a cyanide pill. Cut to random shoot-out just so that the slow remix of Babuji Dheere Chalna has a visual to play to.
While Rani slips into a coma, her three sons -- the Angre brothers -- Major (Tanuj Virwani) and wannabe Bhikus, Madhu (Jitendra Joshi) and Abhay (Rithwik Dhanjani), go on a revenge rampage trying to find out who is behind their mom's assassination attempt.
As do the cops with expected trepidation.
Between this tired storyline ticking off every Bollywood Mumbai mafia flick trope -- monsoon, bars, lavni, Ganeshotsav, a token conscientious sister, an obligatory hooker (Tannishtha Chatterjee showing admirable comfort for the lewd) -- in the book, Cartel oscillates between laughably bad and revoltingly crude.
A mysterious woman in an old crone's prosthetic makeup stabs a sharp object in a man's throat, another plucks out a man's nose, still another threatens a surgeon at gunpoint in the middle of an operation.
The last development has a preposterous side-effect when one of the doctors is turned on by the offender's brother asking him to take a chill pill.
Nuance doesn't even cross its mind.
There's no tension, no thrills, no logic, no humour, no darkness and not an iota of entertainment.
Merely having characters engaged in explicit display of sexuality and aggression is neither liberating nor bold.
But Cartel's cringe-inducing content is driven by the belief and gloats in posturing for effect.
There's also the matter of all its numerous accents and cultural stereotypes -- the tapori speaking goons and gold chain loaded gangsters, the informer with a Hyderabad accent, the South Indian crime lord in his lungi, chandan tilak and thick accent, the salaam-ready, skullcap wearing Muslim and his faith obsessed ways and, as its obnoxious trailer suggests, an unflattering portrayal of queers, Cartel demeans and demonises indiscriminately.
Fixated on guns, genitals and gaalis, Cartel's first impression is a complete stinker.
One episode was a deal breaker for me, God help those who have the stomach for all 14.
Cartel streams on Alt Balaji and MX Player.
Rediff Rating: