'I don't find characters that are not grey that exciting.'
Roshan Mathew has been getting good reviews for his latest film Kuruthi alongside Prithviraj Sukumaran.
The actor made Bollywood take notice of him too with a restrained performance in Anurag Kashyap's Choked. He is currently filming Alia Bhatt's production, Darlings.
"As an actor, your approach is defined by what the director wants you to do and within the first couple of days, you sort of find the mood and the film's pitch. Then you adapt to that. The process pretty much remains the same," Roshan tells Rediff.com Contributor Prateek Sur about the difference working in Malayalam and Hindi cinema.
Kuruthi is different from what we have seen you do before. What attracted you towards the script?
It was too good a script to say no to.
There was nothing that didn't excite me about the project.
The cast has been great.
I have been wanting to work with Prithviraj and the other actors that he was planning to get on board.
The story really worked for me. Anish (Pallyal) is a brilliant writer.
The only thing that I actually had to think about was whether I would be able to convincingly pull off this character.
Everything else was a big yes.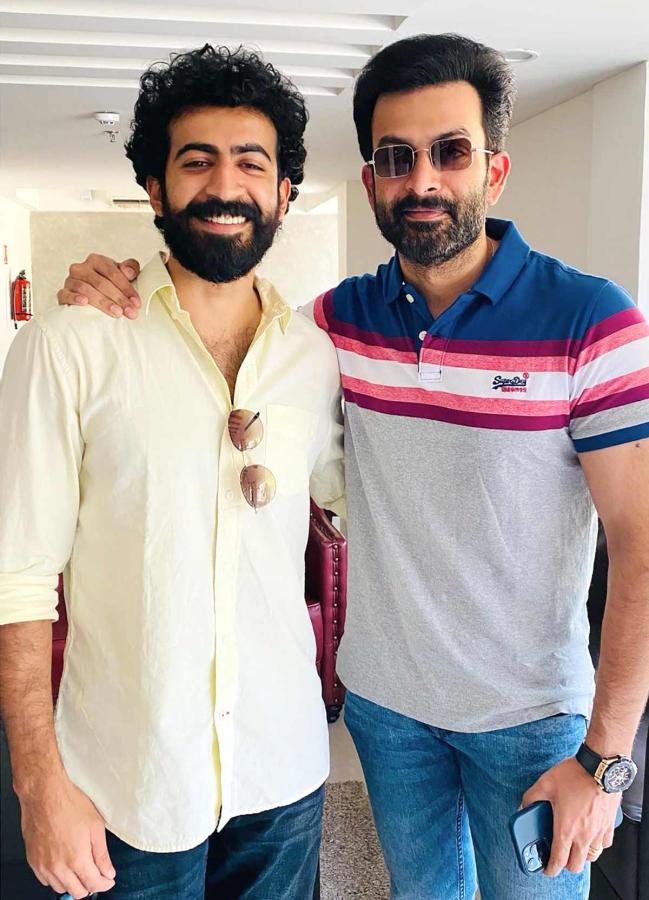 This is the second time you were working with Prithviraj. In Koode, you had little screen time with him. How was it working with him this time?
It was great! I left Koode wanting to do more work with him.
I kept waiting for that to happen, so the expectations were high going into this one.
It was so inspiring and so rewarding working with him.
The level of energy that he carries and the amount of clarity he has is brilliant.
He is also the maker and not just an actor. So the perspective that he brings in is also fantastic.
When he talks about the project, it's great to see how clearly he has envisioned it.
Plus, his general attitude towards work was a big plus for me.
The entire team of Kuruthi was trying to match the energy that Prithvi was bringing in on the sets every day. That kept everyone on the toes and everyone kept pushing themselves, which kept the momentum going.
That made the shoot a lot of fun.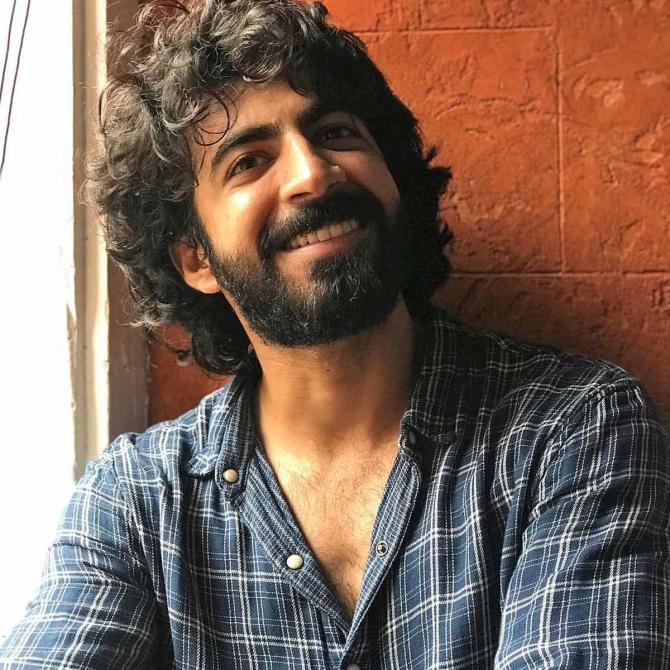 How different is your character Ibrahim from Roshan Mathew?
Ibrahim is very different from me, and that is precisely why I said that I had to sit and think about whether I would be able to pull it off.
There is almost nothing that I share in common with him, with the sort of past that he has had, his context, his religion, the family around him and his equations with them -- it is all entirely different.
But as actors, that's what we look for.
After all, every character is very human, and you can always find something that you can relate to.
Do you love to play grey characters?
Yes, there is a conscious choice because I don't find characters that are not grey that exciting. They feel either too simplistic or too unrealistic.
I am definitely grey.
It is very difficult to find that sort of relatability and a hook when a character is completely pure and wants to do good for everyone, and wants peace and happiness for everyone.
I don't think that will seem exciting enough for me. I would be lost.
I would not know what to play with.
It will be like a character from a cartoon, and to be fair, even characters in cartoons have grey shades.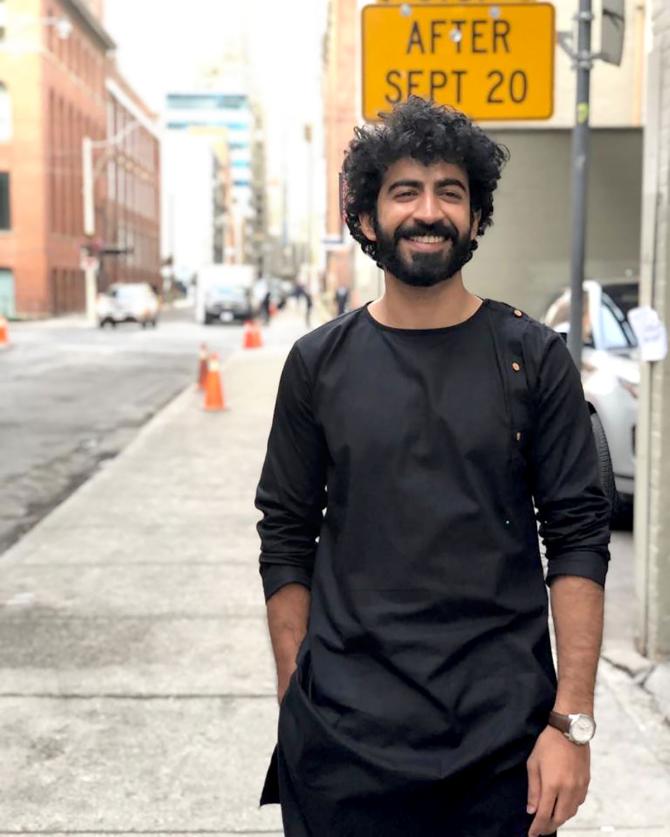 Due to the pandemic, regional cinema has started being watched pan-India. Do you think OTT has been a game-changer in that respect?
In terms of making it more accessible for a wider audience, yes definitely.
I know for a fact that a lot of people, who are watching Malayalam films now, are doing it because it is easily available.
A lot of my friends feel this way. They always had the intent, but were not able to watch the film because it is difficult.
Firstly, fishing the film out, and then downloading the subtitles of a language you don't know... now that process has been made easy.
And in the current scenario, everyone is watching everything virtually.
Do you miss the theatre experience?
Yes. To be honest, the biggest release for me till date has been Koode. It was Prithvi's 100th film.
I really miss the experience of being in a theatre and watching a film.
It is beyond the technical aspects of being a big screen and better sound and more speakers.
It is beyond all of that.
Sitting with an audience and collectively feeling the emotions, the collective sighs and the collective gasps and the collective excitement -- all of that is unmatched.
It's somewhere a part of a culture.
It is one of the biggest group activities that we do.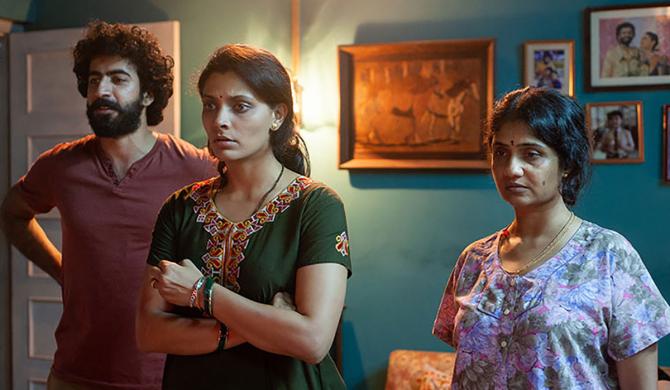 How is it difficult to shoot in this new normal?
It is very, very difficult.
On every shoot that I have been since the pandemic started, what I have subconsciously tried to do is that in the first few days at least, I try and reach a point where I start pretending like the pandemic does not exist.
Actors get their unfair advantage of not wearing a mask all the time because you have to go in front of the camera and then who do you hand it over to... sometimes you are wearing makeup...
So I try and put myself in this make-belief world where the pandemic does not exist because you really don't want that to play in your head, especially when you are shooting a film in which the pandemic is not a part of the story.
You made your Bollywood debut last year with Choked. How different is working in a Bollywood film than a regional film?
This is subjective to the project, the director and to the environment on that particular set.
I don't think it has that much to do with the industry or the language of the film itself.
For example, I have done only two Hindi films: Darlings and Choked.
They have been entirely different experiences, and there has been nothing similar even between these two films.
Choked has been very similar to something that I have done in Malayalam in Moothon whereas Darlings has been completely different from what I have ever done before.
So I feel it has got to do a lot with that particular project and who is doing it and what the scale is, more than the industry.
As an actor, your approach is defined by what the director wants you to do and within the first couple of days, you sort of find the mood and the film's pitch. Then you adapt to that. The process pretty much remains the same.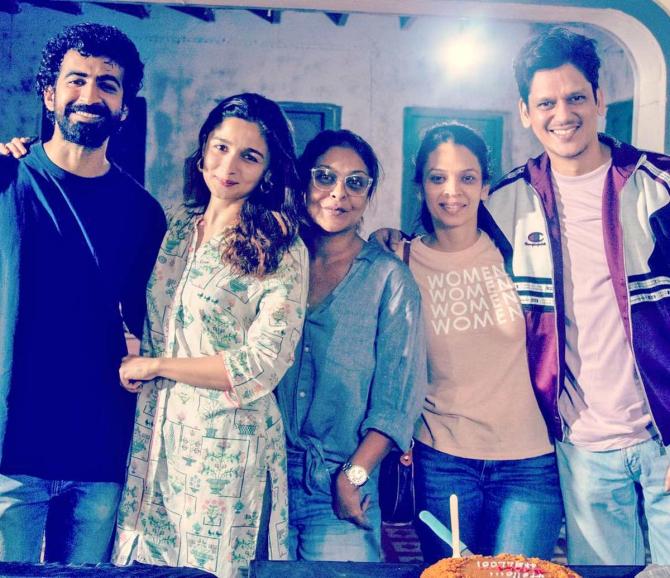 How did you sign up for Darlings?
I auditioned for it.
I lived in Bombay between 2014 and early 2017.
At that time, I was primarily doing theatre, but I was also giving auditions for pretty much anything because you need to support yourself financially.
In the process, I made a bunch of good friends. Casting Bay was one of them.
They were working on Darlings and looking for a new actor.
They got in touch with me and asked whether I would like to audition for the film and I agreed.
What else are you working on?
I think the next release is going to be Chaturam in Malayalam, directed by Sidharth Bharathan.
Then there are these two films which we had started, but could not finish.
Also, my Tamil debut is there, called Cobra with Vikram sir. That is almost done.