Deepika Padukone has struck gold with the success of her debut film, Om Shanti Om. She is now commanding Rs 1.5 crore (Rs 15 million) for endorsements, thrice as much as before, and Rs 1 crore (Rs 10 million) for a film, twice as much as what she earned for her first, and is on a par with established stars.
She leads the pack of new stars, and already endorses Parachute, Kingfisher, Levi's, Close-up, Limca and Maybelline.
"Even before the film (OSO), Deepika was a high-profile model and therefore while other models earn Rs 40 to 75 lakh (Rs 4-7.5 million), she commands almost Rs 1.5 crore," said an industry player who did not want to be named. That is less than the Rs 2-3 crore (Rs 20-30 million) that Aishwarya Rai commands, but quite impressive for a newcomer.
Padukone has company in friend Ranbir Kapoor, who made his debut with Saawariya, his leading lady Sonam Kapoor, singer Mukesh's grandson Neil (who debuted in Johnny Gaddar), and Shiny Ahuja.
Industry experts say Ranbir, who will be seen in a Yash Raj film next year, is being wooed by a telecom company, an apparel brand and a soft drinks maker, from which he is asking for Rs 1.25 crore (Rs 12.5 million) to Rs 1.5 crore (Rs 15 million) as endorsement fee. A pizza company and a hair care company are said to be courting Sonam Kapoor.
"While Ranbir is already saleable, one will see a different Sonam in Dilli 6, where she plays an extrovert. That will help her attract more brands," said an executive from an agency that handles celebrity accounts.
Neil is already said to have raised his rate from Rs 30 lakh (Rs 3 million) to Rs 50 lakh (Rs 5 million) for a film.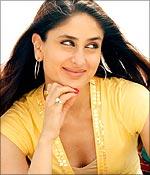 Not-so-new Kareena Kapoor has made a resounding comeback with the success of Jab We Met. Her fee is said to have gone up by 50 per cent to Rs 1.5 crore.
Then there is Harman Baweja, who hasn't yet had a release, but is expected to become big when his film Love Story 2050, opposite Priyanka Chopra, hits the theatres. Paid Rs 30 lakh for it, he is already asking for Rs 60 lakh (Rs 6 million) to Rs 1 crore (Rs 10 million) for new films.
Of course the big names -- Shah Rukh Khan, Akshay Kumar, Salman Khan, Hrithik Roshan, Aamir Khan and Priyanka Chopra -- have emerged strong this year and will continue to rake in the moolah.