Break Point is an emotional ride into Indian tennis's ultimate fairytale gone wrong, observes Deepti Patwardhan.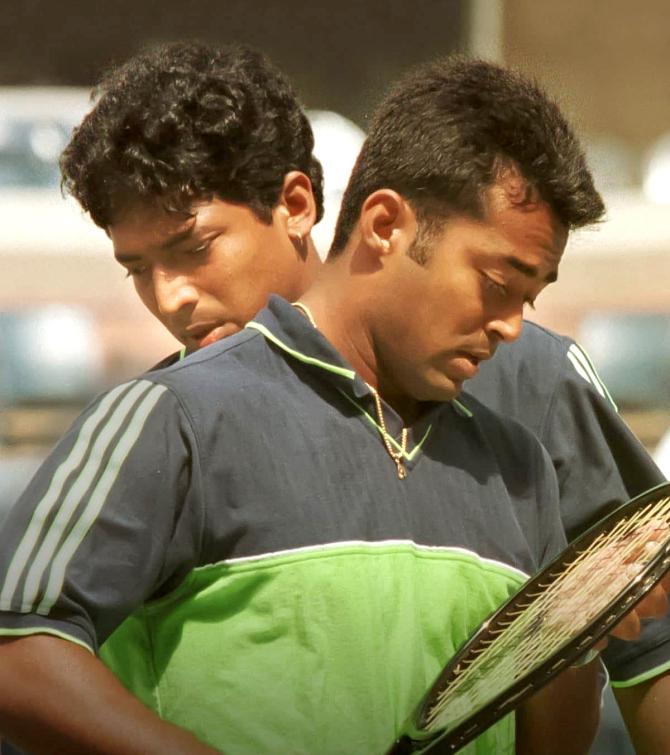 Why did Leander Paes and Mahesh Bhupathi break up?
The question has haunted Indian tennis and its fans for more than two decades now.
How did they go from absolute magic to absolute hate?
The rumours and reasons given have been many: coaches, girlfriends, money, ego.
Break Point, a seven-part docuseries by ZEE5, takes a closer look at their journey and tries to answer the most enduring question in Indian sport.
While their story, with its highs and lows, has been well-documented, it is probably the first time the two protagonists, Paes and Bhupathi, have found a common platform to tell their side of the story.
Rather than turning it into a movie, like he did with Dangal, Directors Nitesh Tiwary and his wife Ashwiny Iyer Tiwary (Panga) have chosen to use a documentary format because, why not?
The Lee-Hesh story already has all the drama, sporting romance, success, failure, human spirit and shortcoming than most scripted fiction does.
Them with the meteoric rise, spectacular fall-out and more 'will they-won't theys' than Ross and Rachel, have captivated tennis fans the world over.
It is an explosive, complicated story, and in the first three episodes, the directors have handled it with care.
Clips from their past matches -- the fiery Paes and his impossibly quick hands at the net, the cool Bhupathi firing aces or leaping for no-look backhand smash -- not only gets the adrenaline pumping but also underlines just how good they were.
In the past, Bhupathi has said that for him, the essence of their success was two Indian boys taking on a 'white man's sport' by storm. And they did it with a style and swagger that was out-of-character for Indian sport in the 1990s.
'When you played Lee and Mahesh, you had to bring the energy,' the Bryan twins, one of their biggest rivals, say. 'You had to play with the same passion and love that they were playing with...if you were just out there going through the motions, you'd get hit by a tidal wave.'
At the moment, Indian tennis is going through an extraordinary lull and looking back to two young men stride out confidently to the biggest stages of the world to their sometimes-song-of-choice Made in India gives goosebumps. They remain India's most powerful identity in world tennis.
The first three episodes trace the arc from their childhood, to the first meeting to their first Grand Slam title together.
The 1999 French Open, where Lee-Hesh created history by becoming the first Indian team to win a major, is a major focal point of the story.
The heft of the achievement alone warrants it the pride of place but the documentary does a great job in building up to it, setting the mood and technically breaking down the final against Jeff Tarango and Goran Ivanisevic.
It was the first of the three Grand Slams together.
The documentary not only hits the highs with Paes and Bhupathi on the tennis courts but adds colour with little details like:
Who approached whom for their first-ever tournament?
What were their first impressions of each other?
What did they bond over?
What did they do the night before winning their first Grand Slam?
How did the chest bumps start?
The narrative is carried forward by Paes and Bhupathi's voices, and those of the spate of characters involved in their lives and careers.
Break Point has assembled a cast of friends, families, coaches, and a stellar cast of tennis players -- their biggest rivals the Woodies (Todd Woodbridge and Mark Woodforde), the Bryans (twins Mike and Bob), Sania Mirza, Mark Knowles, Jonas Bjorkman and Rohan Bopanna -- to fill in the blanks.
Where the directors have succeeded is getting Paes and Bhupathi to open up about their best and their not-so-flattering moments. Especially Bhupathi, given his reputation for monosyllabic answers.
It hold up a mirror to their strengths as well as their vulnerabilities.
It gives an insight into the opposing personalities of Paes -- the aggressive alpha -- and Bhupathi -- the reticent hero who broke ranks and became India's first Grand Slam winner.
The yin and yang, which Paes talks about, worked wonders on the tennis court but ultimately destroyed their partnership.
Bollywood movies and songs, not surprisingly, was one of the common grounds for the Indian duo.
There is a telling clip featuring Bollywood icon Amitabh Bachchan in the second episode. He says since they like Sholay, they should listen to the song, Yeh Dosti.
'Unko woh gaana baar baar sunna chahiye, bas judjaaye dono,' Bachchan says. 'It will be a great moment.'
With that statement, he captures the mood of an Indian tennis fan.
Almost three decades since Lee-Heshfirst teamed up, we are still rooting for them.
And Break Point is an emotional ride into Indan tennis's ultimate fairytale gone wrong.
Break Point is streaming on ZEE5.
Rediff Rating: